art journal spring 2021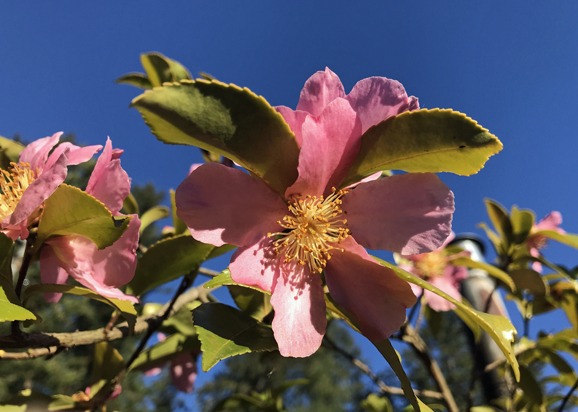 Spring camellia - actually bloomed all fall and winter.
green!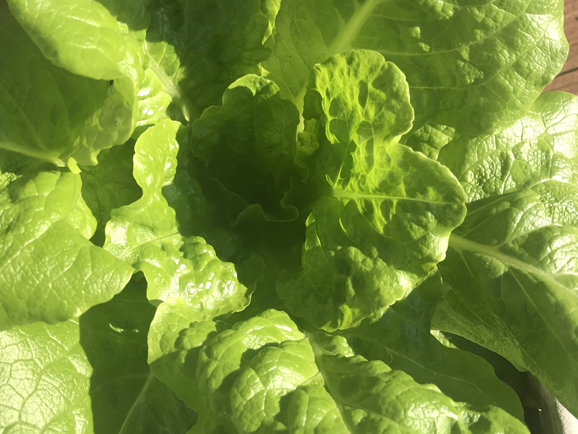 Buttercrunch bib lettuce - covered on frosty nights, but growing through winter (december photo).
We feasted on it Christmas Day. It likes the lake-reflected sunlight on the deck (in a pot).
Click here or on photo for the story...
spring spurts
watercolors

In spring 2018 I enjoyed a self-challenge to 50 days of painting - in watercolors.
oil painting
In the quiet spring of 2020 I created thirty new paintings - in oils.

soft pastels
It's spring 2021 and now I'm trying my hand with pastels.
As I create more, I'll be posting them here
and also on my gallery page at DailyPaintWorks.com
soft pastels
sticks of pigment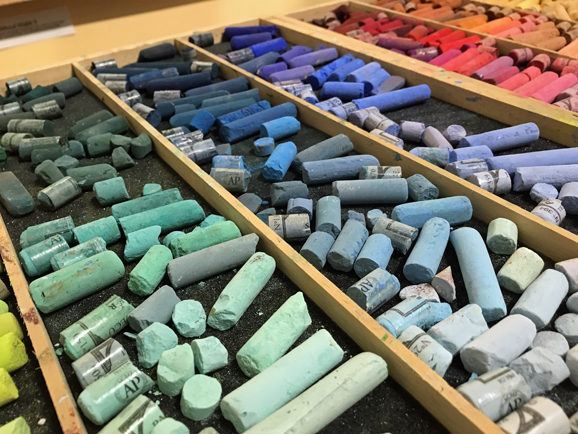 In spring of 2021 I'm reconnecting with pastels - their colors, consistencies, opacity, immediacy, and reflectivity - for luminous landscape (light-scape) paintings.
I'm washing my fingers a LOT. These guys are messy, but I love the effects!
to buy art
Click on the photos to see and purchase the paintings (if available) on my gallery page at DailyPaintWorks.com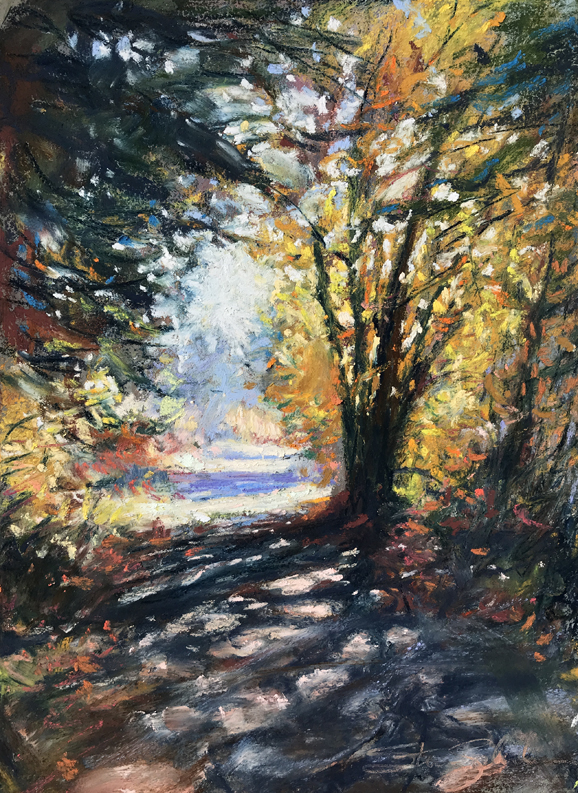 Saturday, January 16, 2021 - Remembering Late Summer - soft pastel, 5.5 x 7.5 inches
pastel painting in 39 seconds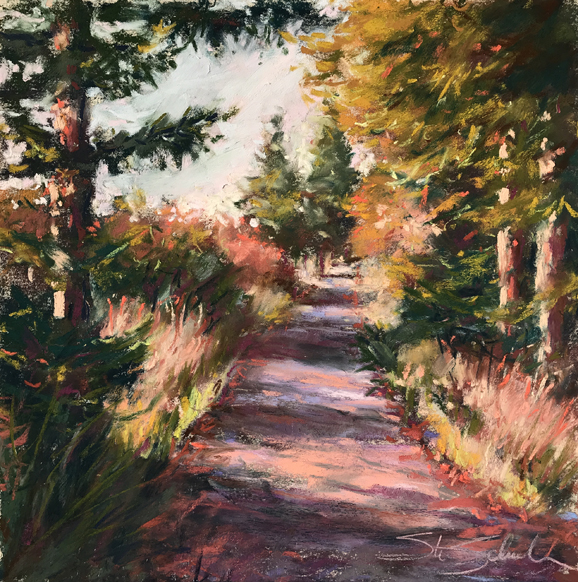 "summer cycling" - 8 x 8 inches, soft pastel on archival UART sanded paper, Jan. 27, 2021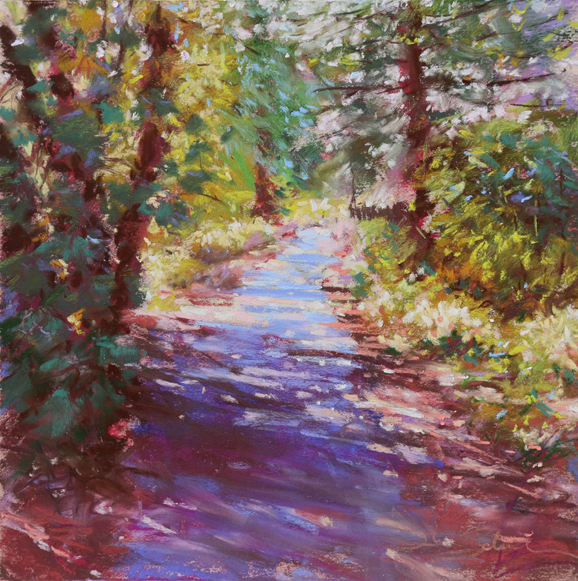 maple dapple - 8 x 8 inches, soft pastel on UART archival sanded paper, Jan. 26, 2021

maple dapple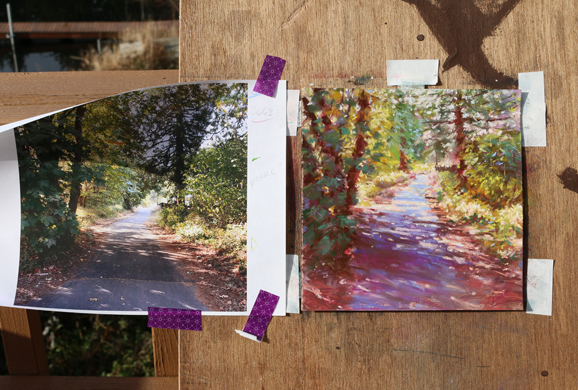 maple dapple - reference photo and finished painting

Dreaming of warmer seasons? Click here to view late-summer photo memories.
spring silk
As winter decor comes down, the studio becomes again a working studio.
As buds appear on branches, I'm creating new works in dye-painted silk.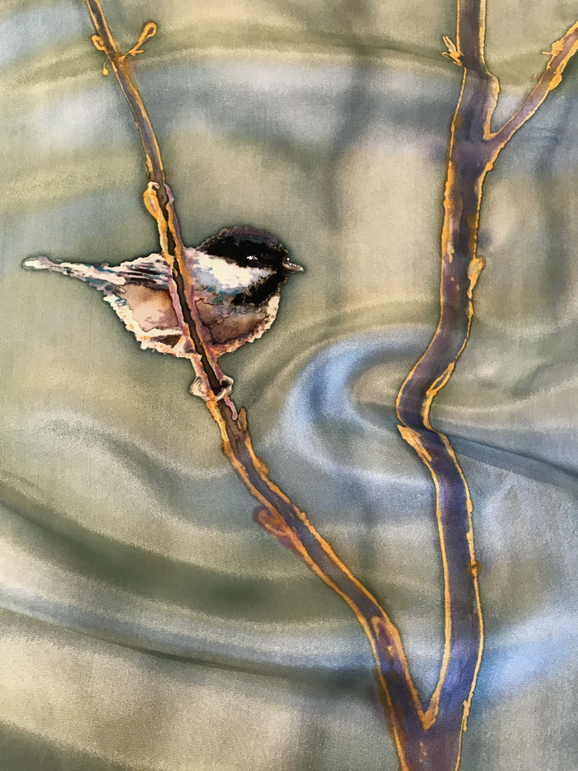 This chickadee is dye-painted into a 100% silk habotai scarf, 11 x 60 inches.
spring living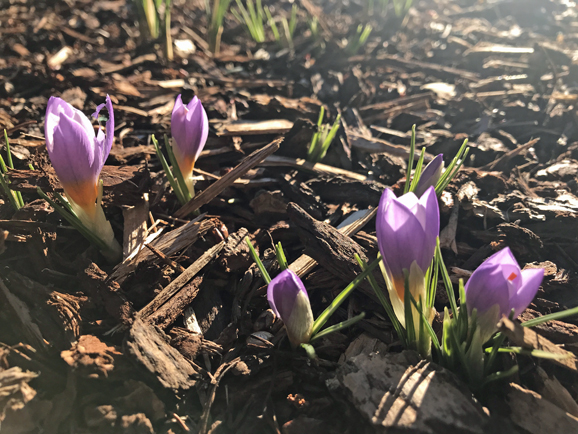 The first crocus of 2021 opening into sunlight on January 22.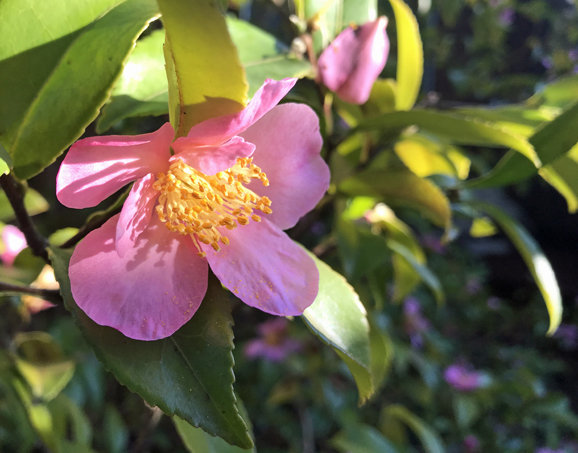 This camellia has bloomed through fall and winter... and is still going!
handspun - my artful Mom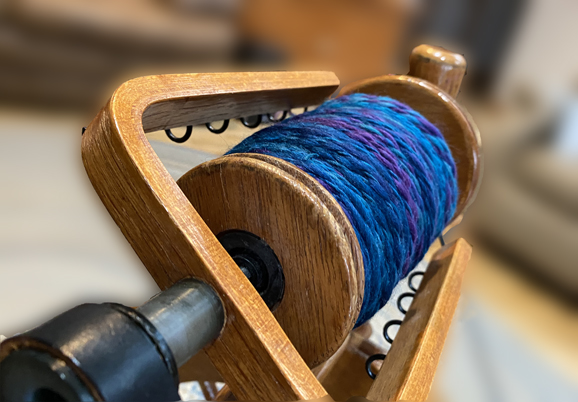 Mom's handspun, two-plyed wool and silk yarn on the spinning wheel bobbin. Click to see more...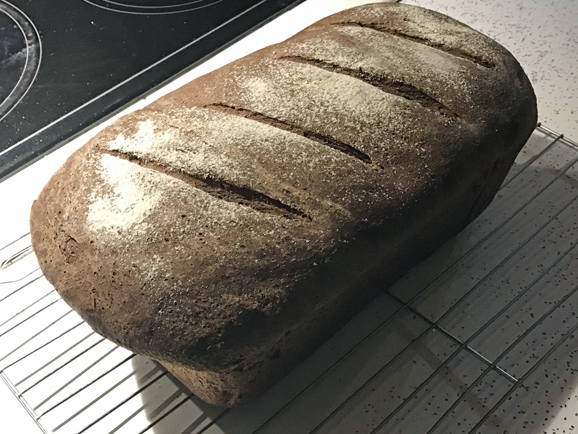 Mom's fresh, homemade pumpernickel bread - not sure it's a spring thing, but is good anytime.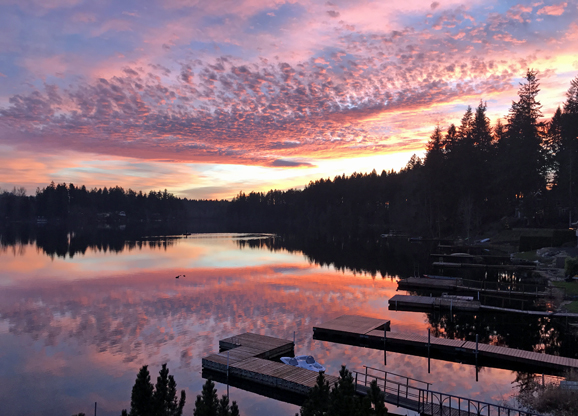 Some of the best things in life are priceless.
spring garden action
Even recorded in slow-motion video these hummingbirds' wings are a blur. They are delightful visitors and residents of the gardens.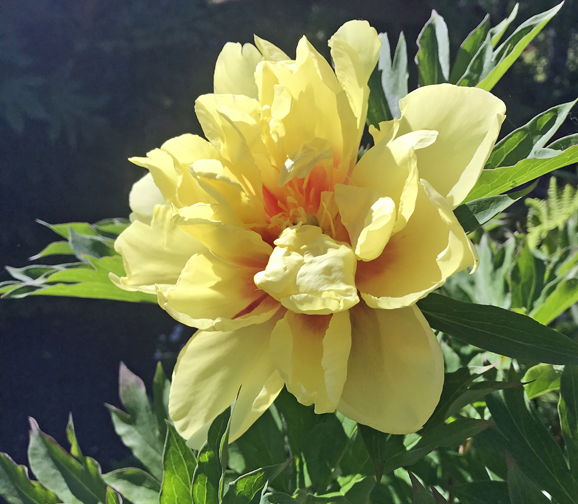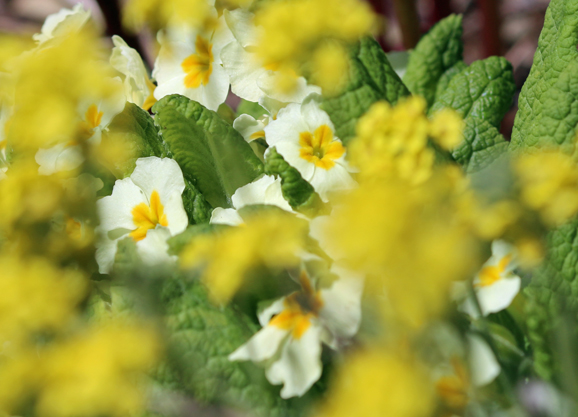 Creamy primulas emerge every year, reminding me of Grandma who planted them years ago.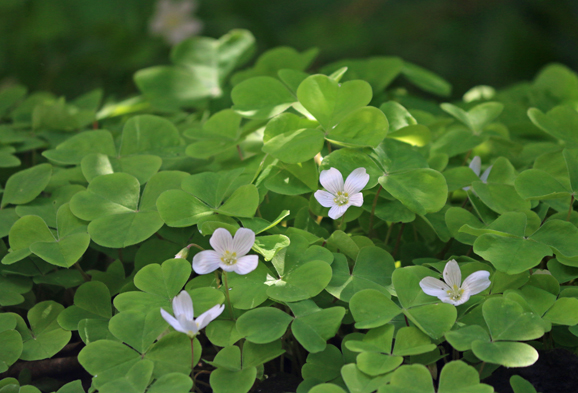 native oxalis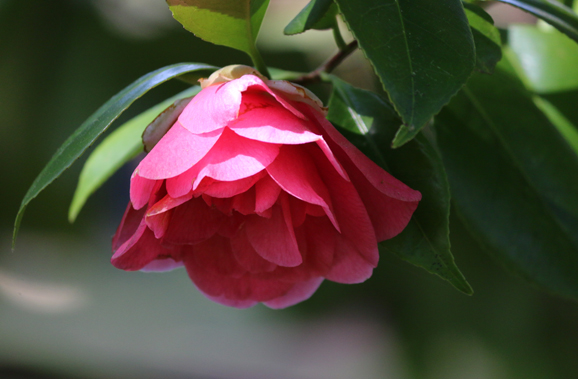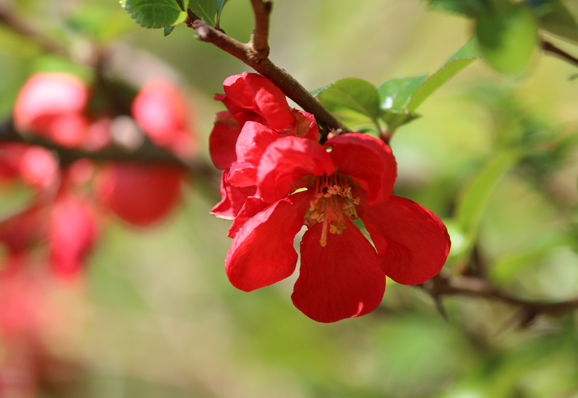 flowering quince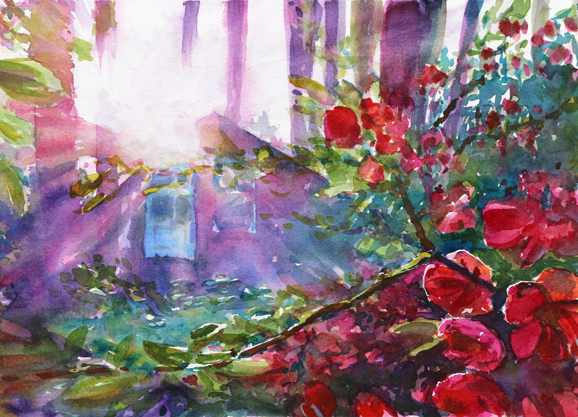 a spring watercolor of Grandma's quince and red shed

Last spring, with covid19 keeping us all home, I challenged myself to thirty days of painting - Monday-Friday, for six weeks. This time I painted in oil paint on canvas, and in a few dry pastels on colorfix paper.
I put any free time into the studio, and challenged myself to work small and try to complete five paintings a week. This was a bit ambitious. I ended up painting on Saturdays also, to complete the paintings that required additional time.
Click or tap here to see more...
Two springs ago, I engaged a self-challenge to paint for fifty consecutive days. I painted in watercolors.
Click or tap here to see and read more on my fifty days of painting.
select past commissions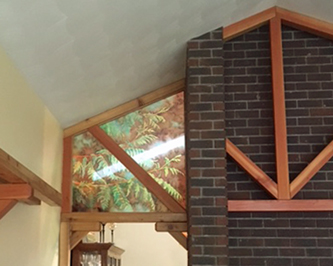 I'm pleased to announce my first completed installation of silk laminated within glass. The artwork fills the spaces between open trusses of a residential interior. The photo at right two of four panels. Click to see more.
As students, faculty, and visitors enter Gilson Middle School in Valdez, Alaska, they are greeted by a vibrant suspended mural--over 26 feet wide. Read more...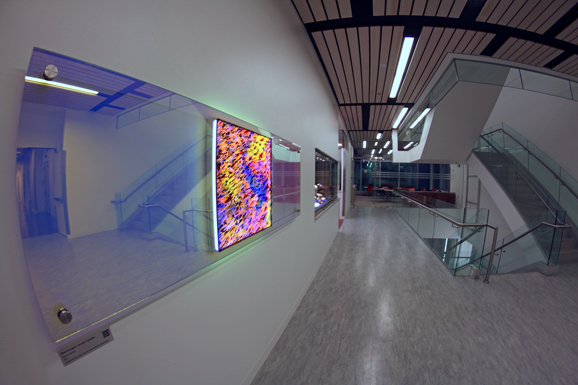 Three new glass artworks resembling over-sized microscope slides measure two feet high by six feet wide. Each artwork is uniquely created in mouth-blown art glass laminated onto dichroic float glass. They are installed in the Margaret Murie Life Sciences Building at the University of Alaska, Fairbanks.

This suspended mural of dye-painted silk measures over 300 square feet. For Liberty Middle School in Spanaway, Washington, it depicts junior high years in a metaphor of a river passing through a canyon.
I love it. It turned out to be all I hoped for and more. Read more...

I continue to collaborate with Seattle glassblower Jim Flanagan to create gently abstracted imagery within colored glass. Click here or on the photo at right to see our most recent sheets of blown glass (and scroll down, as the newest work is near the bottom).

Commissioned for a thriving church in the town of Dunwoody, near Atlanta, Georgia.

This mural in dye-painted silk was commissioned for Katchemak Bay Campus of Kenai Peninsula College of the University of Alaska. Discovery was installed in Homer, Alaska, in June of 2012. Read more...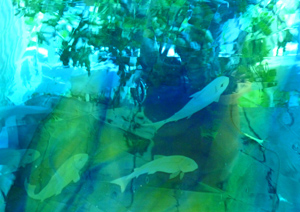 Kenai Peninsula College etched mouth-blown glass public art installation
Click here to read about Generations.
Here is a link to KPC installation photos
studio and story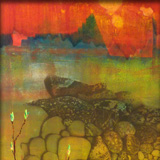 Click here to see photos of ten images completed in January 2011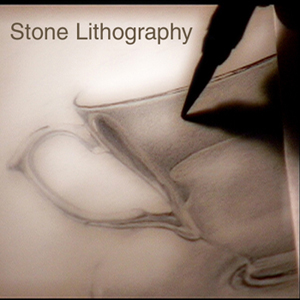 People often ask me how I create a stone lithograph. It's hard to explain in words so I have a short video that shows the process.
Click here for photos and video on stone impressions.

silk rivers
These river silks were inspired by and modeled after the beautiful Fremont antique glass we used for the Kenai Peninsula College installation.


flowering
My Grandma's name, Florence, means "to flower" as in the sense of a blossom. And 2012's flowers were an explosion of color. See photos in her memory...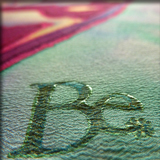 Be silk scarves

Links...
gallery of Be silk scarves
significance in Be-ing
silk care
displaying silk

past journals
fall 2011
summer 2011
summer 2010