journal & news updates
be-dazzled with color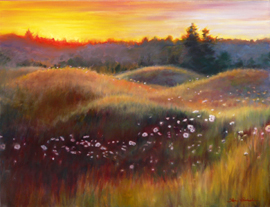 The first time Steve painted on silk he found himself holding his breath - literally breathless in awe of the colors. He was swept with the glowing dyes migrating through silk like water-colors on steroids. And now Steve is equally enthralled with the colors and effects he is discovering painting in oils. He is trying out various techniques with different subjects. Click on the photo to see more of his oil paintings.
lately...
Steve is currently working on a large commissioned oil painting on canvas. The imagery is a landscape from a high vista in the Olympic Mountains. The working subject is "paths" - specifically the difficult and less-traveled path.
Here is a photo of him creating in his studio. Note, to make the painting glow, Steve's under-painting colors are nearly the opposite of the actual finished colors. So don't be alarmed if it looks weird. Check back to see the finished painting - posted to this site in a couple of weeks. More studio photos...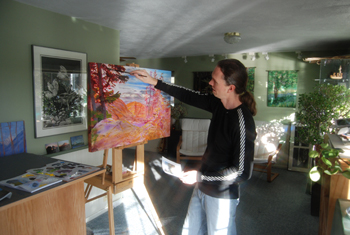 past journals