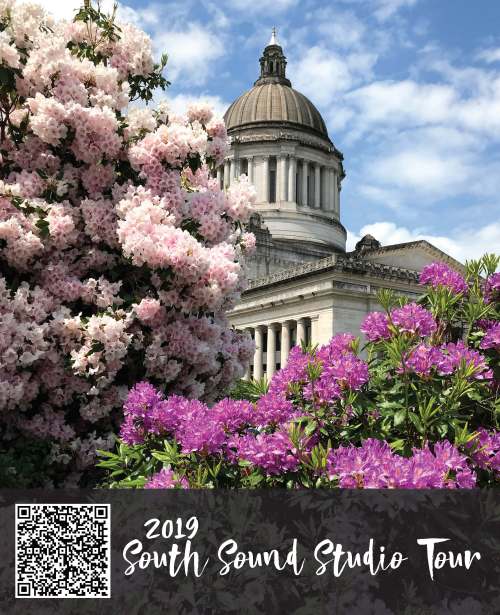 twenty-six studios in the tour
26 private studios in the greater Olympia area will be open to the public Saturday, May 4, from 10am to 4pm.
Click here or photo at right for a map of the studio tour.
As part of that event, you, your family, and friends are invited to my lakeside studio...
may 4 from 10am-4pm
three artists at visibleinvisible studio
Two artist friends will join me in my studio, for the first South Sound Studio Tour

at visibleinvisible - Offut Lake Studio
4137 116th Aveune SE, Olympia WA 98501
Saturday, May 4, 10AM to 4PM.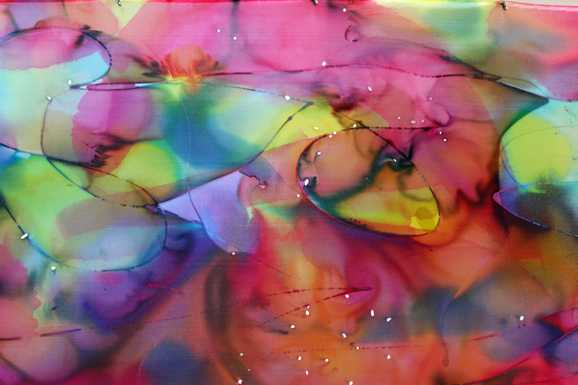 steve
I (Steve Scheibe) will demonstrate dye-painting of silk in the serti technique - which is like painting in watercolor, but on steroids because the colors migrate continuously until dry.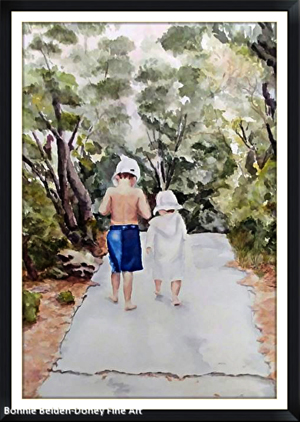 Bonnie Belden-Doney will demonstrate watercolor painting and will display her poetic, soulful paintings. Click on photo left or her name to visit her website.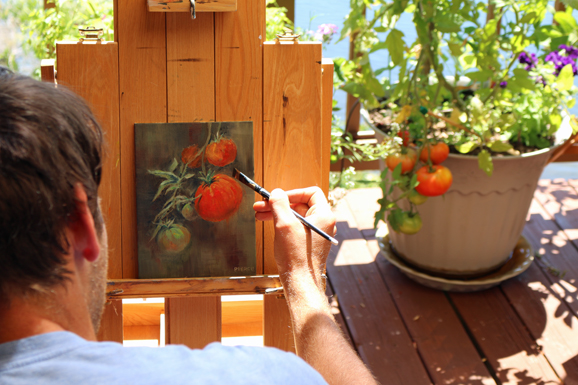 David Pierce, a talented illustrator, will feature a fresh series of spring paintings in oil on canvas, and will be painting live in studio. View his brilliant illustrations at www.davidpierceart.com (click on photo right or his name). But to see his oil paintings, you'll have to visit the show.
I'm eagerly anticipating hosting our first show together, the first South Sound Studio Tour, and seeing my friends' newest artworks.

all in my home-studio on the north shore of Offut Lake
at 4137 116th Avenue SE, Olympia WA 98501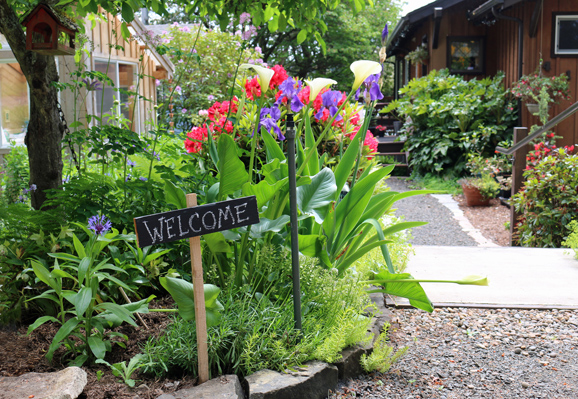 spring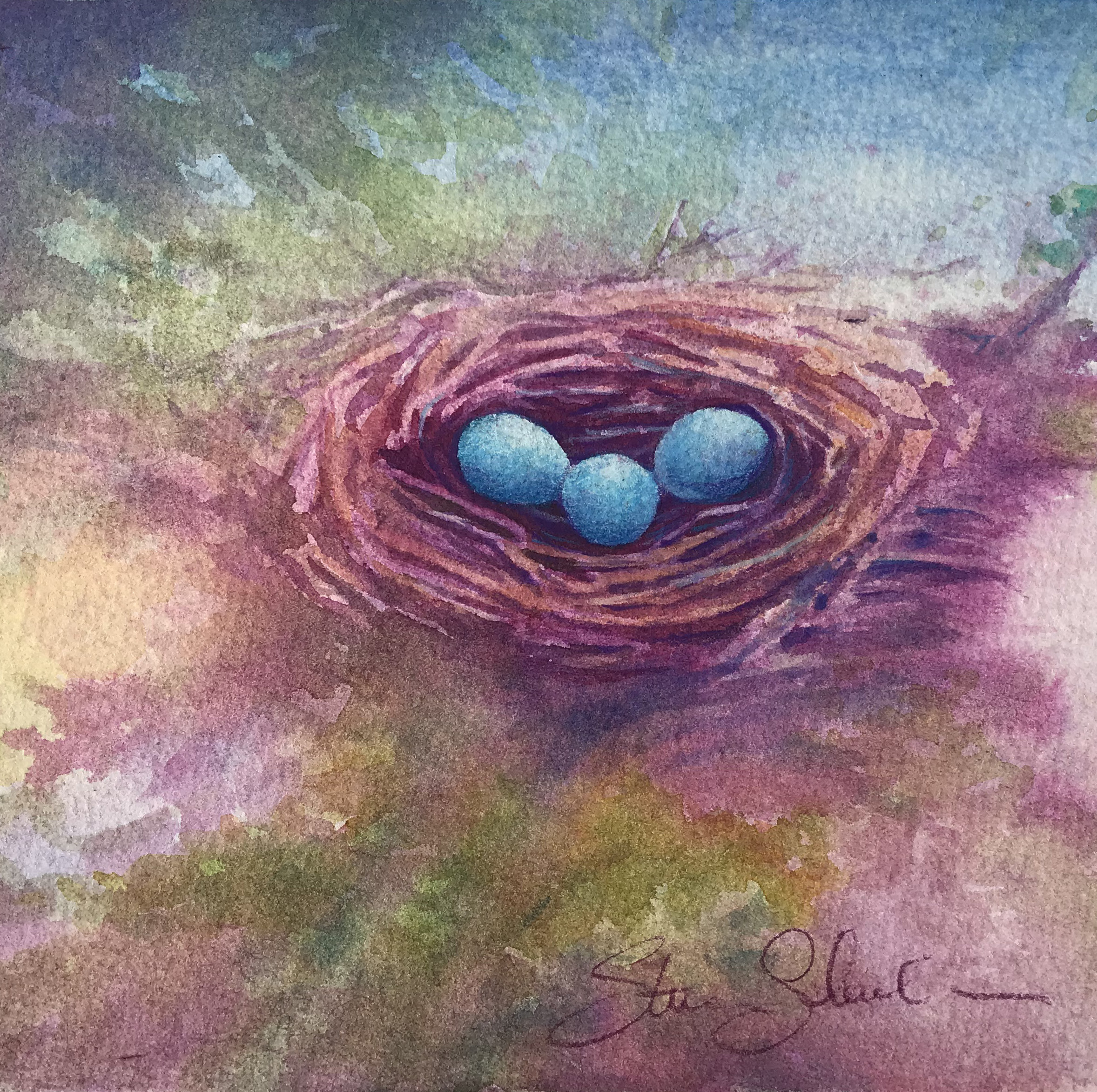 mini watercolor nest painting - about 6 inches square, March 26, 2019
These are part of a spring series of paintings - coming forth one-by-one like buds on the bushes.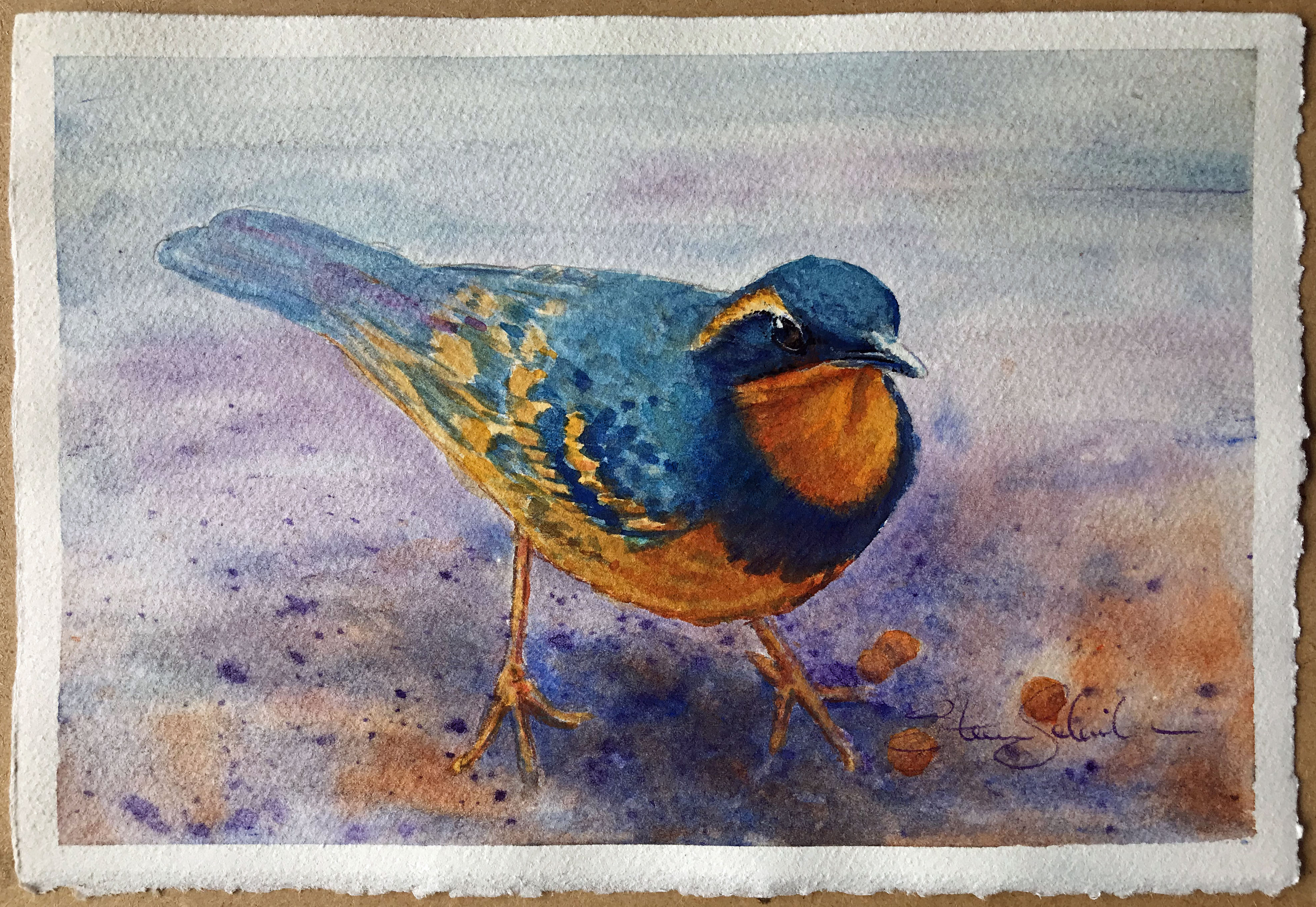 march 25 and 26 watercolor painting of varied thrush - They love our madrona tree berries!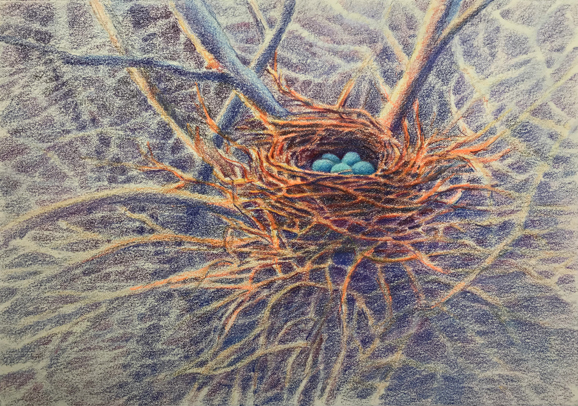 colored pencil - on 7x10 inch cotton mat board, April 5 2019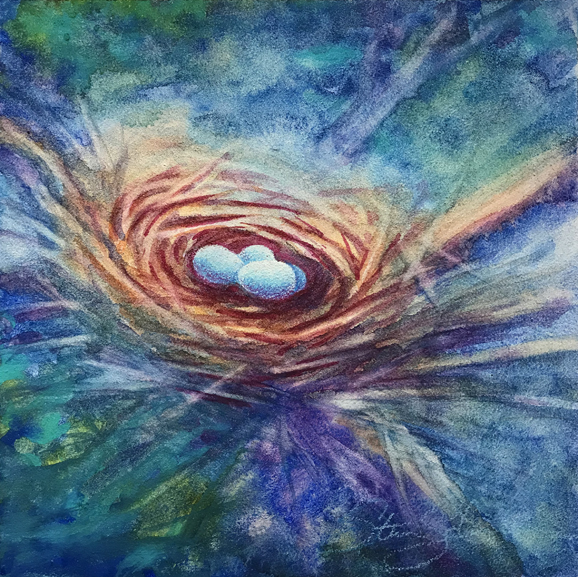 watercolors on Aquabord panel, 6 x 6 inches, April 11, 2019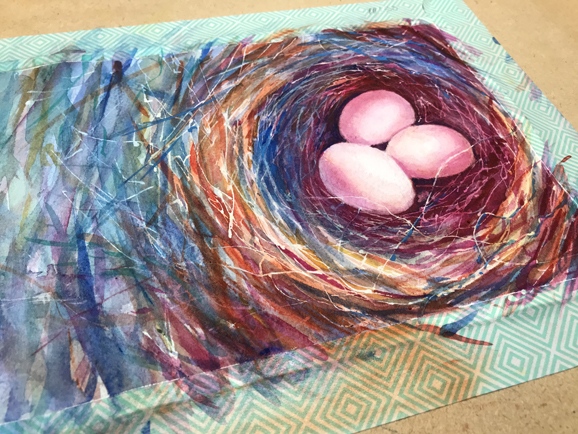 work in progress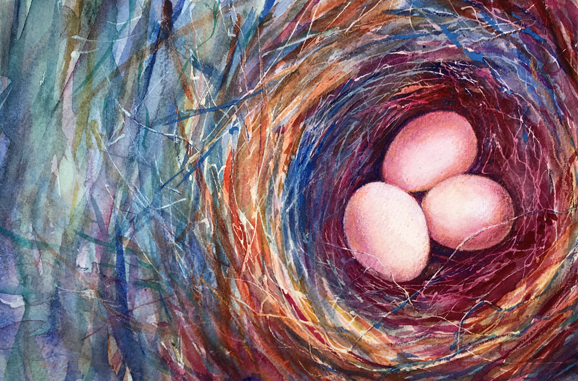 dove nest in watercolor on 6 x 9 inch Arches cotton 140lb paper 6 x 9 inch, April 15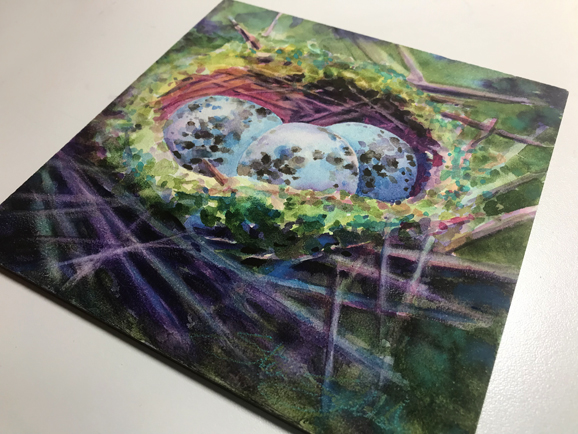 6 x 6 inch watercolor on Aquabord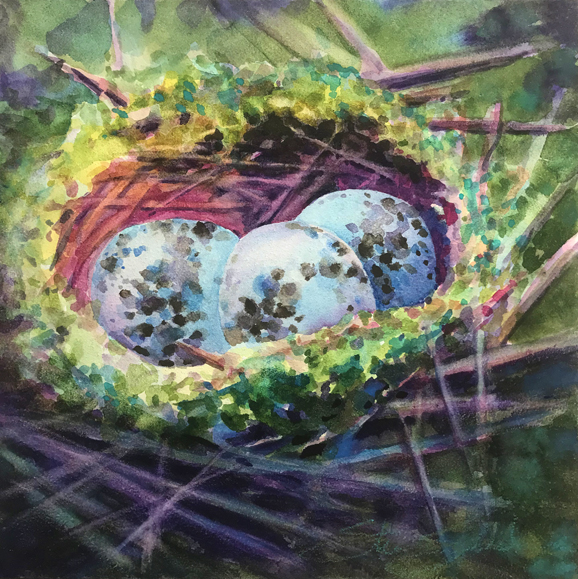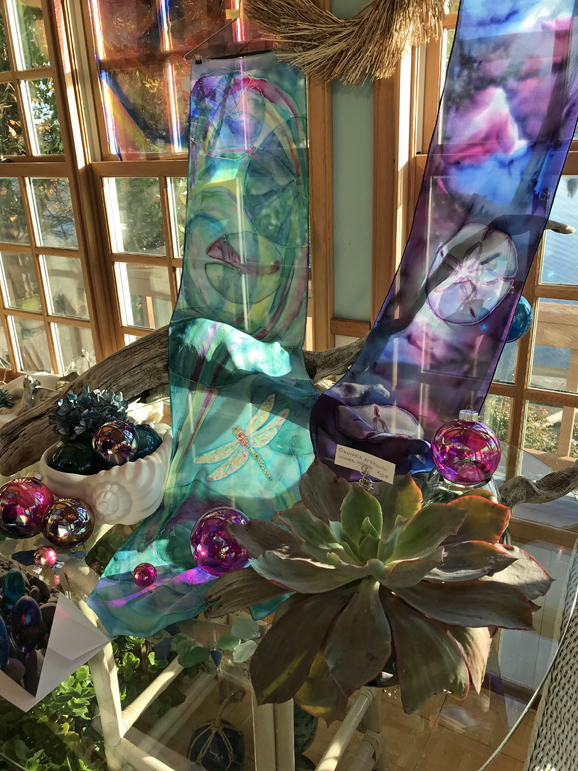 dye-painted silk and alcohol ink-dyed glass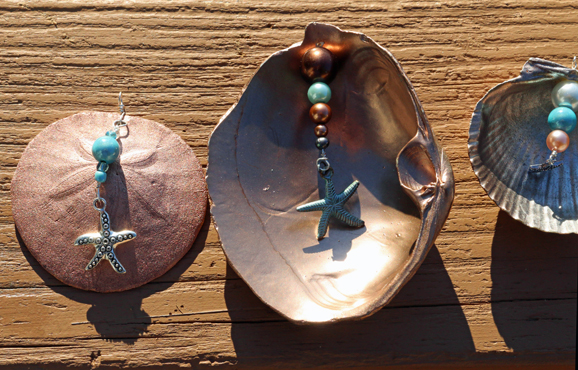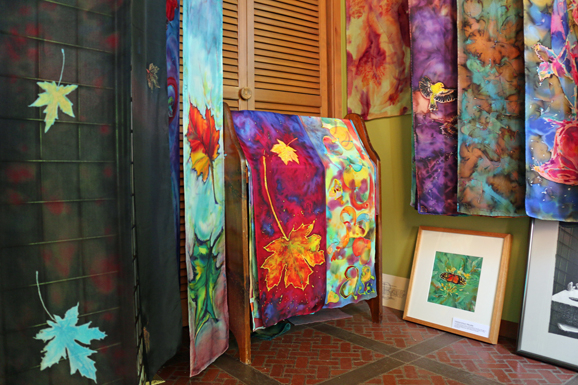 a full gallery ~ many years of art making
See original art in many media
Dye painted silk
Oil painting
Pastel painting
Stone impressions (ink in cotton)
Watercolor paintings (framed and unframed)
Art glass

You'll also find hand-made gift items including
silk scarves
small, original paintings,
hand-painted glass ornaments,
blown glass garden cloches
printed art greeting cards
and more

Credit cards, checks, and cash accepted.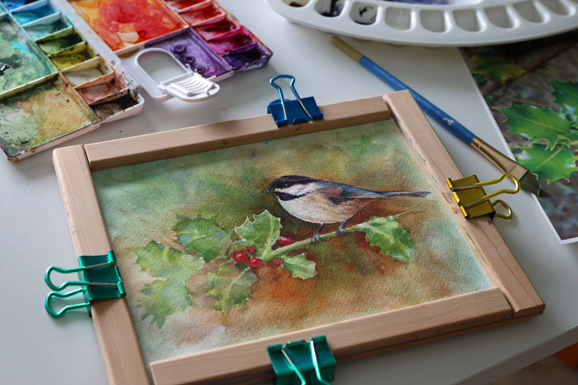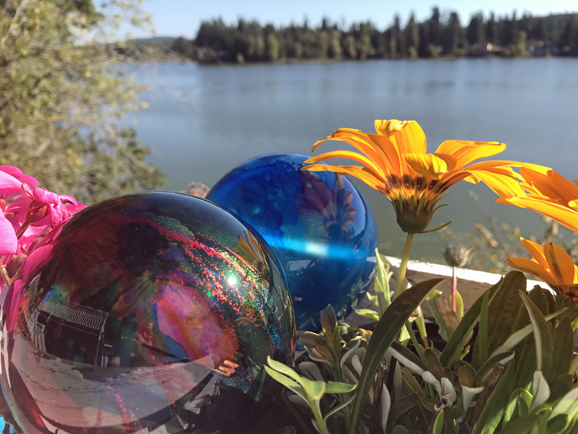 alcohol ink painted glass ornaments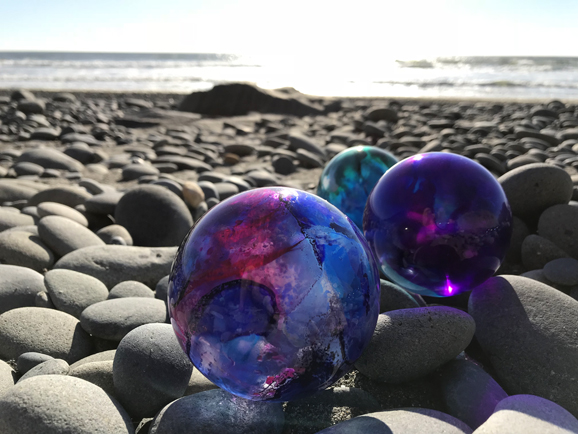 I enjoyed painting glass ornaments at the beach - beautiful light and setting.
Some of these silks sold at the last show...but I've got more.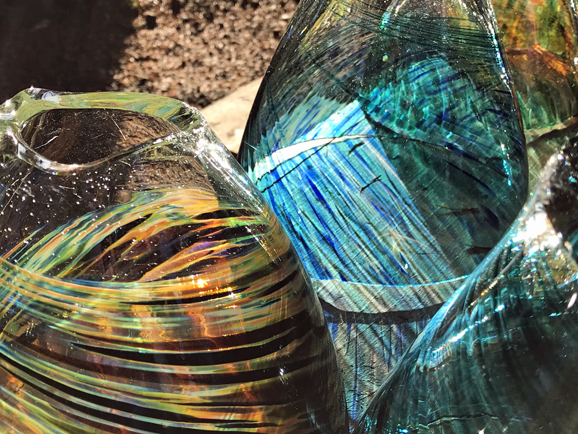 Mouth-blown glass cloches make decorative garden art, luminarias, and protective "huts" for tender plants.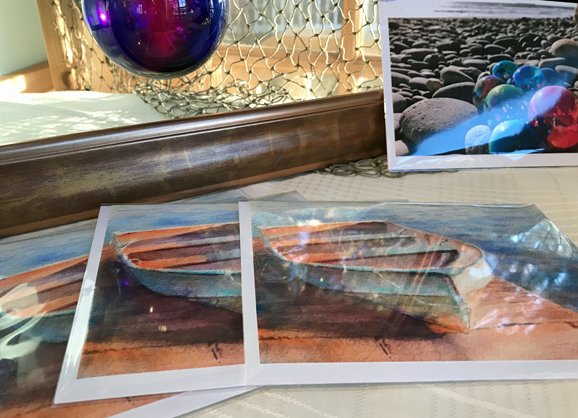 greeting cards from watercolor art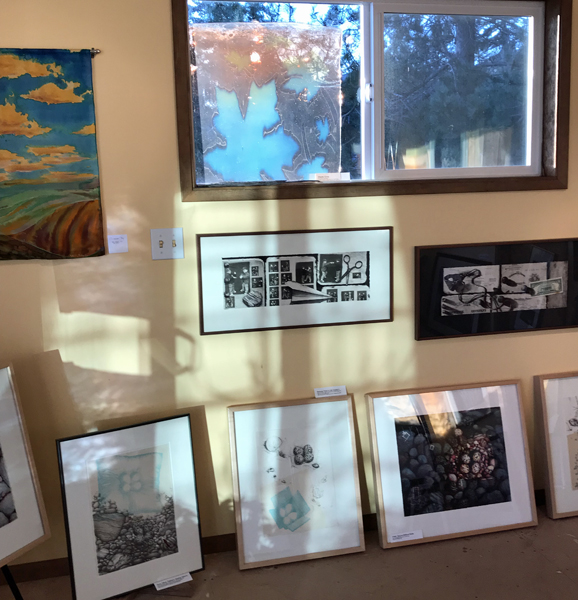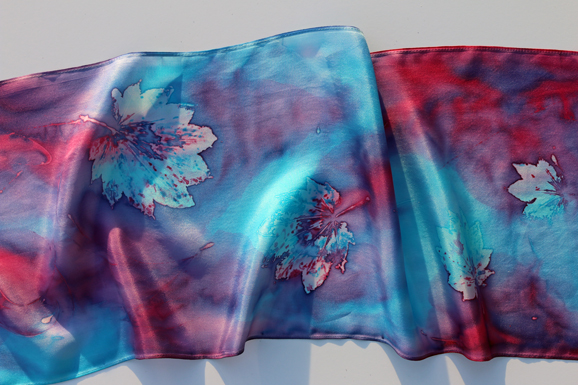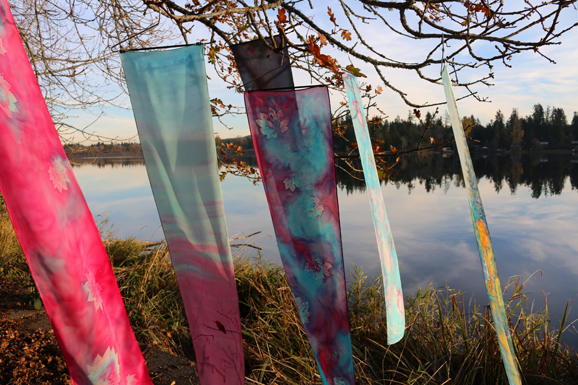 Silk scarves drift in current - suspended in my oak tree (It was my rack while photographing them).

spring - come discover
fresh spring decor,
ink-painted glass eggs,
mouth-blown glass cloches
art greeting cards,
hand-painted silk,
new watercolors (small and affordable),
oils, stone impressions, drawings, and more...filling the rooms
sign up for an art workshop in dye-painting silk, or alcohol inks on glass...
(scroll down to see more photos)

all in my home-studio on the north shore of Offut Lake
at 4137 116th Avenue SE, Olympia WA 98501
all major credit cards accepted
previous events
art show & sale at lakeside studio
all new watercolor paintings in a theme of "home"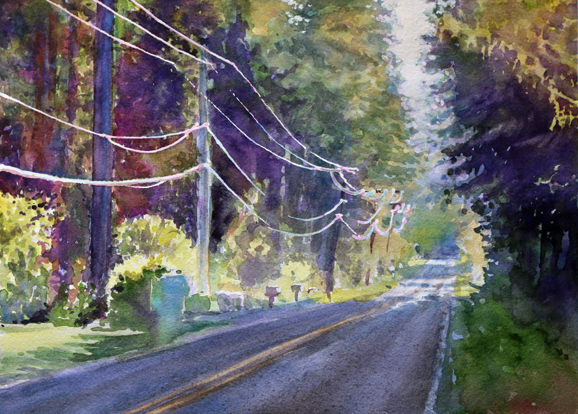 warm thanks
BIG thanks to all who showed support to me in various ways during this painting challenge, and during the studio exhibition the last weekend of April 2018.
Saturday had a quiet pace.
On Sunday, I was overwhelmed (in a good way). Wish I had even more time with each guest.
And special thanks to T.T. for the Cougar Gold Cheese from WSU's Ferdinand's Creamery.
responses

an artist friend's words
"When I heard that the theme of your new paintings was 'home,' I thought of things domestic. However, your paintings are anything but domestic. They are alive and almost other-worldly in expression!"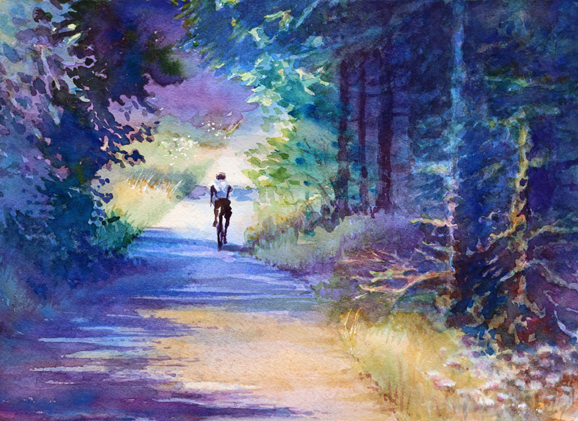 from the guest book...
"Your watercolors break the light spectrum apart in the most magical way!"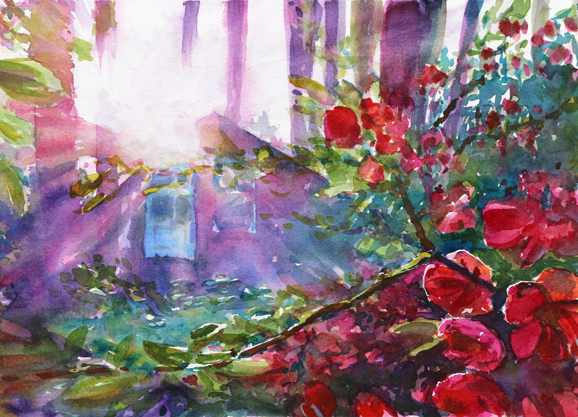 art chat regarding observation in creative process...
"Perhaps intentionally noticing helps us become more present in our own lives - like children."
home ~ fifty days of painting
Beginning on March 9th, I challenged and permitted myself to paint almost daily for fifty days. I'm painting in a theme of "home" with imagery from my daily life here on Offut Lake. Read more about 50 Days of Painting...
My fifty day painting challenge ends on Friday April 27, the day before the show. Come see my learning curve in a progression of small paintings in water media. Maybe buy one for your home, or for your mom. Mother's Day is coming soon.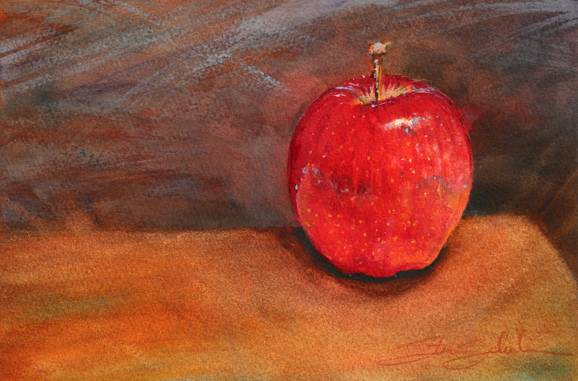 Painting #1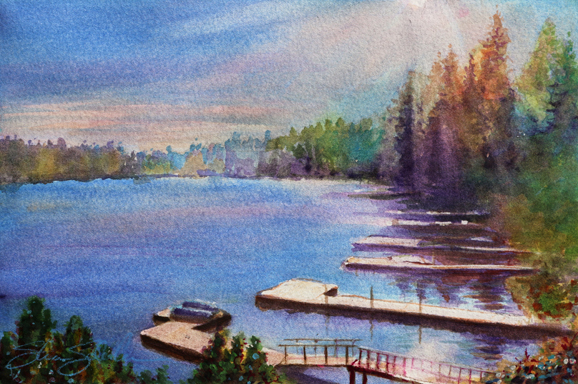 painting #2
video below of inspiration for painting...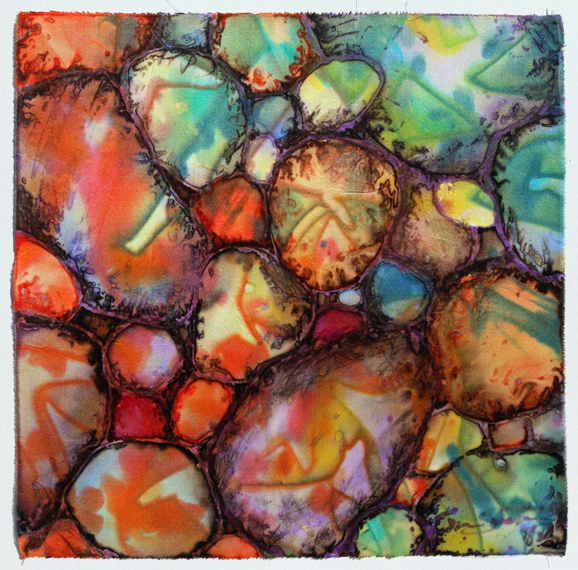 in dye-painted silk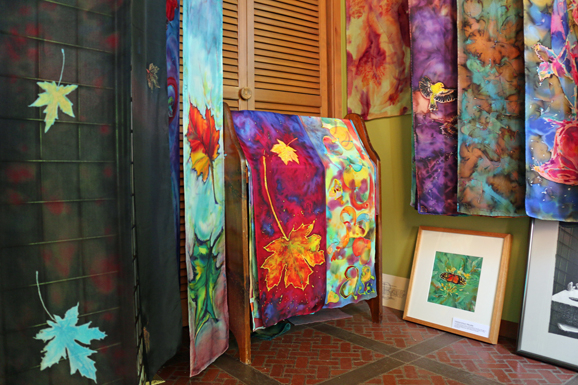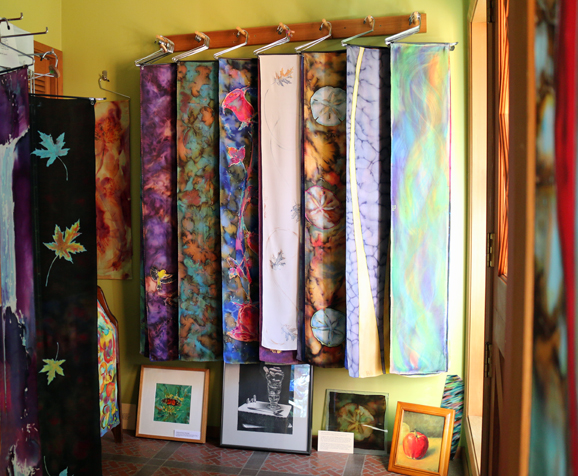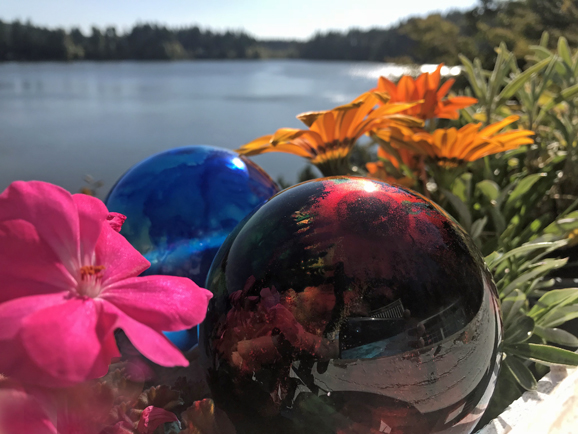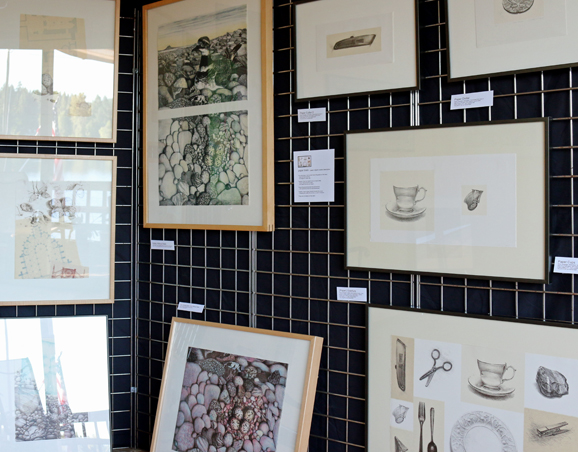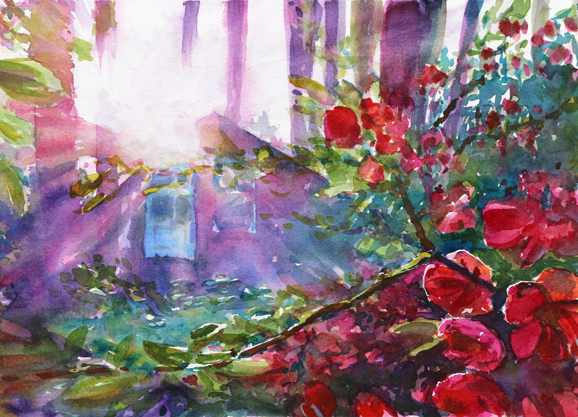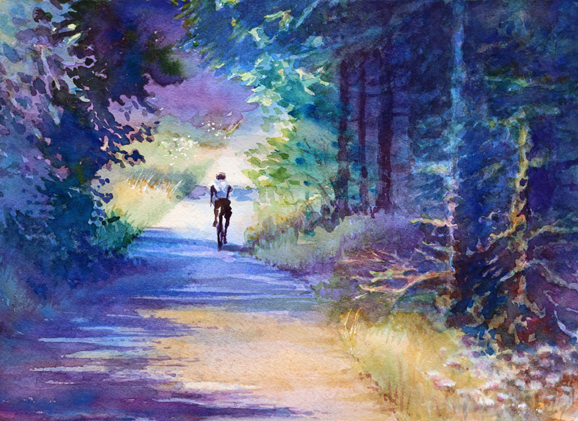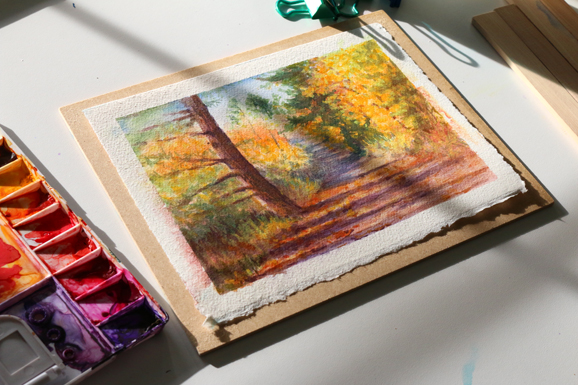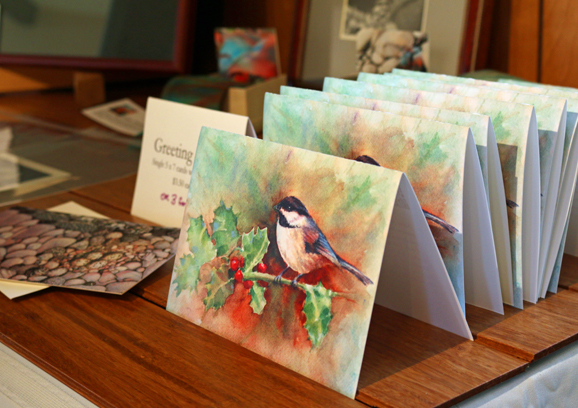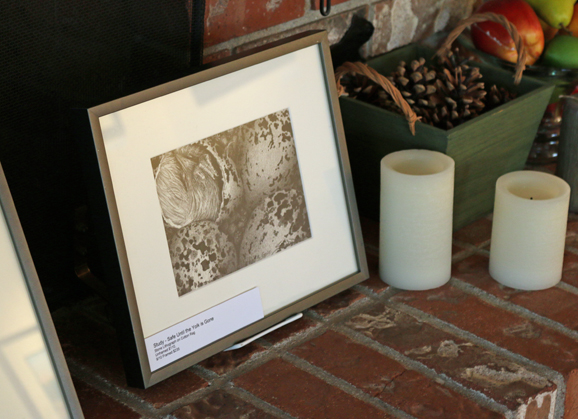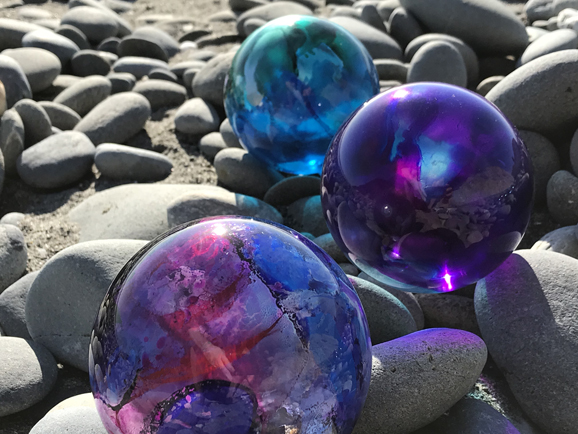 alcohol ink effects in glass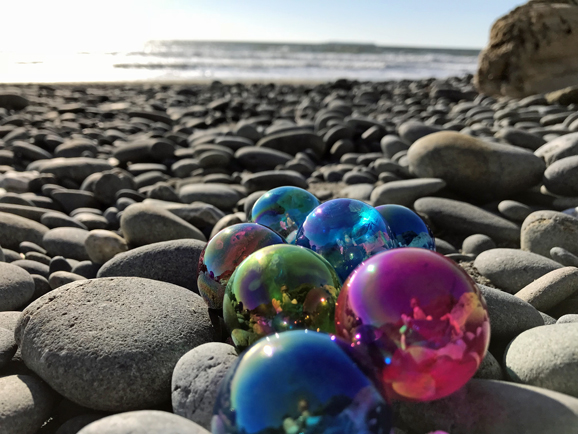 previous events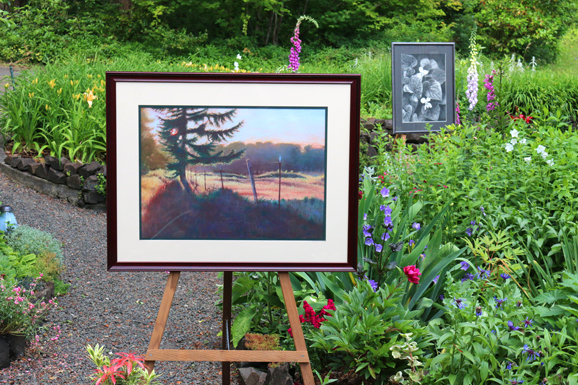 Click on the photo above for a photostory on the July 2017 Art in the Gardens show.