dye-painting silk workshops
painting silk in the serti method using non-toxic, water-base dyes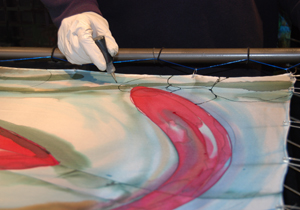 "Dye-painting silk is like watercolors on steroids."
In this full-day silk painting experience, you create three items: a spontaneous scarf, a designed scarf, and a handkerchief sample. Class size is 3 to 5 students, allowing more instructor coaching time for each student, and plenty of studio space.

schedule
- spring 2019

T.B.D - Sat/Sun, May 18/19 or May 25/26
Saturday - 1:00pm to 5:30pm, and then Sunday - 9:00am to 12:30pm or until artwork is completed (it sometimes takes longer).
Each class is two half-days, an afternoon and a morning. This allows for travel time to/from, and a rest in the middle of creating.
Workshops may be special-arranged by appointment. Call or email with a proposed date and group size.
Contact the artist if you are interested in a class.





location of classes
D
ye-painting workshops

are hosted in Steve's home-studio. It is a serene lakeside space with nice lighting.


The address is 4137 116th Avenue SE
Olympia WA 98501.


tuition
$325
per student includes:
Completion of two 11 x 60 silk scarves (one spontaneous texture and one designed) and a handkerchief sketch/sample


Silk, dyes, materials and supplies

Instruction on silk dyes and resists


Mixing of dye colors

Coaching & assistance creating your silk scarf

Steam-setting of your silk artwork for permanence (hand-washable and dry-cleanable)

Shipping of your silks to you when steam-set

For your designed scarf, you'll dye 11 x 60 inch 100% silk in habotai.

Habotai is easiest and recommended for your first silk class (crepe de chine or silk satin by arrangement).

availability & reservations
You may call or email
to verify class availability.
To reserve your place, send a check for $325 per student to the business address which is at the page bottom (footer).
Please make checks payable to visibleinvisible. Thanks!
Click here
for more information
on how to prepare for the class and what items to bring with you.
Here left are students getting started at a class (previously) held at the Olympia Old Carnegie Library.
Click on the photo to see some very creative silk painters having lots of fun.