journal & news updates
past journals
recent creations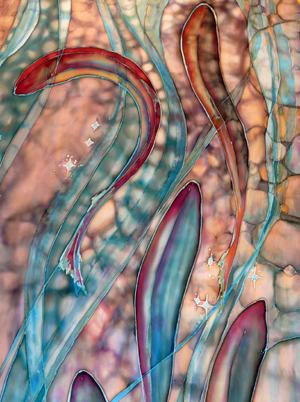 salmon silk mural for home in Issaquah, WA
To soften a jagged, two-story, stone chimney, I created this silk painting to flow over it like a waterfall. The imagery is in keeping with the region's salmon run (annual festival) and location in the foothills of the Cascade Mountains. The palette echoes the architecture's glass, stone and slate, wood floor, walls and beams with accents in azure and reds. See more...
artsy thoughts...
My mantra of late has been slow down and live. So as I try to re-launch a business in art with a new emphasis in commissioned works, I am also learning to live a more restful rhythm.
And although we had snow in April, summer is finally here. And with summer has come a much more social rhythm than I have enjoyed in years. The sun brought friends. I've had visitors from out of state and from outside the U.S.A., from across town and uptown. And I have decided that friends and family are worth my investment. So for about three weeks, I'm slowing down and living...letting some work wait while I love on my family and friends. Ironically, I'm typing this inside my home office while the family is down at the lake swimming. ...must go join them...
The website will be up soon enough and you'll be reading this. For now, I think I'll go jump in the lake with my nephews and try out their new inner-tubes or maybe the surfboard. Summer grace.