commissions in dye-painted silk
100% silk is hand painted in the serti method using non-toxic, water-based dyes that are steam-set (no chemicals) for permanence.


Gilson Middle School
Valdez, Alaska
July 2014
suspended mural 65h x 315w x 15d inches
Dye-painted silk imagery is sublimation-dye-printed into Tripoly® polyester and suspended on custom, stainless steel brackets and rods.
read more...

Liberty Middle School
Spanaway, Washington
Washington State Arts Commission in partnership with Bethel School District
October 2013
suspended mural 258h x 270w x 36d inches
dye-painted silk mural with water-effect lighting
read more...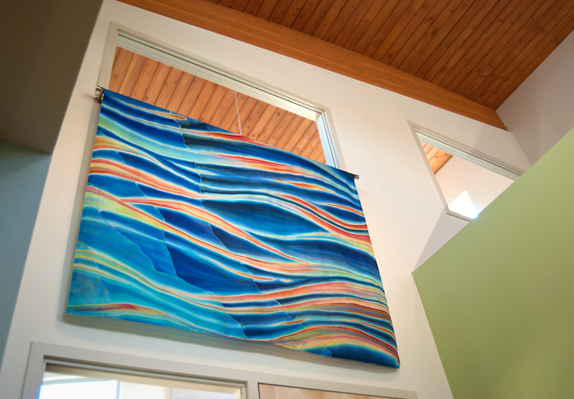 Kachemak Bay Campus, Kenai Peninsula College,
University of Alaska Anchorage
Bayview Hall
Homer, Alaska
June 2012
suspended mural 59h x 79w x 4d inches
read more...
Providence Regional Medical Center
Cymbaluk Medical Tower, 3rd floor elevator lobby
Everett, Washington
June 2011
framed silk 40 x 30 inches
Via Amercian Art Resources in Houston, Texas.

Providence Hospital in Everett also commissioned Still Waters II (Mount Rainier in lake reflection) – 40 x 40 inches, displayed on the 10th floor in the family lounge.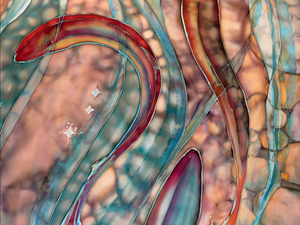 Private Collection
Displayed Horizon Christian School, lobby entry
Hood River, Oregon
Artist Residency May-July 2009
Created 2008
Silk satin 45w x 156h x 3d inches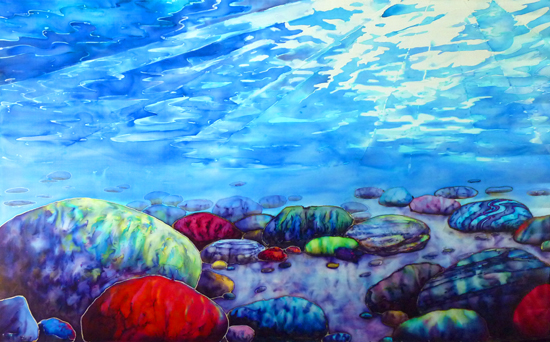 This silk diptych is inspired by artesian well waters of McAllister Springs here in Olympia, Washington.
Fall 2010
suspended silk habotai mural 48h x 156w x 3d inches
read more...