wellsprings

When my hometown of Olympia put forth a call for direct purchase of existing artwork from local artists, I created and submitted a large diptych in silk. Including a one-foot space between the two parts, it measures four feet high by thirteen feet long.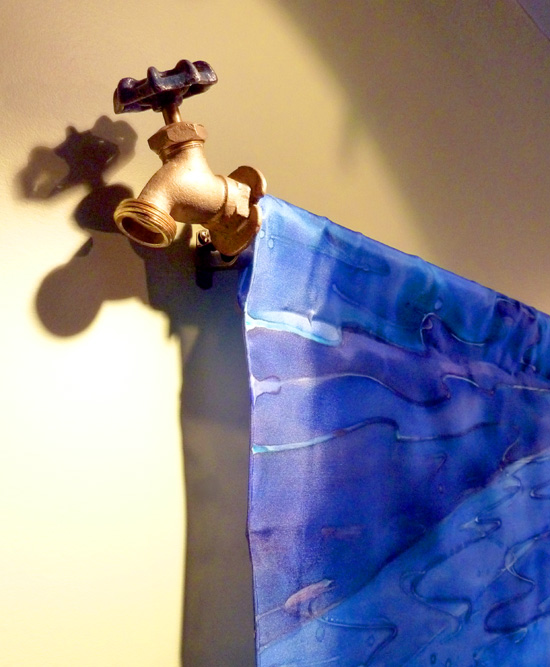 Displaying the artwork on re-purposed copper pipe and fittings, adds a sculptural dynamic.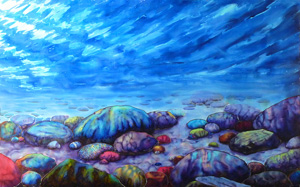 imagery
For Olympia, I employed light and water as metaphor for art and artists as revealers and nourishers of the community. I proposed this artwork with the title Artisan Wellsprings--an obvious play on local artesian wells made famous by the Olympia Brewery. As Olympia is known for many artesian wells, and has a bounty of salt, fresh and falling water, this is a fitting metaphor for our city.
Click on the photo at right for an enlarged view of that panel.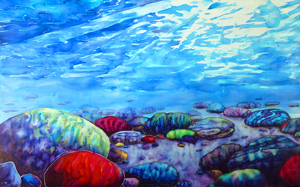 I have gently amplified the colors and refracted light effect in this artwork. The imagery is inspired by our McAliister Springs watershed is recognizable, yet enhanced to evoke a sense of wonder and beauty. Personally, I love the colorful stones illuminated by water-bent light.
The original dye-painted silk artwork Wellsprings was not selected by jury for purchase by the City of Olympia. However, a couple years later, the digital imagery from this artwork was selected to wrap a traffic control box in East Olympia. Read more about that below.
an unusual application
wellsprings was (eventually) chosen for public art in Olympia
A couple years later, In July 2016, I proposed this same art imagery to be reproduced on vinyl wraps to cover one of ten East Olympia traffic boxes.
THANK YOU, VOTERS ! There were 99 art entries and nearly 30,000 votes cast. I'm grateful for the many facebook "likes" (votes) which placed me officially number eight--within the winning top ten. My art design was digitally printed to vinyl and installed in June 2017. Its colors look brilliant against the green background of the site.
My traffic box is in East Olympia, at Boulevard Road and 18th Avenue.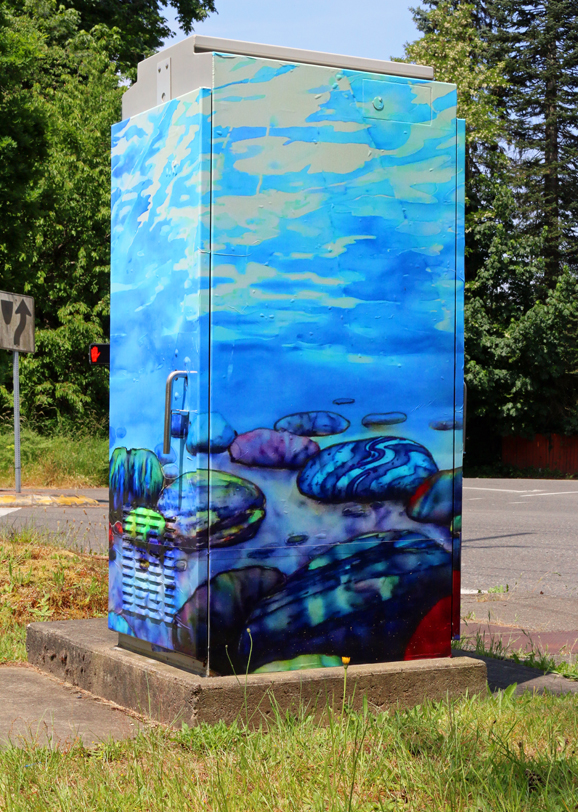 Click on the photo below for a closer view.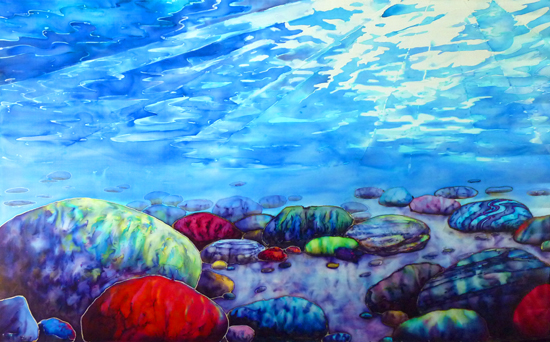 Click on the photo for a closer view (and a complimentary screensaver or wallpaper).
So I still own the original physical artwork. I've enjoyed this artwork in my home and studio. It has also been displayed throughout Washington and in North Carolina and South Carolina.
In Seattle, I suspended this artwork in the center of a room and projected it with water-effect lighting, with music softly playing. The effect was a submerged environment--quietly refreshing for the soul.