illuminated passage
silk mural for liberty middle school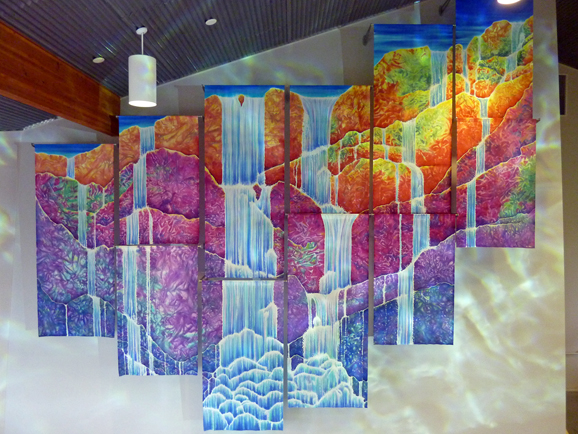 Students passing through Liberty Middle School—and adolescence—are like gathered river waters navigating into, through, and out of a canyon to a completely new environment. Illuminated Passage brightens their journey through these formative years with natural canyon imagery in brilliant jewel colors. Twice daily, like sunrise and sunset, rippling water-effect light floods the room to celebrate the students' arrival and departure—heralding their progress and passage.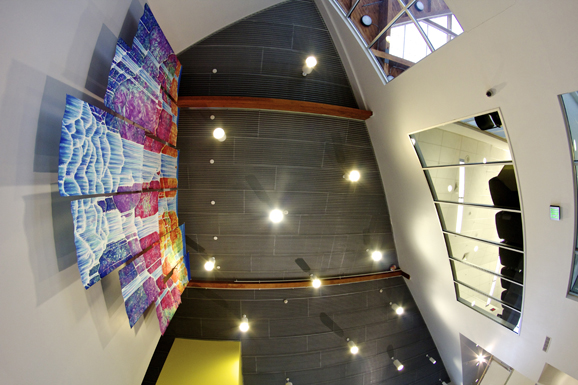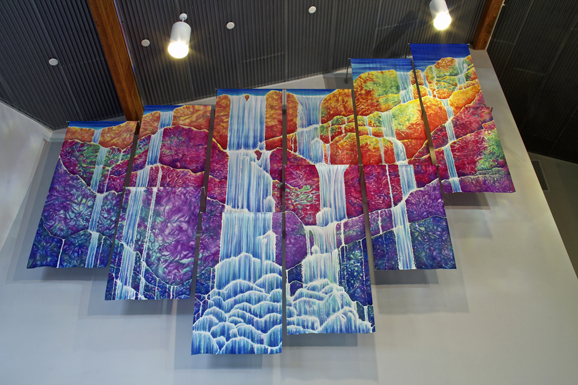 Built in sections in the studio, finally all eleven silk panels of Illuminated Passage can be viewed as a whole and complete mural. Over three hundred square feet of dye-painted silk suspended from the canted wall, the bas-relief mural is accented by a light effect like sunlight up-bounced off of a rippled water surface.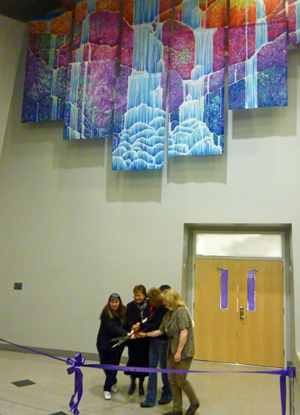 unveiling event
Illuminated Passage was "unveiled" in a public reception Wednesday, January 15, 2014. Liberty Middle School received the honor of being named, "School of Distinction in the State of Washington." So the reception was a combined celebration the school's award and of the new artwork.
The evening event included performances by Liberty's excellent (really!) jazz band and orchestra, speeches by students, district leaders, Liberty's principal, WSAC project manager Mike Sweney, and me. I enjoyed sharing what the artwork is about.
More jazz followed in the atrium area to accompany the ribbon cutting ceremony (pic left). Thanks to all who helped make it a very special evening. Read more at Bethel School District's news archive.
To see the artwork at Liberty Middle School, 7319 Eustis Hunt Road East, Spanaway, WA 98387, visit during school hours (before 2:00pm M-F) and enter through the main office and follow security protocol as instructed.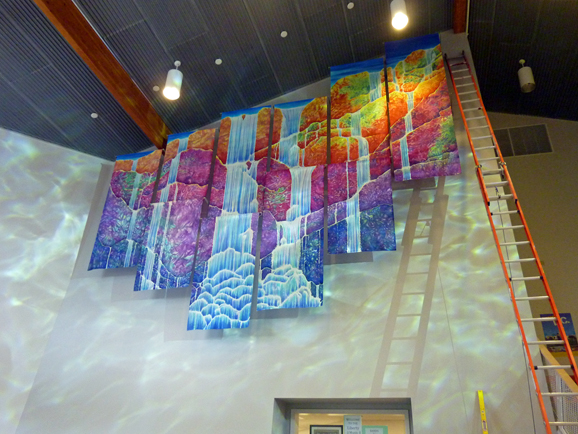 photos ~ installation day
Artistry, engineering, athleticism, and courage are all part of installing large artworks in high places.
See more photos of the installation...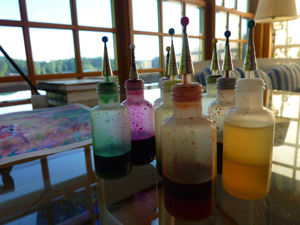 I have invested deeply in this project. I've been immersed in the river and have grown much during the process. Read and see more of creative journey.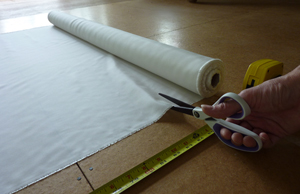 art making process
Click here for photos of the actual art-making in the studio.

This project is sponsored by The WSAC Art in Public Places Program in partnership with the Bethel School District.