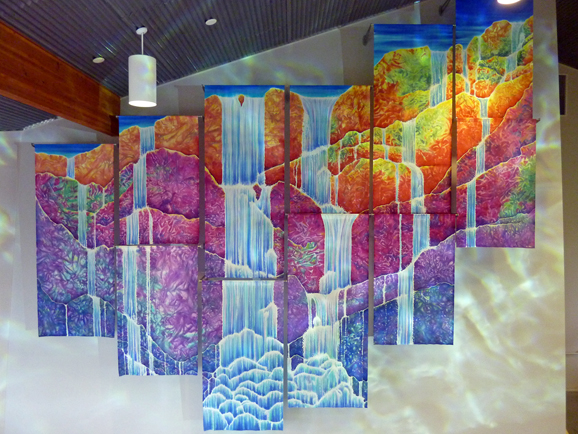 Illuminated Passage 2013, dye-painted silk suspended on stainless steel brackets on canted wall

the journey of illuminated passage
behind the scenes

Here is a collection of writings and photos from throughout the art-making journey.
Click on the photos to see more layers of pages with stories and photos.
Enjoy!
the process
Making public art is much more than putting paint on canvas. I wish it was that simple. Public art requires an involved process of being selected to make art; visiting the site and catching the art selection committee's vision; researching visual themes and materials; developing a concept proposal; creating and managing a detailed budget; multiple committee meetings; satisfying conservation reviews; proposing to the committee; paying bills; meeting insurance requirements; meeting fire codes; securing a contract; working with materials fabricators, suppliers, contractors, architects, electricians, and local administrators--scheduling, designing, and installing. And that's all apart from the actual art-making in the studio. Honestly, I'm amazed I can wear so many hats and work from both hemispheres of my brain.
Why do I do it?
Certainly I learn and gain much in this process. But my main motivation (I believe) comes from a gut belief that the art will somehow have a positive lasting impact.
project parameters


accepted design proposal
The completed artwork will be a silk mural in eleven panels - over three hundred square feet of dye-painted silk suspended from the canted wall, and a light effect like sunlight up-bounced off of a rippled water surface.
primary themes
Liberty Junior High School's art selection committee has a strong interest in artwork with natural themes and imagery which informs the architectural space as a canyon and which addresses the junior high experience of awkward life stages, passage (change, transition) between childhood and adulthood.
Specifically primarily themes of: balance/imbalance, canyon (referencing lobby), elements, weather, nature
Secondarily themes of : hope, imagination, growth, light
The committee desires a Pacific Northwest canyon – a green, narrow, mountainous ravine with water (not the Grand Canyon).

passage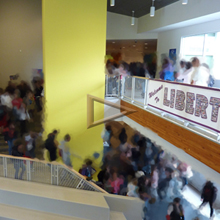 A key component of the artwork in this space (Liberty Junior High School) is the metaphor of passage and change - like a river moving through a canyon, the students are passing through these formative years. They shape the place and the place also guides them. And so the students are as waters flowing through.
Here is a 3 second video clip showing that very movement. Special thanks to Cre8tv for this shot and editing wizardy.
developing the theme ~ visual research
a site visit
visual research begins with the space itself. Click here to see photos of the first site visit for gathering impressions of the space for which art is to be created.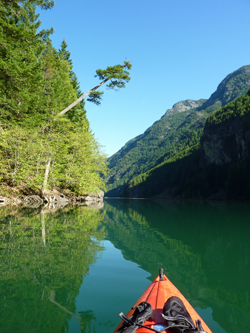 canyon travel
As the architectural and art metaphors are of "canyon," I kayaked Gorge Lake to Gorge Creek to experience, photograph and sketch inspirations of "canyon." My very short (24 hour) North Cascades solo expedition was wonderful.
Click on the photo at left to see more.
The trip was much too short but extremely helpful to me. All the major design decisions were based on my visual experience at Gorge Lake and Gorge Creek.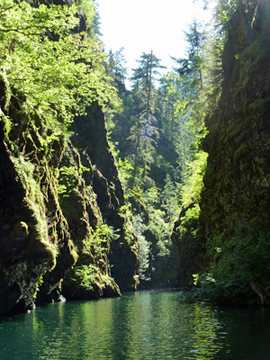 an encore
Or should I call it a canyon echo? It was so stunning, I returned the in August 2012 to Gorge Lake and beyond to Diablo and Ross Lakes also. BEAUTIFUL!
Click on the photo at right to see Diable Lake and Ross Lake.
My first kayak adventure in the North Cascades (Gorge Lake) helped me discover and determine the artistic content for Liberty Middle School.
My second trip was really to rest and be personally refreshed.

a timely discovery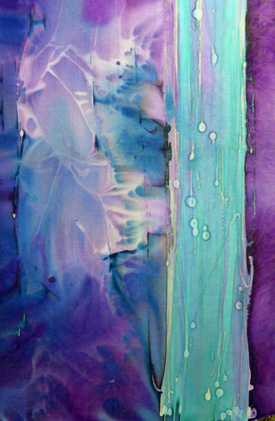 waiting rewarded
Public art doesn't always require over two years from start to installation. But this particular project required time. During that wait, I discovered two ways to ceate a visual illusion of bouncing light (as if off of water surface) and cystaline textures with dye in silk. I was able to apply my new texturing techniques to the stones in this silk design. I'm pleased by this "upgrade. Sometimes good things come to those who wait patiently (but don't hesitate).
Click to see more silk dyed textures...
in the studio
This project required a large working area, much larger than my previous studio. I hung my canyon silk samples around the perimeter keeping my visual references readily available. Halogen track lighing brightens the space allowing me to work into the evenings.
Click here to see more photos of making art in the studio.
Shown below are some of the silk panels in progress with beautiful morning light filtering in the windows.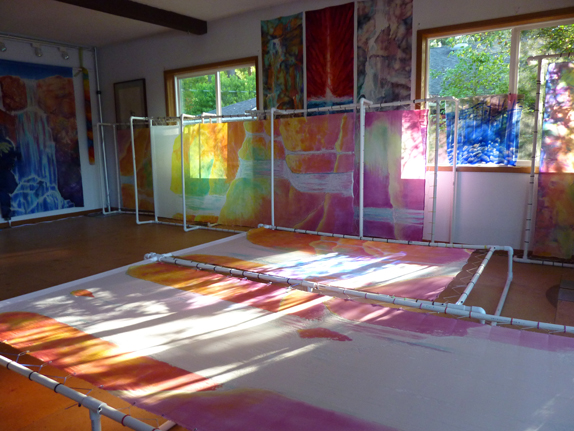 Click here and on photo to see the final stages of production and installation of Illuminated Passage.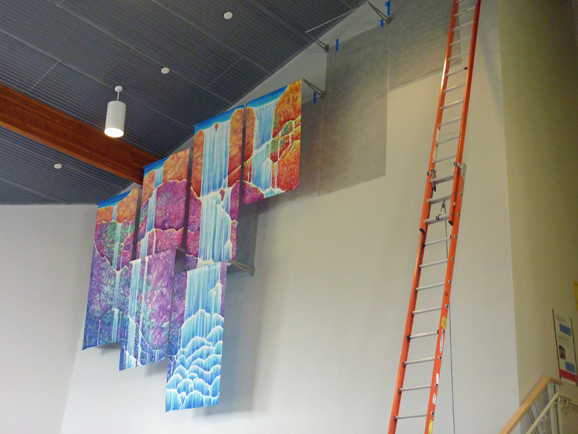 documenting artwork
The making and installation of public art is completely documented not only with an identification plaque, but also with files of photos accompanied by pages of materials and processes used in the making and installing of the art. A routine and longer term maintenance schedule is also included. This information will help the state arts commission to properly conserve the artwork.
The project is sponsored by The WSAC Art in Public Places Program in partnership with the Bethel School District.