Canyon inspiration
gorge lake and gorge creek
a snafu
Late summer 2011, I was well into proposing art designs for Liberty Junior High School when I discovered to my disappointment that my actual fabrication budget was too small for my artistic vision. And one of the sites I had selected within the architectural space turned out to be ill-suited for the artwork after all.
Strike one...strike two...Sigh...
So...back to the drawing board - but now with much less time before I was to present to the committee. I needed conclusive inspiration - the kind that reveals (almost mandates) an excellent creative solution. And I needed it quickly.
a strategy
The plan: get inside a real canyon with real water flowing through it.
To rightly emulate something, one must first know it well - observe it with all the senses.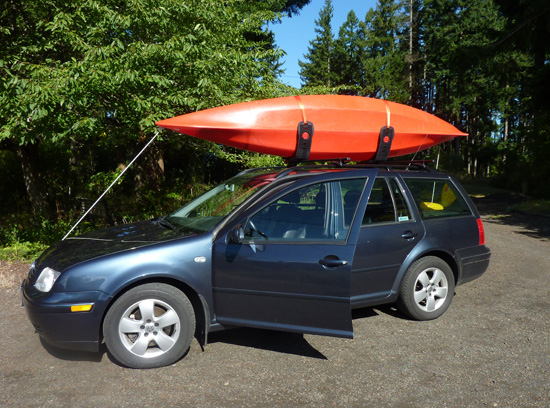 So off I drove on a whirlwind road trip into the North Cascades to immerse myself in, draw/sketch, look, feel, know, photodocument, video - a real canyon - and quickly return home to prepare a proposal for the committee.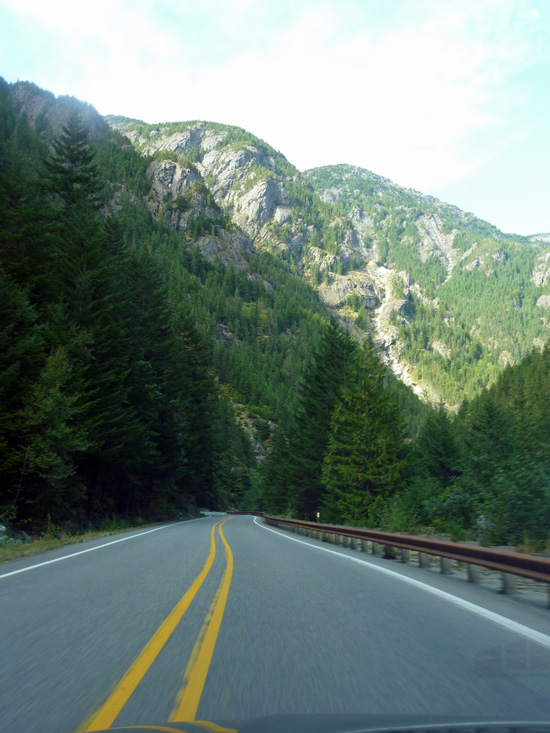 Washington Highway 20 - into the North Cascades...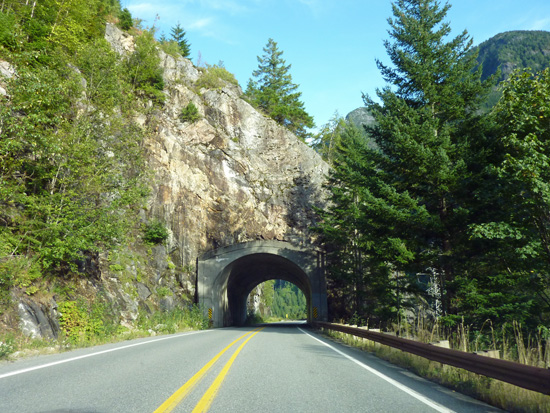 ...into and through...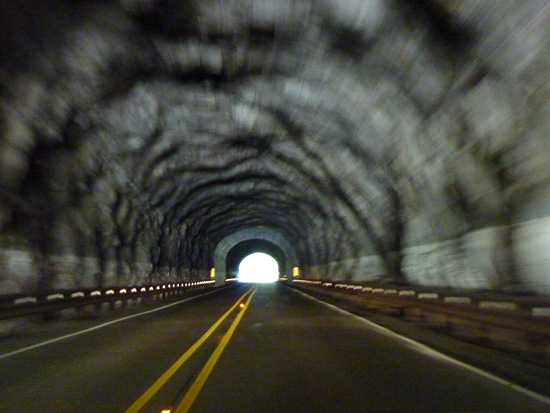 and into a completely different and beautiful environment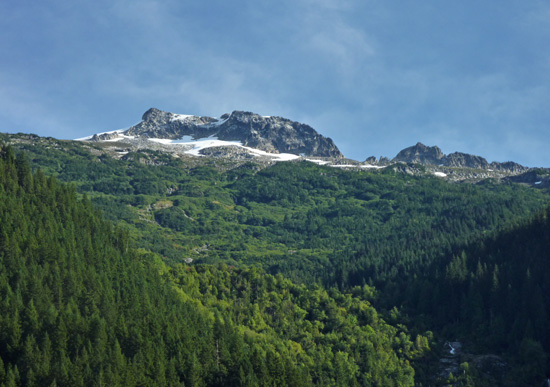 Miraculously, in less that twenty-four hours, I was able to take in a lot of "canyon" beauty which was potent for shaping my final design proposal.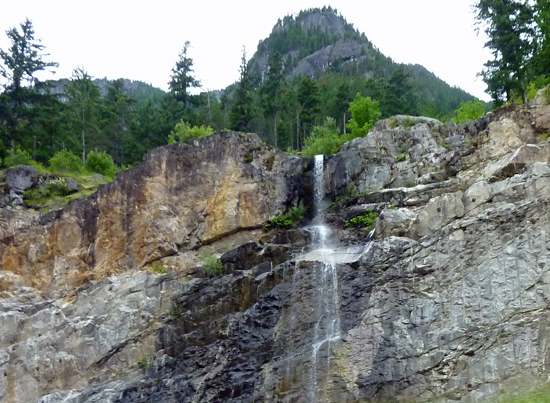 This sheer rock face reminded me of the canted wall at Liberty Junior High - and of what it could look like with a waterfall coming down it.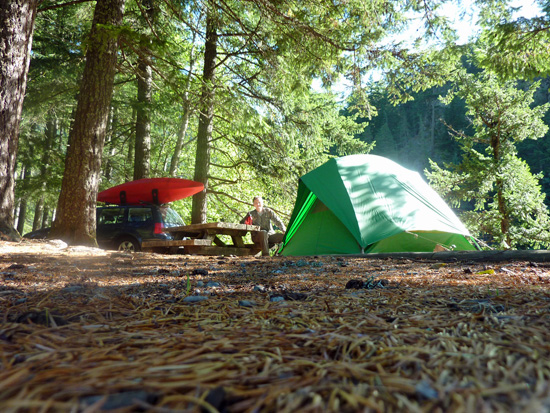 I had never camped alone before, nor in that part of the North Cascades. I did a bit of research online (and friend phone calls) regarding where to stay and not - which all turned into a wonderful trip. My only regret is not having more time to stay there.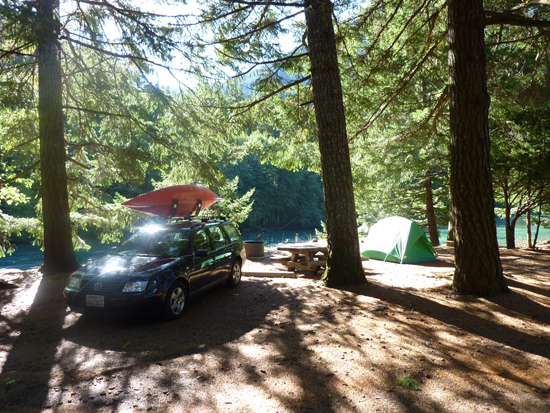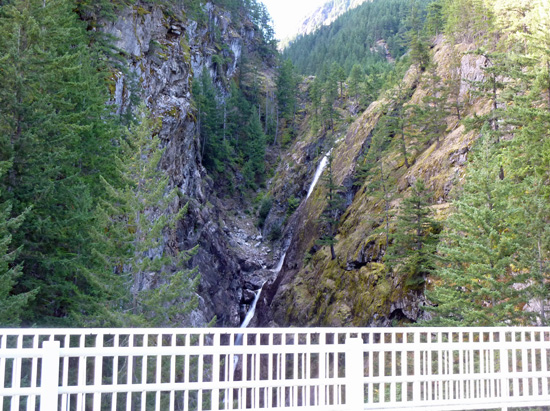 This foot bridge over Gorge Creek (above) to me resembles the skywalk in the lobby at LJH (below).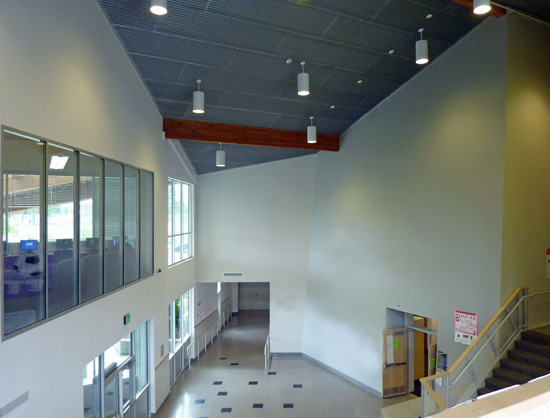 There is a railing that barely shows bottom right...also in photo below.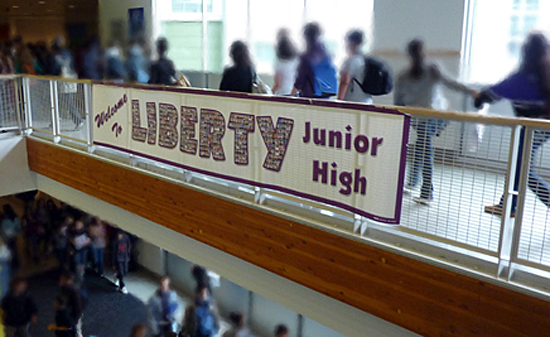 Meanwhile... back in North Cascades...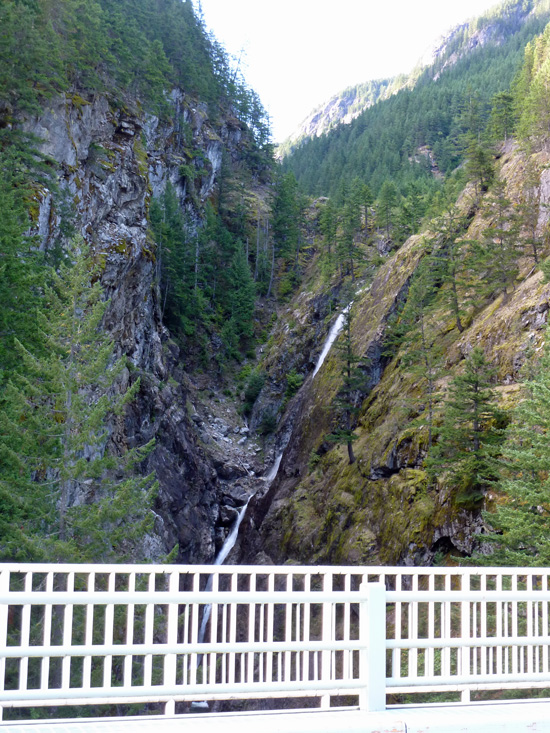 Getting from on top of the bridge (above photo) - to under the same bridge (below photo) was not as quick as scrolling with your mouse. Rather it required a three mile paddle followed by a short scramble into the gorge.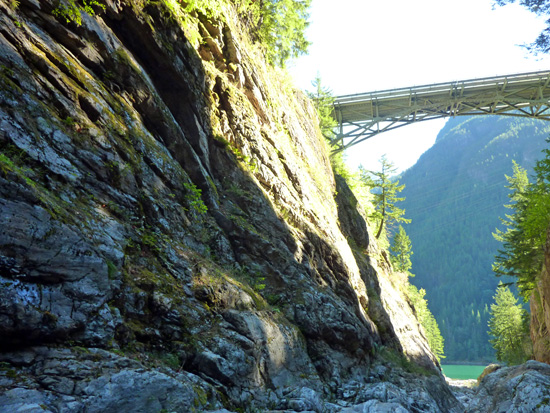 www.visibleinvisible.com/media/LibertyJHS_2011-12/Gorge%20Lake%20Trip/largePhotos/vlg249.jpg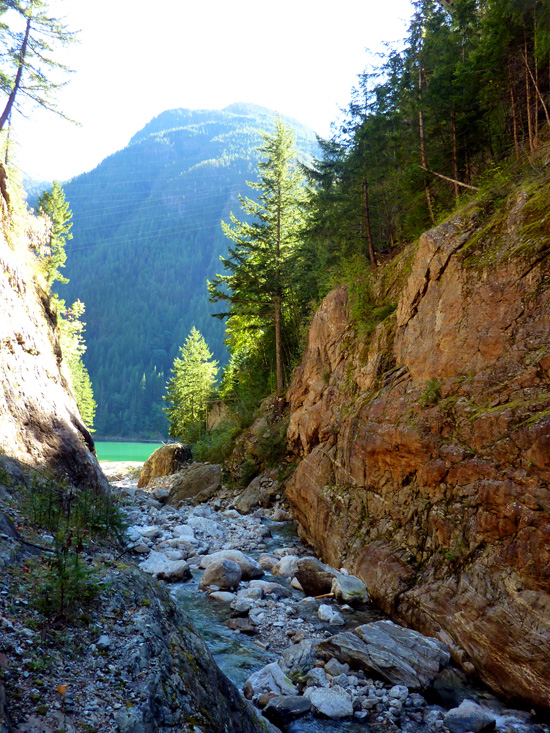 Down inside of Gorge Creek Canyon, looking out to Gorge Lake...COLOR!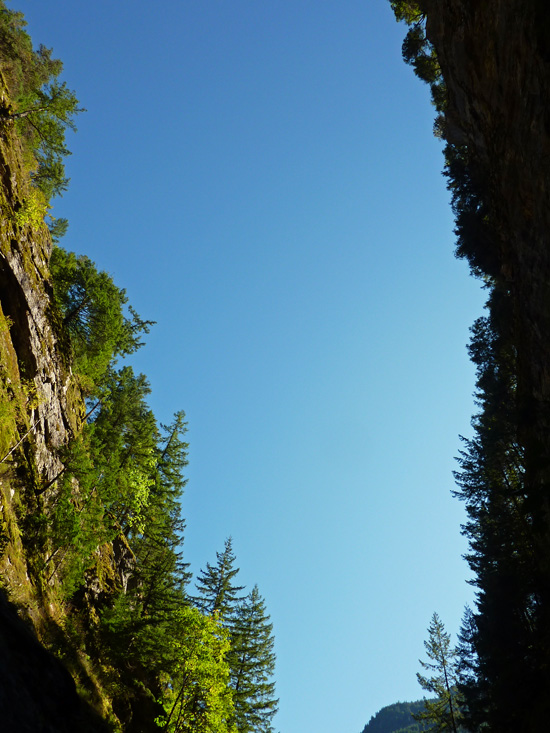 Inside Gorge Creek Canyon looking straight up - it's very narrow.
What a gorgeous, clear blue sky!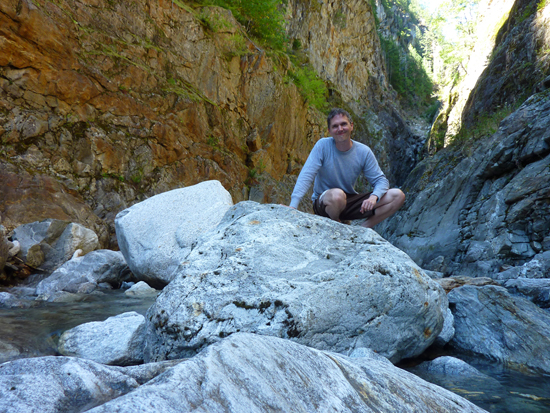 ...balance and imbalance? (photo credit: Mr. Lumix Self-timer)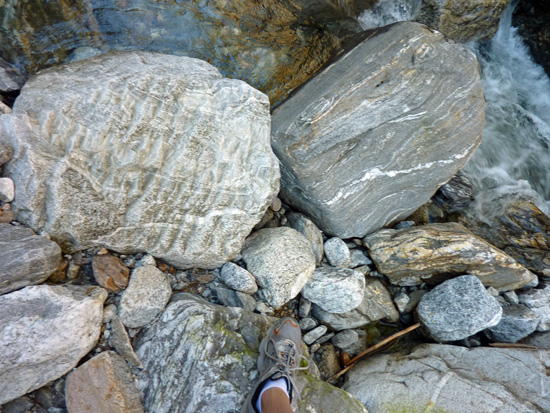 Navigating amidst beautifully textured boulders in Gorge Creek.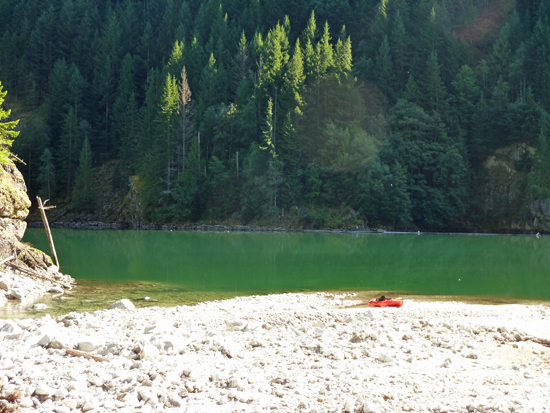 Out of the shade of Gorge Creek Canyon...to the beach at Gorge Lake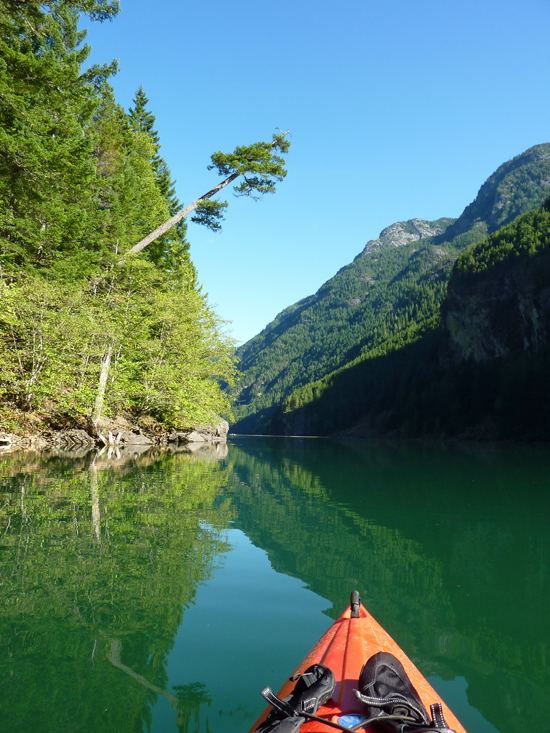 Kayaking back to camp, the lake was like glass - clear and smooth. Beauty melted away the pressures of a pending project. Inspiration was everywhere. Next trip I'll remember to bring a second camera battery.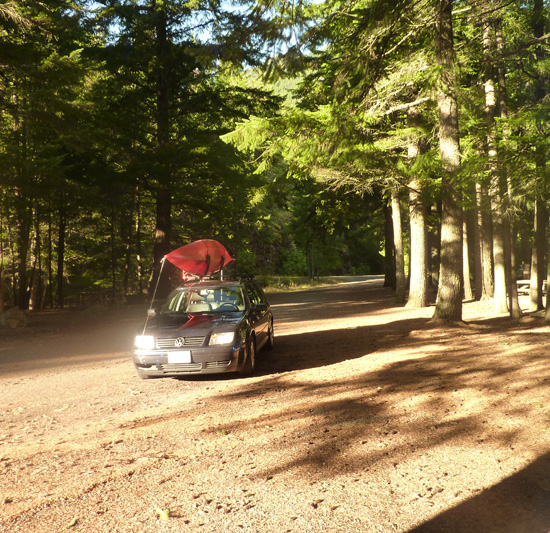 Packed up to drive home... I hope to return soon.
See more gorge-eous photos of Gorge Creek and Gorge Lake.