spring journal 2012


spring
Spring has sprung. Bring it on.
Grandma's azalea explodes with color in May.
tulips for Grandma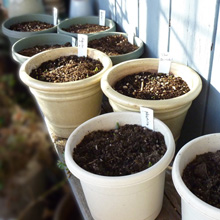 Winter is for rest, but also for hope - to look forward with anticipation and promise of good to come. There is something about planting bulbs that helps me see the future-present. At left is a photo of the tulips taken in winter. Click on the photo to or here to see them in April and May - in full bloom.
I wonder if everyone planted a seed or a bulb every year if we'd all be better in touch with rhythms and seasons and life. If you didn't find time to plant any bulbs this year, enjoy these photos. Maybe you'll be inspired to grow your own tulips this next winter.
vision everywhere and always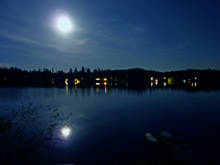 I thought night skies were basically black, but this sky was deep blue... a full moon lake-view from my studio. Must be where we get the color-term "midnight blue."
Maybe because I'm an artist, or maybe because I'm human, whether day or night, there is just so much to see. Even with spring pollen allergies blurring my vision, color and life are bursting forth everywhere. Spring brings a welcomed contrast to the ice storms of winter. Click here to read more at my artful living page.
current art commissions

On April 28, 2012, my large silk artwork entitled Tree of Life was unfurled, seen for the first time by the leadership of the Village Church of Dunwoody. I am told they were powerfully moved by the imagery and the meaning of this artwork. The silk triptych will be featured during the next season where the teaching will be on relationships. How fitting for this image with many homes living in unity in one tree...a village of treehouses. I am encouraged to hear that this artwork has been well-received.
This is actually version II as the first completed version was damaged in a steaming accident. Perhaps because I don't like doing the same thing twice, or maybe because I learned from the first one, the second version turned out artfully different...perhaps better. While waiting required a bit of patience, the result became a beautiful upgrade. Bonus: And even the damaged version (1.0) has been salvaged and is currently displayed in Tenino, Washington. Different in style, rustic in its damaged state; it is a perfect fit for the Tenino venue - a remodeled barn used for musical gatherings.

washington
Last spring, I began the public art commissioning process with WSAC Art in Public Places Program and the Bethel School District - for Liberty Junior High School in Spanaway, Washington. As the architecture and art theme is a "canyon," I kayaked Gorge Lake to Gorge Creek to experience, photograph, and sketch inspirations of "canyon." My very short (24 hour) North Cascades solo expedition was wonderful, and I hope to return this summer when the snow melts and the roads reopen.
Although brief, my canyon trip was instrumental in shaping and narrowing my proposal focus, imagery, and media. And the committee did approve my preliminary concept proposal.
We've got more details yet to iron out, but if all goes well, I could be installing completed "canyon" artwork this summer.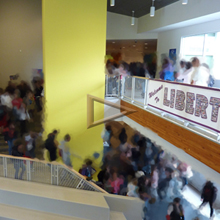 A key component of the artwork in this space (Liberty Junior High School) is the metaphor of passage and change - like a river moving through a canyon, the students are passing through these formative years. They shape the place and the place also guides them. And so the students are as waters flowing through.
Here is a 3 second video clip showing that very movement. Special thanks to Rick Dupea of Cre8tv for this shot and editing wizardy.
The project is sponsored by The WSAC Art in Public Places Program in partnership with the Bethel School District.
alaska
I'm very pleased to have been commissioned by UAA to create a mural in dye-painted silk for Katchemak Bay Campus of Kenai Peninsula College of the Univeristy of Alaska. Installation in Homer, Alaska is scheduled for mid-June. Click on this link to read more about "discovery" with sketches, photos, and color studies.
living artfully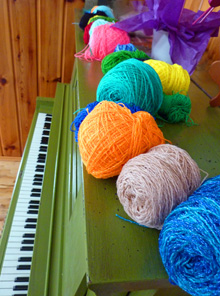 In this season, I'm intentionally taking note of my artful living - ways I see and think and act which may be a bit unusual, and wonderful. I'm celebrating the extraordinary discovered within the common. So here is a collage of recent random acts of artfulness that are simply a part of how I live. Read and see more...

I planted seeds this winter...
...because I have Spring on the brain again. Spring always lives in me...even in winter. Spring is about "new." Here is a photo of my darling Gerbera seedlings sprouted from seeds I gathered from gone-by flowers this summer. Summer's spent blossoms have become spring's sprouts in mid-winter.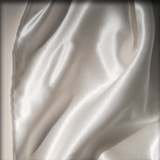 commission a silk scarf
Want a scarf in different colors or with a different flower or motif? Commission a wearable silk painting for yourself or a friend.
snowspirations
My winter snow sculptures inspired another artist (with much more snow) to create some whimsical and wonderful creatures. She shared some photos hoping to perhaps inspire others to shape snow Click here for the photo story...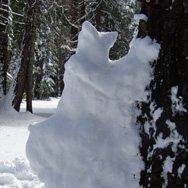 existing artwork links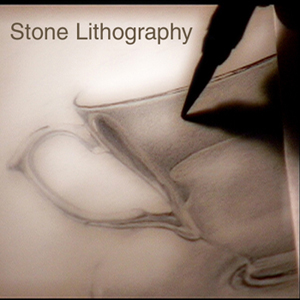 people often ask me how I create a stone lithograph. It's hard to explain in words so I have a short video that shows the process.
Click here for photos and video on stone impressions.

Click here to see photos of ten new images completed in January 2011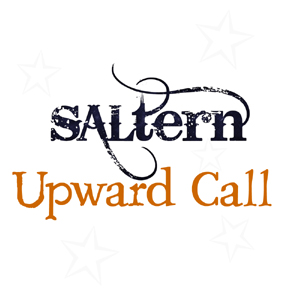 song project - upward call
Read about our spring 2011 kid's pop song project at upward call
Or click on the photo at right to listen to the song or buy it...

silk rivers
Check out my recent river silks (click on link) inspired by and modeled after the beautiful fremont antique glass we used for the Kenai Peninsula College installation.
past journals
fall 2011
summer 2011
summer 2010