spring-summer journal 2011
spring travel
In April, I flew with friends to South Carolina where we displayed my silk paintings in a context of contemplative prayer in the historic First Scotts Presbyterian Church, downtown Charleston. The silks were well-received. Our hosts were wonderful. The weather was surprisingly kind too...with the exception of a tornado storm which passed just 60-80 miles north of us. That's near enough for me. All in all, I had a wondefully rich and memorable experience there - relationally, spiritually, and in the arts.
In photo at right - colorful silks paint a warm welcome to visitors as they step out of the elevator into the hallway.
wedding art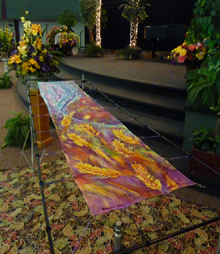 In June I created a dye-painted silk artwork live during a colorful and artful wedding of dear friends. Read more...
art commission activity
atlanta commission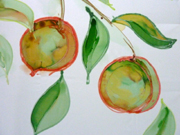 Today (June 9, 2011) I completed a color study in silk for a private commission for a church near Atlanta, Georgia. My nephews (age 12 twins) said they loved the colors...that the colors were "warm" and "welcoming." I love getting input from my nephews because kids are often honest and intuitive judges of what they like and don't in art.
wsac art in public places
While I was adding color to the background of the Georgia commission, I received a phone call notifying me that I was in the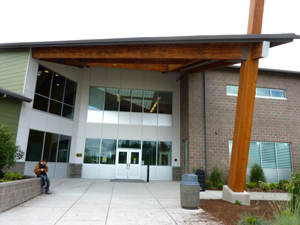 running for another Washington State public art commission. This time it was down to two artists who will interview for the commission. Always exciting.
WSAC Update: June 23, 2011 - I received a call today from WSAC with excellent news. I have been selected to propose art for Liberty Junior High School in the Bethel School District of Pierce County, Washington. It's an amazing, new space with fantastic architecture. The committee has established some wonderful themes for me to express visually. At this point, I envision something in silk and glass and utilizing natural and possibly LED light. I'll share more updates as the process unfolds.
The project is sponsored by The WSAC Art in Public Places Program in partnership with the Bethel School District.
providence hospital commission installed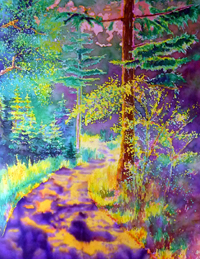 Providence Hospital in Everett, silk commission update - On May 2, 2011 I shipped two completed paintings in silk to Amercian Art Resources in Houston, Texas.
Still Waters II (Mt Rainier on lake) – 40 x 40 inches
Listen Again – (sun-dappled trail through wood) 40 x 30 inches
I'm told they were pleased with the large paintings when seen upon arrival. I'm not sure when the framed work will be installed back up here in the new hosptial facility in Everett, Washington.
I'm pleased with this particular commission because it is for a place of healing - Providence Hospital. Almost since I first discovered dye-painted silk, I envisioned silk artwork in hospitals and other places of healing. This is the start of fulfilling that vision.
update: The artworks have been installed in early June. In the new building of Providence Hospital in Everett, they are hung on the 3rd floor (close to the elevator lobby) and on the 10th floor in the family lounge.
drawing 101 and 102
Drawing...is the necessary beginning of everything [in art], and not having it, one has nothing. - Giorgio Vasari
This spring I enjoyed teaching four drawing classes - two classes each of drawing 101 and 102 in April and May respectively. The students worked hard, laughed much, and learned to make marks freely. I was positively impressed with the work of the students. Click here to view photos of the drawing 101 classes.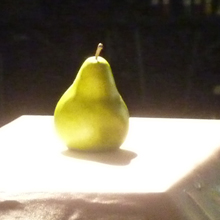 Through Elisabeth Cooper's new justice musician and artist guild, I may teach more art classes this fall.
We'll possibly offer beginning drawing again, and/or move on to color and composition in some painting classes.
Watch here (journal) for details.

dye-painting silk workshops
Two silk classes were offered this summer with possibly one or more this fall.
Click the "classes" tab page top, or here for info, dates and times.
existing artwork links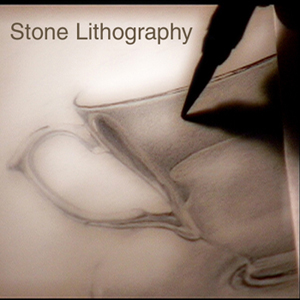 people often ask me how I create a stone lithograph. It's hard to explain in words so I have a short video that shows the process.
Click here for photos and video on stone impressions.

Click here to see photos of ten new images completed in January 2011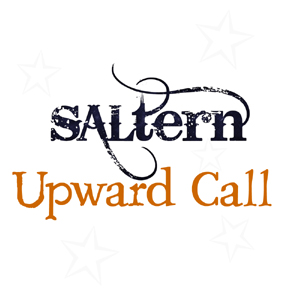 song project - upward call
Read about our spring 2011 kid's pop song project at upward call
Or click on the photo at right to listen to the song or buy it...

silk rivers
Check out my recent river silks (click on link) inpsired by and modeled after the beautiful fremont antique glass we used for the Kenai Peninsula College installation.
past journals