winter journal and news updates
november silk workshops a colorful success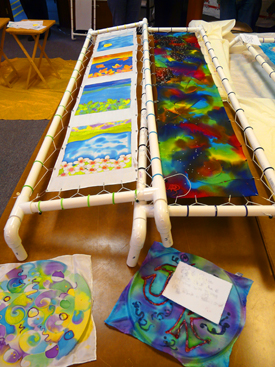 Although I have recently demonstrated silk painting in a variety of venues, it had been about two years since I taught a silk painting class. So it was exciting to re-kick-start silk workshops with three silk painting workshops this past November.
Twenty-one students in three classes all seemed to enjoy creating in silk, discovering it's beauty and fluid tendencies. They created beautiful scarves and handkerchief samples. I'm grateful to these students who were my test group while I worked out logistics for the best ways to teach the classes. One thing we learned is that we need more time to complete our designed silks. Changes and improvements will be applied to the upcoming courses in January.
Here are some photos of the finished silk scarves created by the students in the three classes in November.
Special thanks to Reality at the old Carnegie building for providing reasonable and artsy creative space for these classes.
upcoming silk painting workshops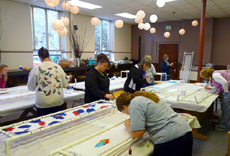 Planning is in the works for more silk painting workshops in January and February in Olympia. Hopefully also one in Hood River, Oregon. The times and dates are tbd Click here for schedule and more information.
Once you've registered for a workshop, here is information on how to prepare for your workshop.
stone lithography - the video
I am amazed and pleased with the completion of this short video. Special thanks goes to Randall Pullar - producer, and Craig Cornwall - master-printer of Trilobite Press.
Many have asked me, "What exactly is a stone lithograph?" or "Are they copies or originals." The best way to really understand this process is to see it. And here is your chance.
This 4 1/2 minute video shows how I create a stone impression. A bit of a time capsule, it includes video footage of the making of many artworks over the years. (You'll watch me age and my hair style will change many times. That alone is worth the price of admission...free.)
watch video free download
shorter download time, smaller mp4 file
watch video free download
longer download time, larger mp4 file
NOTE: You'll receive your own free DVD version of this video with your purchase of any stone impression artwork by Steve Scheibe.
If for some reason you cannot view this video, visit my stone lithography page under my media page/tab to see a still-photo version of the making of a stone impression.

glass art for alaska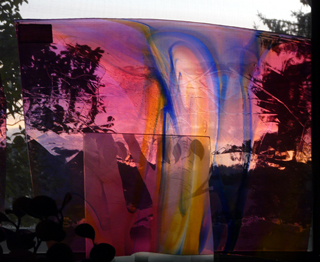 I continue planning, designing, and ordering custom materials for the Kenai Peninsula College public art project in glass. Jim Flanagan of Fremont Antique Glass, in nearby Seattle has produced lovely glass samples for me and is creating still more. I have purchased four of the twelve that will together make a river window. The glass colors are designed in a progression from warm and pastel to cooler and deeper, simulating shallow pools/waters flowing downstream to deeper, faster waters.
glass-blowing - a simplified description: Jim and his assitants melt glass and blow it into long cylinders that look like giant vases. Jim then cuts them on one side, heats them and opens them flat. The glass is heat-cured many times to give it strength. It's an amazing process of hand-blowing and heat curing each sheet of glass.
Click here to see photos of Fremont Antique Glass and amazing hand-blown samples...
Click here to see photos of glass I've purchased for this project.
Christmas at the Louvre Museum
I found this interesting online tour of famous artwork at the Louvre - telling the story of Christmas. It's in English too which is nice. Enjoy.
past journals