summer journal & news updates
puddy home art show - event 2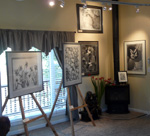 All are invited...Saturday, August 15 from 10:00am to 3:00pm - Visit with artist Steve Scheibe (me) in this lovely home. See a large exhibition of my new and existing stone impressions on cotton paper, dye paintings on silk and oil paintings on canvas. The event is hosted by Tom and Karen Puddy, in their home at 1823 Rose St NE, Olympia, WA 98506 - a mile north of town off East Bay Drive.
Due to the extreme heat, there were a large number of guests who could not attend the July opening at the Puddy Home. August 15 offers a second chance for people to see a large body of my new and existing artwork.
childhood's end gallery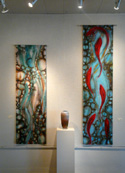 222 4th Avenue W. Olympia, WA 98501 - Mon-Sat 10:00-6:00, Sun 11:00-5:00.
Only through August 16 see my new silk painting "scapes" on display at Childhood's End Gallery. Inspired by scenes along the Chehalis Western Trail, I've painted these "landscapes of the heart" on pure silk with non-toxic, water-base dyes. They are suspended freely and move gently in the air currents. The gallery has paired my silk with beautiful hand-blown glass for a strikingly beautiful display.
garden rhapsodies tour featured artist
Thanks to all who stopped by to see me paint silk at the tour of local gardens with music and art Saturday, July 25. It was a hot but beautiful day of demonstrating silk painting in one of the tour's featured gardens - the Garst home. This was my second year participating. A lot of guests enjoyed my artwork and some are considering taking a silk painting workshop.
public art project in Alaska
I'm so pleased to be working collaboratively with artists from North Carolina and New York to create a public glass artwork for Kenai Peninsula College in Soldotna, Alaska.
The Kenai River is the college's central theme and will inform the visual imagery of our work. Glass is a new and exciting medium for me. My portion (6 contiguous windows - together over 22 feet long) will be mouth-blown rainbow streaky glass (see image right for a sample) etched with river imagery. The other artists will use pieced stained glass while incorporating some mouth-blown and etched glass into their designs. Each artist has approximately one-third of the project and all the designs flow together as one installation.
I recently flew to North Carolina to learn more about glass and to finalize the major design and materials decisions for this project. Our time in the studio was productive and greatly beneficial. I'm pleased with our designs. I was amazed at the many varieties and manufacturers of glass. Best of all was discovering that some of the best glass in the world is custom mouth-blown here in Washington State. Although more than six times the cost, this glass is exponentially more beautiful than the next best options.
So far this has been a very positive and exciting experience. I have been invited into this project by dear friends who I originally met in Alaska. Working with them is an honor, a wonderful collaborative learning opportunity, while also being a great reunion of friends.
I plan to post updates to this project as it develops and progresses toward our project deadline in summer 2010.
hood river "artist in residence"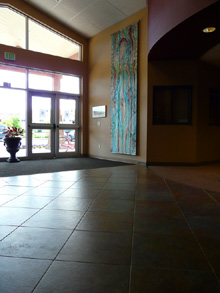 Through dear college friends, an opportunity opened up for me to be a guest artist "in residence" for May-Term at Horizon Christian School in Hood River, Oregon.
My artwork was displayed in the commons and lobby areas of the beautiful new campus from May into July. During May-term, I met students during their art classes and led guided tours and discussions with art students and curious faculty.
Then I was again on campus May 28 for an art reception combined with the schools musical concert. (I was positively impressed with the talent and skill of these young musicians.) I was invited to briefly share about my artwork and my residency at Horizon with the concert audience, then we moved into the reception/commons/gallery area. The space was filled with people and with energy. I enjoyed meeting and connecting with so many students, parents, faculty and guests.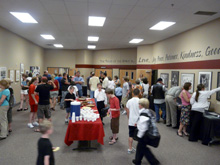 An additional activity made this reception special. Everyone who wanted, had a chance to try their hand at silk painting. The students were especially facinated with the silk and dyes. The finished silk painting was quite colorful! (read more)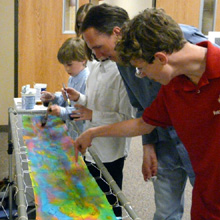 past journals