summer 2009 continued...
hood river "artist in residence"
The school is amazing. These kids get to learn and do things that I never experienced in primary school. They enjoy a relaxed and loving atmosphere of learning yet with high standards and amazing opportunities from talented and dedicated faculty.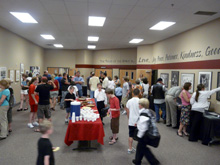 I enjoyed the children. They were curious, and bright - asking questions, making creative connections and discovering so much. I was refined and quickened by their questions and delight.
Because we stepped out and did this residency on a volunteer basis (i.e. no grant money), I was very pleased with the art buyers who supported me with their purchases and contributions. I saw big smiles on their faces as they took home their original "Scheibe" paintings.
Hopefully, my residency at Horizon has been encouraging to the students as it was for me. I hope I was a catalyst for learning and discovery in the arts as well as to build momentum toward more guest artists, grants, and maybe community art projects there in the very near future. I am grateful to Horizon, the students, faculty and staff and familes there, for a surprisingly rich experience.