happy new year
impressions of the year past
Looking back at 2009, it's been a full and blessed year.
in art...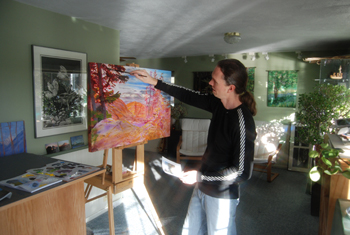 I displayed my artwork in five major shows in Oregon, Washington, and internationally online.
I was "artist in residence" in Hood River, Oregon.
I began my first public art commission in glass for University of Alaska, Kenai Peninsula.
I enjoyed challenging and beautiful private commissions in oil and in silk. (see photo right)
I was juried into the artist registry for Group Health of Washington and Idaho.
I demonstrated silk painting for Olympia's Garden Rhapsodies tour, and at the Washington Stars Quilt Show.
I taught three workshops in the fall - dye-painting on silk.
I discovered more in the mediums of glass and dye-painted silk.
My brother-in-law and I completed our video on the process of stone lithography.
read more on impressions of 2009...

upcoming silk painting workshops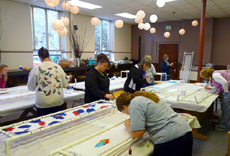 The Fall '09 silk painting workshops were were a great success. I also learned a lot quickly and improved the services I offer with each class. Once again in January and February 2010, I'm offering (new improved) workshops in Olympia, and hopefully also in Hood River, Oregon. The Olympia classes will each be on a Monday -a day or an evening. Click here for schedule and more information.
Once you've registered for a workshop, here is information on how to prepare for the class.

stone lithography - the video
I am amazed and pleased with the completion of this short video. Special thanks goes to Randall Pullar - producer, and Craig Cornwall - master-printer of Trilobite Press.
Many have asked me, "What exactly is a stone lithograph?" or "Are they copies or originals." The best way to really understand this process is to see it. And here is your chance.
This 4 1/2 minute video shows how I create a stone impression. A bit of a time capsule, it includes video footage of the making of many artworks over the years. (You'll watch me age and my hair style will change many times. That alone is worth the price of admission...free.)
watch video free download
shorter download time, smaller mp4 file
watch video free download
longer download time, larger mp4 file
NOTE: You'll receive your own free DVD version of this video with your purchase of any stone impression artwork by Steve Scheibe.
If for some reason you cannot view this video, visit my stone lithography page under my media page/tab to see a still-photo version of the making of a stone impression.

glass art for alaska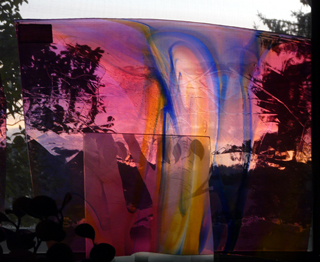 I continue planning, designing, and ordering custom materials for the Kenai Peninsula College public art project in glass. Jim Flanagan of Fremont Antique Glass, in nearby Seattle has produced lovely glass samples for me and is creating still more. I have purchased four of the twelve that will together make a river window. The glass colors are designed in a progression from warm and pastel to cooler and deeper, simulating shallow pools/waters flowing downstream to deeper, faster waters.
glass-blowing - a simplified description: Jim and his assitants melt glass and blow it into long cylinders that look like giant vases. Jim then cuts them on one side, heats them and opens them flat. The glass is heat-cured many times to give it strength. It's an amazing process of hand-blowing and heat curing each sheet of glass.
Click here to see photos of Fremont Antique Glass and amazing hand-blown samples...
Click here to see photos of the glass I've purchased for this project.
past journals