journal ~ spring 2010
so much green
so much water
so much life
air, dirt, water, light, and living specks (seeds) = surprises
I planted seeds this year on Easter day. There's something unbelievable yet real about those dry specks "hatching" into living, green plants. I'm awed by my smaller-than-a-hair seedlings as they twist upward toward the light. Some will bloom this year, some bloom in their second year. Planting seeds requires faith.
Germination is natural and yet miraculous...
...hard to fathom...yet tangible.
It's kind of like art...making tangible the intangible...making visible the invisible. (and you thought my business name was random).
And I'll try to remember to take photos of the plants that survive and thrive for my summer or fall journal.
alaska glass river is growing
The vision of a river of etched, colored glass is becoming a physical reality.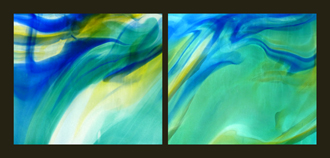 I have selected and purchased my twelve gorgeous panels of mouth-blown art glass for the Kenai Peninsula College project. Jim Flanagan of Fremont Antique Glass, in nearby Seattle has patiently interpreted my vision of color and movement to create dozens of panels from which I selected just twelve that I will use in creating a glass river artwork. (Fortunately for Jim, other artists have bought up my "seconds" because they are so beautiful.) The glass colors are designed in a progression from warm and pastel to cooler and deeper, simulating shallow pools/waters flowing downstream to deeper, faster waters. This photo shows one-sixth of the total glass for the project. See a preview of the window (without etched elements.)
glass-blowing - a simplified description: Jim and his assitants melt glass and blow it into long cylinders that look like giant vases. Jim then cuts them on one side, heats them and opens them flat. The glass is heat-cured many times to give it strength. It's an amazing process of hand-blowing and heat curing each sheet of glass.
Click here to see photos of Fremont Antique Glass and amazing hand-blown samples...
Click here to see photos of the glass I've purchased for this project.

river glass inspires river silk
Art seems to be something that simply happens. I don't go looking for subject matter. Rather it seems to flood to me. And the more I create, the more ideas flow.
So it's not surprising that my new medium of mouth-blown glass is inspiring and influencing my design sense with silk. The mouth-blown art glass is so deliciously beautiful and crystaline, I couldn't help but try the colors and swirling forms also as dye in silk. I've some technical bugs to work out, but am seeing some great results in silk.
I have a river series and a mineral springs series of dyed silk...that continues to grow as I make time to dye-paint silk. Here are some photos.
Dye-painting silk workshop - an artful experience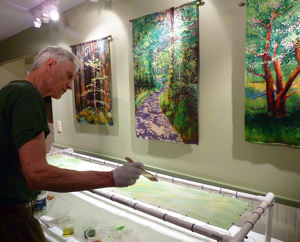 Two students enjoyed creating beautiful silk paintings in my lake side studio. I had to peel them away from the sunset colors in the clouds over the lake. They were even more absorbed in the mouth-blown art glass perched on my window sills. Realizing that I can't make a habit of doing silk dye-painting workshops in my tiny home-studio, I must share a few photos of a truly delightful event.
upcoming silk painting workshops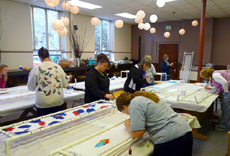 "It's like watercolor painting...but on steroids."
The amazing thing about silk is that with just a bit of coaching, everyone can make something beautiful. My nephews created a beautiful silk scarf for their grandma when they were eight or nine years old. So yes, you can do this.
The Olympia classes will each be on a Monday -a day or an evening. Click here for schedule and more information.
Once you've registered for a workshop, here is information on how to prepare for the class.

stone lithography - the video
I am amazed and pleased with the completion of this short video. Special thanks goes to Randall Pullar - producer, and Craig Cornwall - master-printer of Trilobite Press.
Many have asked me, "What exactly is a stone lithograph?" or "Are they copies or originals." The best way to really understand this process is to see it. And here is your chance.
This 4 1/2 minute video shows how I create a stone impression. A bit of a time capsule, it includes video footage of the making of many artworks over the years. (You'll watch me age and my hair style will change many times. That alone is worth the price of admission...free.)
watch video free download
shorter download time, smaller mp4 file
watch video free download
longer download time, larger mp4 file
NOTE: You'll receive your own free DVD version of this video with your purchase of any stone impression artwork by Steve Scheibe.
If for some reason you cannot view this video, visit my stone lithography page under my media page/tab to see a still-photo version of the making of a stone impression.

past journals