journal ~ fall 2010
journal highlights
a completed public art installation of glass in Alaska
a large new silk artwork intended for the City of Olympia
an art show in Olympia

my first public art is installed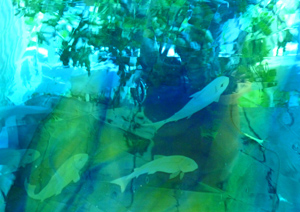 Imagine three walls of glass, a total of 120 square feet of it being stained glass, color and pattern above with clear window below. I am pleased to have collaborated with Vivienne McConnell of North Carolina and Valerie Collins of New York to create Generations - a series of three windows in glass. We used the Kenai River currents and salmon as metaphor for the exchange of knowledge in the learning and shaping environment of Kenai Peninsula College, a branch campus of the University of Alaska Anchorage.
Here is a link to my KPC installation photos
Click here to read more about Generations.

wellsprings - new work in silk

The city of Olympia recently put forth a call for direct purchase of existing artwork from local artists. Four artworks will be purchased to be displayed permanently in our new Olympia City Hall Building. I submitted a large diptych in silk (half of the artwork is pictured at left.) With a one-foot space between the two parts, in total it measures four feet high by thirteen feet long.
In Artisan Wellsprings I use light and water as metaphor for art and artists as revealers and nourishers of the community. As Olympia is known for many artesian wells, and has a bounty of salt, fresh and falling water, this is a fitting metaphor for our city. Unfortunately wellsprings was not selected by this jury for purchase by the City of Olympia. (Read more)
exhibition at Gloria Dei Lutheran Church
a retrospective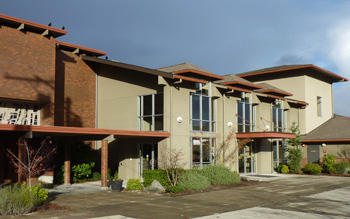 Many of my graphite drawings and stone impressions on cotton are on display during November and December in the beautifully remodeled lobby gallery of Gloria Dei Lutheran Church in Olympia.
Visit the gallery during church office hours
Monday - Friday 9am - 4pm
and Sunday mornings
1515 Harrison Avenue Northwest
Olympia, WA 98502
office phone (360)357-3386\
On Wednesday, December 15, I enjoyed sharing about my art and a presentation on art as a different kind of knowing. Thanks to a receptive audience and to Gloria Dei for supporting the visual arts.

artsy thoughts
content in context
On November 11, I was privileged to attend a gathering of artists of varied disciplines in the home of aritst Rick Dupea in Tacoma. Special guest artist, author, musician and speaker Manuel Luz was just in from Sacramento to share perspective and stir up wonderful discussion. It was an inspiring time - like a catalyst of creativity for me. I doodled and jotted thoughts an inspirations as I heard voiced challenges, perspectives and encouragement for artists.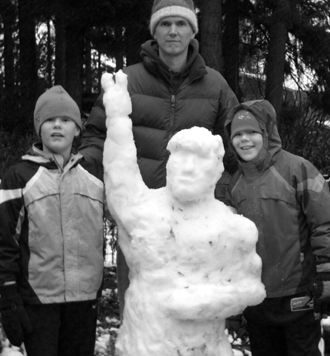 I was reminded of something that came to me a few years ago...something that I strive for in my own work and conduct as an artist. I'd summarize it in this way: "Content in Context; Love does no harm to his neighbor." While I'm not a fan of "censorship," I do believe that there are contexts where art is helpful and other contexts where it may bring harm. And so I see it is the responsibility of the artist and the art curator or exhibitor to keep content in context.
We artists err when we assume that our work demands a universal audience. Such assumption stems from an unhealthy entitlement of self-expression. While we artists may create most anything we dream of, none can rightly assume or demand our expression be seen or accepted by all. Such a demand violates others by stealing their own dignity of choice of viewership.
Love does no harm to his neighbor. It really is that simple. My hope is that in my own artwork, I will keep content in interesting and appropriate contexts where it will bring understanding and never harm. In doing so, perhaps I'll set an example of responsibility and leadership for my friends and peers in the arts.
11-22-10 Photo above - my twin nephews and me with our new temporary public art sculpture. Peace.

past journals