thoughts on "rejection" in art continued...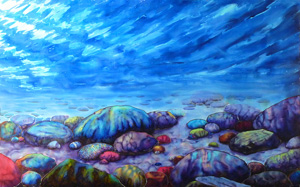 For every accepted piece, there are hundreds of artworks not accepted. Sometimes my work is accepted, sometimes not. Funny thing is that the same piece will receive different responses from different juries. To one jury, it may not be accepted into a show. To the next jury, it will be selected for award. So I am learning to not take it personally, either way. A jury accepting or rejecting an artwork should not define an artist. Such things cannot qualify or disqualify an artist if an artist has a higher definition on his calling. This perspective is a gift.
Recently, I proposed artwork for a college in Oregon and received back a polite form letter stating that my work was among hundreds of quality works not selected. Since I had no idea if my work was a finalist or was cut out in the first round, I inquired to the committee. They were very gracious and replied saying that I was tied with four others for second place. In other words, five pieces were selected and then one from the five. It was nice to know I was a finalist.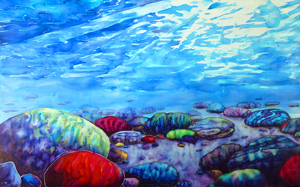 And so although I'm disappointed by this particular jury decision, I am pleased I invested in creating this beautiful new work in silk. I've already displayed this new work in Seattle and in tiny Alger, Washington. I have an upcoming venue for its display in North Carolina in January. And so I am confident that it will be seen, it will fulfill it's purpose, and it will eventually have a fitting home. For now, I get to enjoy it.