generations
kenai peninsula college public art documentation
project site: Kenai Peninsula College, Kenai River Campus Riverview Commons area and walkway
project title: Generations
site titles: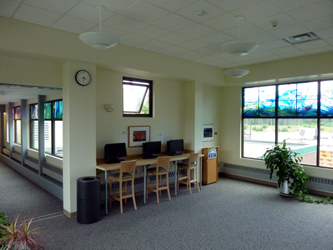 site a - Incubation by Steve Scheibe
site b - Pursuit by Vivienne McConnell
site c - Deep Calls to Deep by Valerie Collins
project description:
120 square feet stained and etched glass for the Riverview Commons study area and walkway. Salmon fry in shades of pink and red heading out to sea create a fluid and colorful abstract pattern in waves of deep sea to turquoise blue and textured clear glass. Obscure patterns of mature salmon are hidden in the waves, swimming to their spawning grounds.
Considering KPC's vision of local and broad academic influence, and the site space use being a corridor and commons, the Kenai River became our visual metaphor. The Kenai, with its areas of pools and passages, is an agent of influence, shaping change, incubation and education. Growth and maturation through the discovery, exchange, and application of knowledge is personified in the life-cycle of salmon and in the quiet and moving currents of the Kenai River.
Mature salmon leave the ocean to spawn upriver, while the newly hatched fry find their way out to sea. The elders pass on their acquired wisdom with a mind to help their students to a successful life journey. This younger generation, in turn, will mature. They too will pass on what they have learned with hope to see their students succeed. So each generation gives to the next, illustrating the process of all education—the sharing of knowledge and experience to nourish, shape, and enrich the lives of students and their spheres of influence, locally and globally.

the collaboration:
Artists Vivienne McConnell and Valerie Collins each created compositions in stained glass with the traditional copper foil technique. They were joined by artist Steve Scheibe who created his work in back-etched, mouth-blown cathedral glass. Three distinct, yet cohesive artworks are unified by color, theme and line to create the Riverview Commons art glass. The artists used diverse interpretations of the theme, variations in glass, and color transitions to sustain visual interest over the substantial length of the project site.
incubation (site a)
title: incubation - celebrating and nurturing the birthing and exchange of knowledge.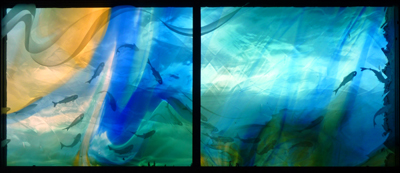 artist: Steve Scheibe
date: July, 2010
medium: Back-etched, mouth-blown cathedral glass
dimensions: Six windows, 20" x 44.5" each, approximately 37 square feet.
Imagery – Incubation uses the Kenai River, salmon, and pools and passages as metaphors for KPC commons and corridors as places of learning, growth, and transition. At the left end of this series of windows, salmon fry rest and explore among stones in warm, shallow waters depicted by gently swirling lines. They transition gradually toward the right to deeper, swifter currents depicted with horizontal lines, where larger fish swim downstream. "Ghosts" of large adult salmon intermingle with (and become) the current to embody the investment and legacy of previous generations.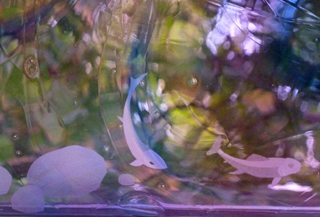 Scale – Since salmon eggs and tiny hatchlings called alevin are hidden beneath the gravel, Incubation begins with visible tiny salmon fry. These tiny fish technically could not be executed in pieced glass and copper foil, as they would look like oval blobs of solder. Etching the fish into glass allowed for detailed expression of small fins, eyes, and gills. The glass is stage-blasted many times with fine grit through a vinyl stencil, giving the illusion of depth and distinction of line when viewed from the non-etched side.
Color – Etched fish, stones and current lines are viewed through swirling colors of glass suggesting changes in water temperature, movement, and depth. Glass blower Jim Flanagan mouth-blew exquisite cathedral glass in the palette specified by collaborating artists Vivienne McConnell and Steve Scheibe. The glass colors transition from left to right throughout Incubation and then into Vivienne's artwork Pursuit.

The left edge of Incubation, begins with the colors of spawning and hatching with gentle swirls of sunset pink, red, apricot, and gold. These warm pastels suggest a nursery pool of salmon egg and hatchling hues. The water appears shallow and warmer here where the youngest salmon fry are nourished and protected amidst stones. Moving downstream from left to right, colors grow cooler. As reds begin to fade, more blue is added and then turquoise, until the glass resembles deeper, cooler waters. Creating continuity and rhythm, streaks of dark blue and yellow ripple throughout the entire length of the twelve panes that make up six horizontal windows.
Streaky, mouth-blown cathedral glass casts a color kaleidoscope on the corridor wall, transforming an otherwise plain (not optimal) space into a warm and inviting passage. Like a musical prelude, Incubation leads down the hallway toward a commons area displaying two more integrated glass artworks.
pursuit (site b)
artist: Vivienne McConnell
date: July, 2010
medium: mouth-blown cathedral glass, fabricated with copper foil technique.
dimensions: Four windows, 44" x 37.5" each, approximately 45 square feet.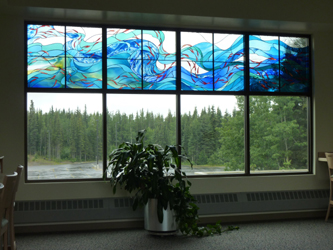 Vivienne writes, "Nature imposes strong mandates on its creatures. The fantastic journey that salmon make is evidence of such a command. In Pursuit, I sought to convey life's circular rhythm as seen in the call of the ocean to the fry and the inborn message that will eventually bring them back to the place of their birth in order to begin the cycle anew. The adults are pursuing their final calling, fighting even the strongest currents to achieve success. Although the rapids and falls are a struggle for the adults, metaphorically it is an exciting ride for the youngsters as they head out to pursue their dreams and aspirations."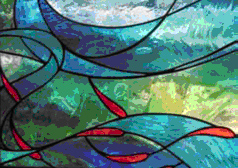 Artistically, Pursuit had to provide the necessary bridge between the stained and etched glass panels in the project. Collaboration among the artists provided for a shared sense of design and color. There was further collaboration with the glass blower, Jim Flanagan, to create pieces custom-blown in transitional colors. This ensured not only a flow in design but in color as well. Vivienne notes, "I would like to acknowledge Jim as a partner in this project. His willingness to work with Steve and me was wonderful and he blew far more glass than we actually bought so that we could select exactly what we needed."
Pursuit starts with the lighter tones and gentler colors found in the upstream waters of Incubation and ends with the powerful blues that will carry into Deep Calls to Deep.
deep calls to deep (site c)
artist: Valerie Collins
date: August, 2010
medium: mouth-blown cathedral glass, fabricated with copper foil technique
dimensions: Six windows, 20" x 44.5" each, approximately 37 square feet.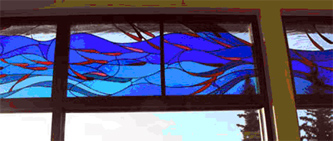 Valerie states, "Deep Calls to Deep transitions us from the river to the ocean. The fry, having gained in size, strength and confidence, boldly begin their life adventure in the great ocean. All they have learned will serve them as they enter this new, awesome world. The mature salmon, at the height of their vigor, strength, and experience, are returning to their spawning grounds in the river."
Strong, rich colors and gradual elimination of clear glass bring us from the shallower river into ocean depths. The use of pure color (fewer streaks, less texture) imparts an increased quietude. The turbulence of the surface diminishes and depth increases. Currents and eddies give way to longer, rolling waves, suggesting the great power of the open ocean. The fry are larger and richer in color. Their patterns are strong, direct and purposeful. The mature adults are robust, and more fully defined than in the adjacent panels of Pursuit.
Valerie adds, "In these panels, I hoped to convey a sense of the energy, excitement, beauty and joy that may be found in life."