spring journal 2013
slow
I'm reflecting on the past ten weeks, during which I was fighting some virus that stole my energy. I slowed down. And slowing down brought perspective. I realize in hindsight, that just as one must slow down to change direction at a street corner, my slowing down also helped me see where I'm heading next.
So when life hit the "pause" button, I still gained. And as I gradually reaccellerate my life pace, I hope I keep some "rest" moments in the new rhythms.
And...along with slow-downs and spring taxes, also come fresh spring flowers. Hmmm...
guest artist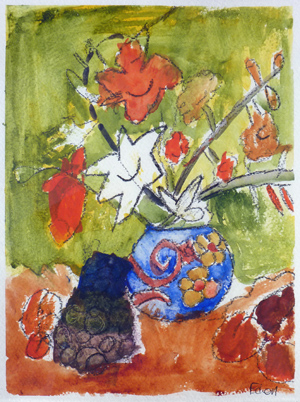 I was honored to be the professional "guest artist" for a local Homeschool Art Fair on April 30, 2013.
I found their childlike creations and perspective inspiring. Children have untainted freedom to create with line, color, fingers and brushes. They put the fun in art. I enjoyed one boy's story about how he just began painting without a particular vision, and it resulted in a beautiful flower.
Yes, this artwork was painted by a young child. Follow this link to see more photos of the event and works by children.
Their example reminds me I need to create with freedom and often - maybe a study or a small pochade painting or two each week. My crayon scribble book helped me express freely. My "doodle more" studies nourished me too. When doing art professionally, it's life-giving to keep creating other (non-paid) art too.
rough draft
just for the record
I don't usually publish a rough draft of my journal, but this one never did get written. So all I have in this "time capsule" of spring 2013 are this outline of notes I jotted to myself here below. They're kind of interesting so I'm going to leave them here and make this page public. So I guess you get to fill in the blanks, imagining what I didn't write and photos that were not posted. It seems to me that not completing this journal evidences my low energy at that season of life. I'm writing this comment here almost four years later...today being March 17, 2017.
new studio
Grandma&pa's house (set up my painting easel in the sun porch - it's warmer now - get a rug)
works in progress
photos of WSAC project in progress - silks stretched, PVC parts etc
photos of WSAC project stainless steel brackets (done)
Create a page just for the WSAC project - if I don't already have it. Put it under media, silk, Illuminated Passage (then call it -"the making of" ). Maybe put a link to the gallery too, in the gallery, put the sketch, then from text, link to the actual story of it developing.
update UAF info
photos of 3 silk proposals for TGH, Rainier Tower. and pending contract - maybe put into Gallery too. Put in media/silk/TGHRainier Tower/"the making of..."
spring sprang sprung
You also have spring flowers shots of lake etc. (look in April, May, and June for best shots)
You also have a grow light rack full of a crop of little startlings - leaflets - startlets
experimental glass update
update the experimental glass page with new works hopefully soon completed.
maybe put my etched flat glass pieces in there too - just shoot photos after etching/before fire-polishing attempt - if visually interesting.
wow - LOTS to publish. Take a little each day/night. When you need to rest/sit, just sit here at cptr and type.
featured links

Commissioned for a thriving church in the town of Dunwoody, near Atlanta, Georgia.

This mural in dye-painted silk was commissioned for Katchemak Bay Campus of Kenai Peninsula College of the University of Alaska. Discovery was installed in Homer, Alaska, in June of 2012. Read more...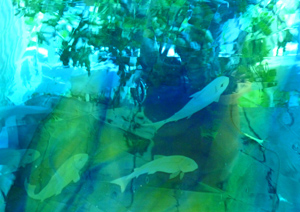 Kenai Peninsula College etched mouth-blown glass public art installation
Click here to read about Generations.
Here is a link to KPC installation photos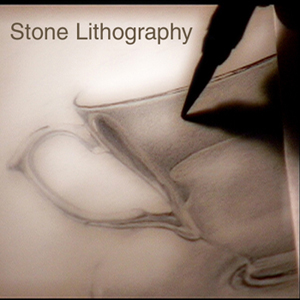 People often ask me how I create a stone lithograph. It's hard to explain in words so I have a short video that shows the process.
Click here for photos and video on stone impressions.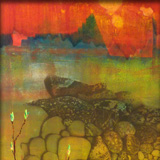 Click here to see photos of ten new images completed in January 2011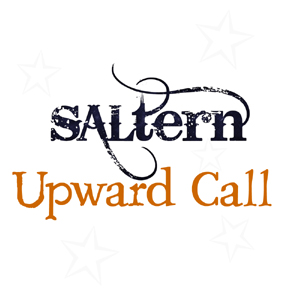 song project - upward call
Read about our spring 2011 kids' pop song project at upward call. Or click on the photo at right to listen to the song or buy it...

silk rivers
Check out my recent river silks inspired by and modeled after the beautiful Fremont antique glass we used for the Kenai Peninsula College installation.


flowering
My Grandma's name, Florence, means "to flower" as in the sense of a blossom. And 2012's flowers were an explosion of color. See photos in her memory...
past journals
fall 2011
summer 2011
summer 2010