winter journal 2012-2013
artsy thoughts, art projects, artful living, art news and updates
As you browse the layers of pages in this updated journal, be sure and catch the light-hearted stories and photos in artful living. And scroll to the bottom of the experimental glass page to see what new glass has come out of the fire this winter. I've discovered new textures in dying silk, a new commission possibly developing, and even a New Year's Day paddle by my home studio. Enjoy!
experimental glass

I continue to collaborate with Seattle glassblower Jim Flanagan to create gently abstracted imagery within colored glass. Click here or on the photo at right to see our most recent sheets of blown glass (and scroll down, as the newest work is near the bottom).
seeking sites
I'm currently seeking suitable sites to employ my new art glass. While its colors glow even from a distance, its antique glass sparkle and illusion of depth are best seen up-close.
I envision it in mid-sized architectural spaces from residences to restaurants, or in offices, hospitals, or churches. Its glowing colors are at once invigorating and soothing - transforming interior spaces with color and light.
In the meantime, I'm enjoying the glass temporarily igniting color in my home studio windows.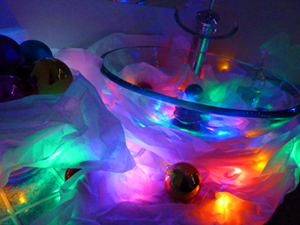 In the photo at left is my glass bowl sink in my home studio. I decorated it for Christmas with white tissue, lights, and ornaments. Because the sink is clear glass, it created a weird illusion that the lights and tissue would get wet. But the tissue stayed crispy dry and no fuses were blown. I like the festive glow to offset the dark days of winter.
Are decorations considered artful living? They celebrate the extraordinary discovered within the common. So I guess they fit. Each season I make a collage of recent random acts of artfulness that are simply a part of how I live. Read and see more...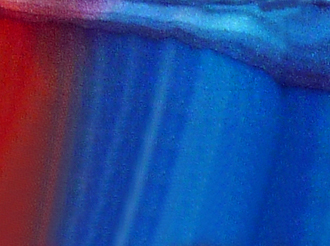 watercolors on steriods
In the course of dying silk, I've had some "happy accidents" with exciting results. These abstract effects happen without gutta or wax. They occur from dye-color migrating through silk (with some assistance).
I plan to use these textures in upcoming projects where fitting. They help to broaden my visual vocabulary.
current art commissions

alaska
January 2013 - I have been selected as one of three finalists for public art for University of Alaska Fairbanks. There are three interior art sites in their new Life Sciences Research and Teaching Facility. I proposed art for two of the sites. One design is in laminated mouth-blown and dichroic glass. The other is silk laminated inside of clear float glass. Both concepts are compelling to me. We'll see how this project develops in time.
washington
I now have a fabrication contract with WSAC Art in Public Places Program and the Bethel School District - for Liberty Junior High School in Spanaway, Washington. It's finally time to make art. During the wait, I made some discoveries in silk dying. I should be able to apply my new texturing techniques to the stones in this silk design. I'm pleased by this "upgrade."
As the architecture and art theme is a "canyon," I kayaked Gorge Lake to Gorge Creek to experience, photograph and sketch inspirations of "canyon." My very short (24 hour) North Cascades solo expedition was wonderful.
And I returned this summer to Gorge Lake and beyond to Diablo and Ross Lakes also. BEAUTIFUL!
The completed artwork will be a silk mural in eleven panels - over three hundred square feet of dye-painted silk suspended from the canted wall, and a light effect like sunlight up-bounced off of a rippled water surface.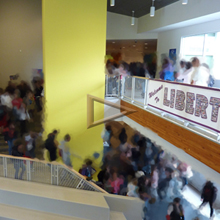 A key component of the artwork in this space (Liberty Junior High School) is the metaphor of passage and change - like a river moving through a canyon, the students are passing through these formative years. They shape the place and the place also guides them. And so the students are as waters flowing through.
Here is a 3 second video clip showing that very movement. Special thanks to Cre8tv for this shot and editing wizardy.
The project is sponsored by The WSAC Art in Public Places Program in partnership with the Bethel School District.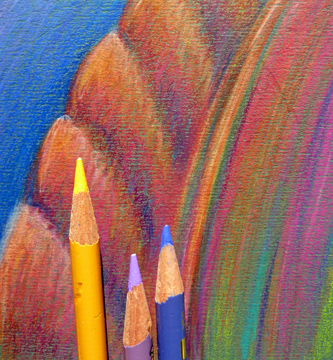 doodle more
When artmaking becomes my "job," I seek creative expression that has nothing to do with income. For quiet and recreation, I've been doodling real and imaginary leaves. See doodle photos...
And see other related artful living stories and photos.

new year's day paddle
view the lake in winter's lazy light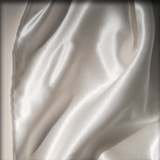 commission a silk scarf
Want a scarf in specific colors or with a particular favorite image, flower, or motif? Commission a wearable silk painting for yourself or a friend.
It's never too early to plan for holidays, birthdays, or for a "just because" one-of-a-kind gift.
featured links

Commissioned for a thriving church in the town of Dunwoody, near Atlanta, Georgia.

This mural in dye-painted silk was commissioned for Katchemak Bay Campus of Kenai Peninsula College of the University of Alaska. Discovery was installed in Homer, Alaska, in June of 2012. Read more...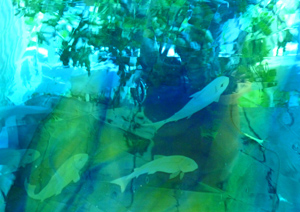 Kenai Peninsula College etched mouth-blown glass public art installation
Click here to read about Generations.
Here is a link to KPC installation photos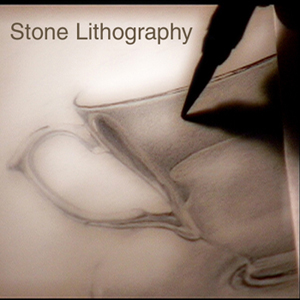 People often ask me how I create a stone lithograph. It's hard to explain in words so I have a short video that shows the process.
Click here for photos and video on stone impressions.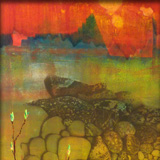 Click here to see photos of ten new images completed in January 2011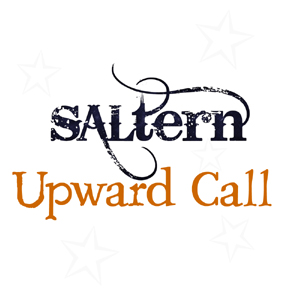 song project - upward call
Read about our spring 2011 kids' pop song project at upward call. Or click on the photo at right to listen to the song or buy it...

silk rivers
Check out my recent river silks inspired by and modeled after the beautiful Fremont antique glass we used for the Kenai Peninsula College installation.


flowering
My Grandma's name, Florence, means "to flower" as in the sense of a blossom. And 2012's flowers were an explosion of color. See photos in her memory...
past journals
fall 2011
summer 2011
summer 2010