experimental glass projects

crystal clear
Our attempt here is to float color imagery inside of blown sheets of glass - no lead lines, no cut etches - just one sheet of crystalline beauty with gradients of smooth color.
Like a diamond, true mouth-blown antique glass has a crystalline quality and clarity that are exquisite. While imagery can be fused to glass in a kiln, the fusing method imprints the kiln shelf texture onto the glass. Etching glass with acid is dangerous, and blasting with grit leaves a powdery texture. I want crystal clear panels but with imagery within.
trying again
My first attempt did not work. We found problems with the physics of blowing glass and the need for uniform glass thickness. Jim has an idea that should work (he's smart).

samples ~ round 1
Below is a sample that physically did not work with the Fremont glass-blowing method.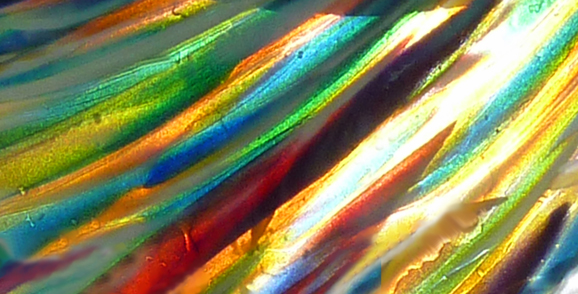 thanks
I'm exceedingly grateful to Jim Flanagan of Fremont Antique Glass in Seattle for his willingness to collaborate with me. Together, if it works, we'll create something extrordinarily beautiful.
try again 2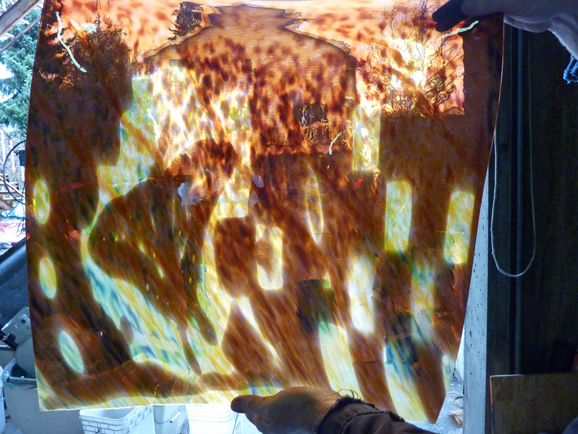 Here is a sample sheet in mauve and silver-yellow.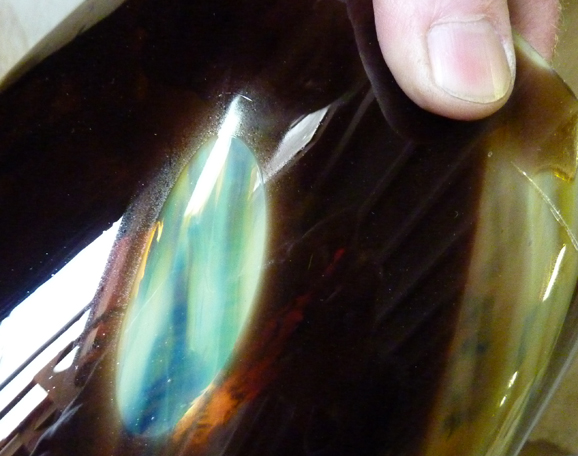 Unfortunately, the mix of chemicals that makes the color mauve reacted with air to make a matte finish on the surface - sort of a "scuzz." Not so good...so we'll adjust and try again.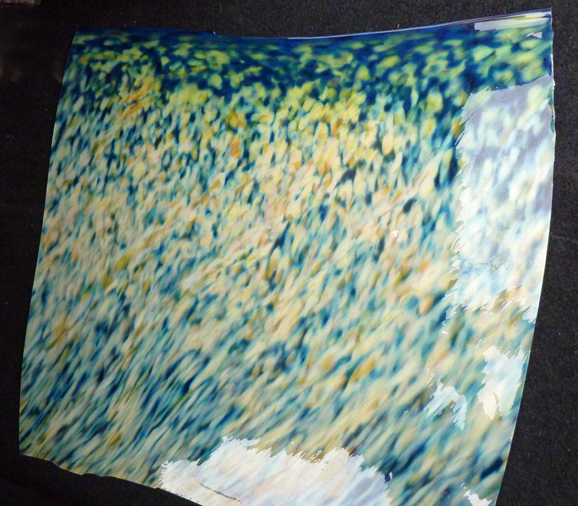 Silver-yellow can transmit pink and yellow - and reflects opalescent blues. Believe it or not, this is the backside of the glass in the two photos just above. The reflection of blue is a pleasant surprise.
try again 3
Here is a more successful sample sheet in cobalt blue and gold-pink with imagery of fish and stones in water.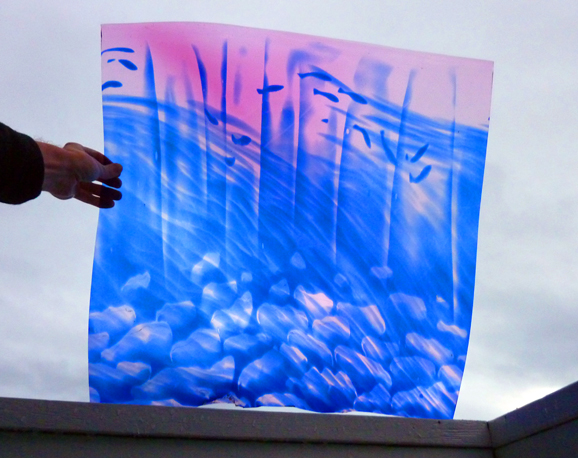 All my light ray lines expanded perfectly straight. Not what I envisioned. And that's why we do samples.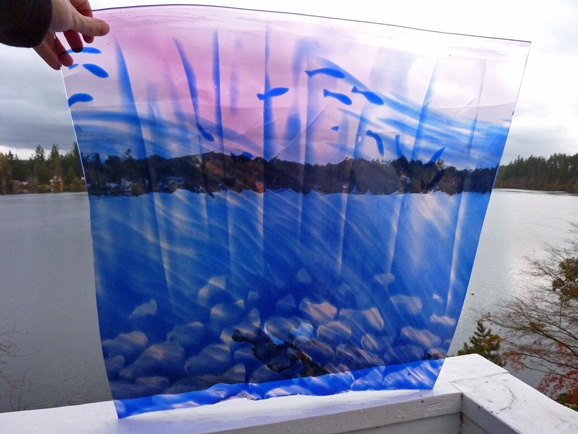 It's working! Nice effect. Already these colors and shapes stand out on a gray-weather day.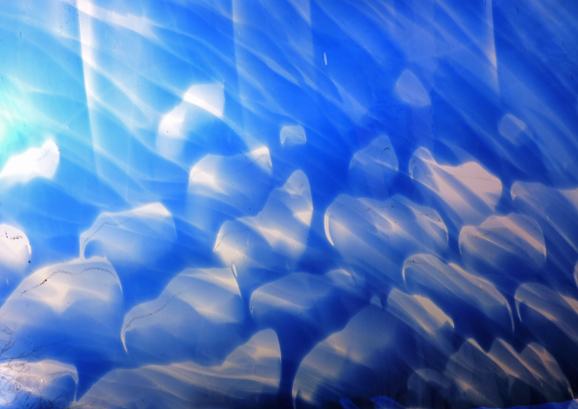 ... like light filtered through water on stones.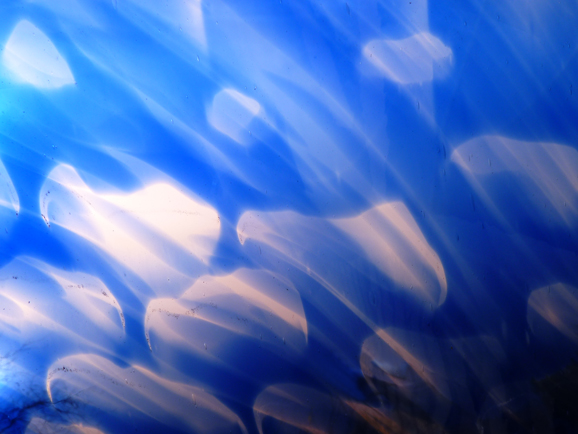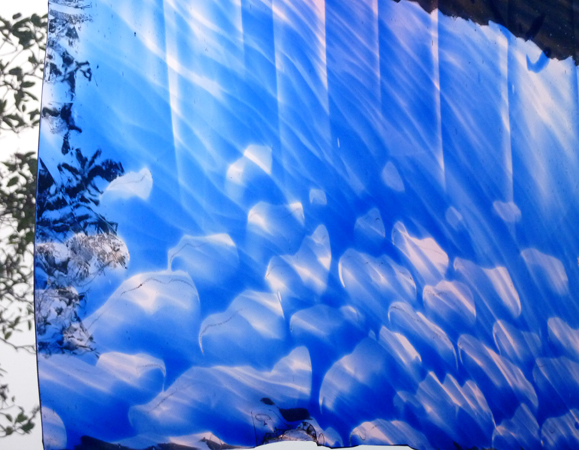 more color
Imagine adding more warm and cool colors to enhance depth and beauty.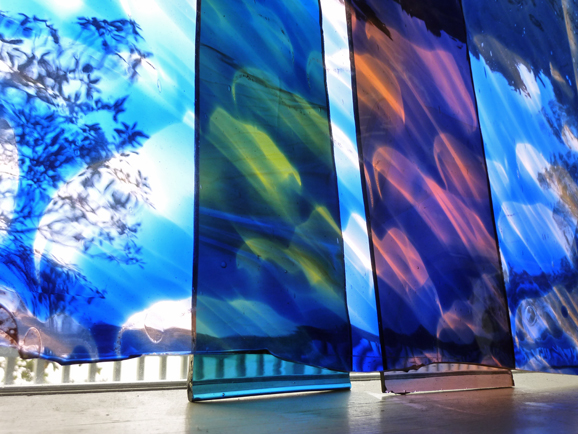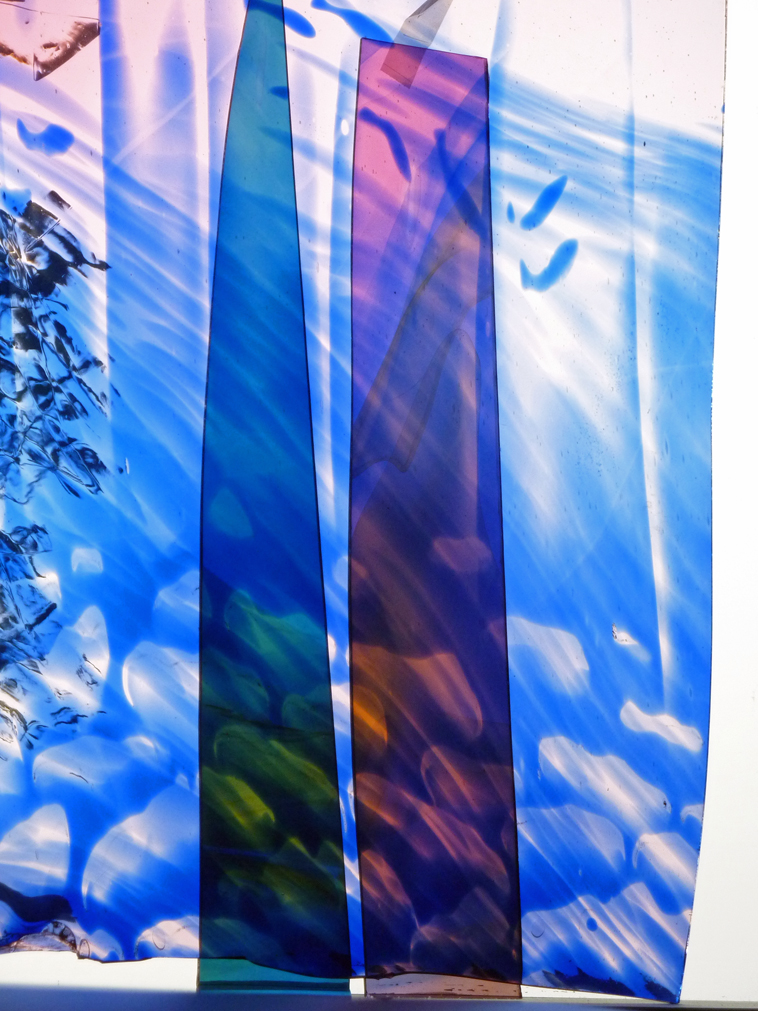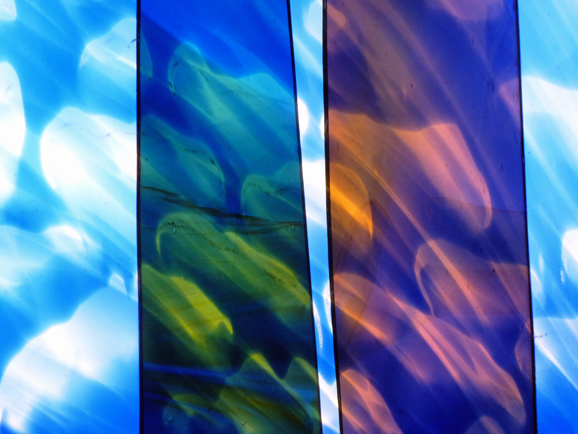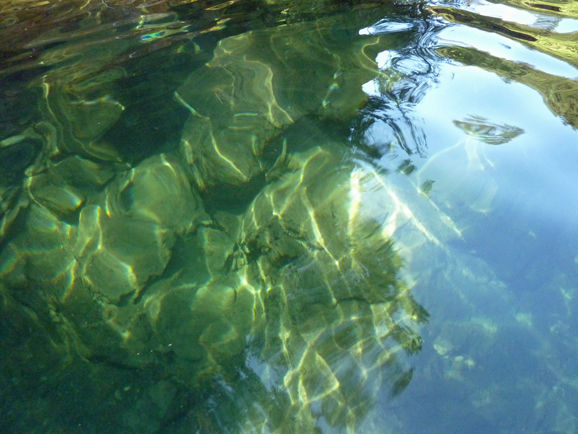 Crystal clear water and light of Ross Lake further inspired my imagery and colors.
upcoming...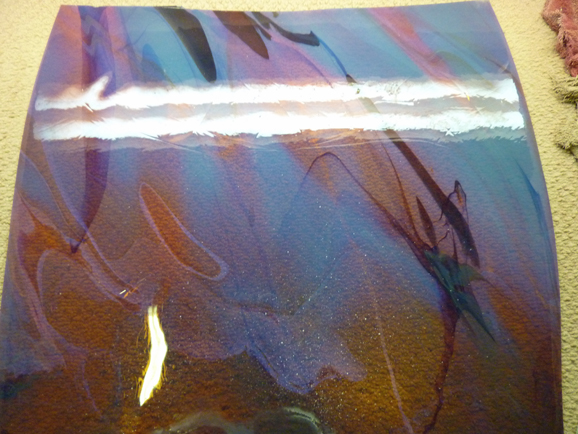 Silver-yellow flashed onto peach glass reacts to create darker streaks. Looking through them shows peach, orange, and gold. Reflected light is opalescent blue with hints of pink. Amazing effect. Maybe next we'll try putting abstracted leaf shapes in a silver-yellow drifting in peach glass. The fun continues.
Shown here, glass is photographed on the yellow rug-fabric background of the cleaning table.
january and february experimental glass
Here are January and February 2013 samples. Tragically, of the five samples, each one failed in some aspect: distortion, missing imagery, interrupted imagery (headless fish), color loss, or a huge bubble. I like bubbles, but this one was weird. But the glass is always interesting to look at so enjoy the photos below.
cylinders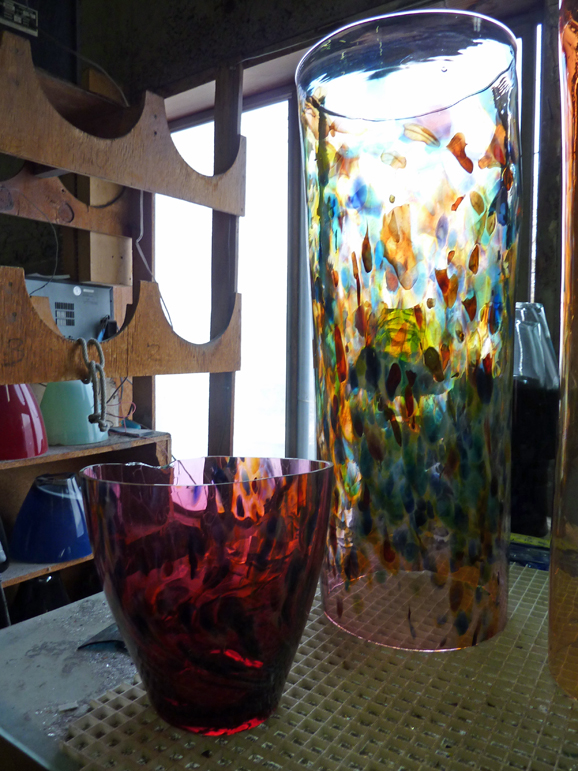 All the rose color (made of costly gold metal) moved into the discarded cylinder end.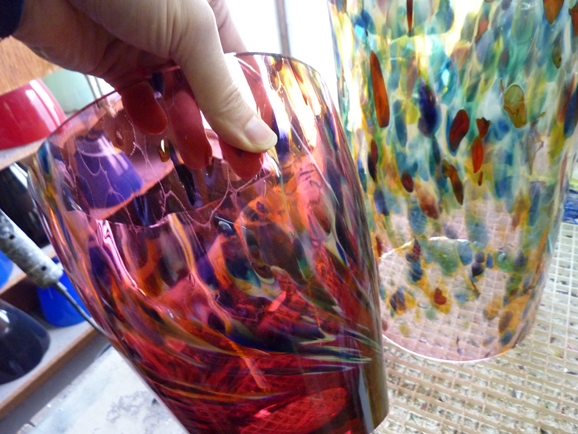 The tree roots and trunks were also lost in the discarded portion - the cylinder end.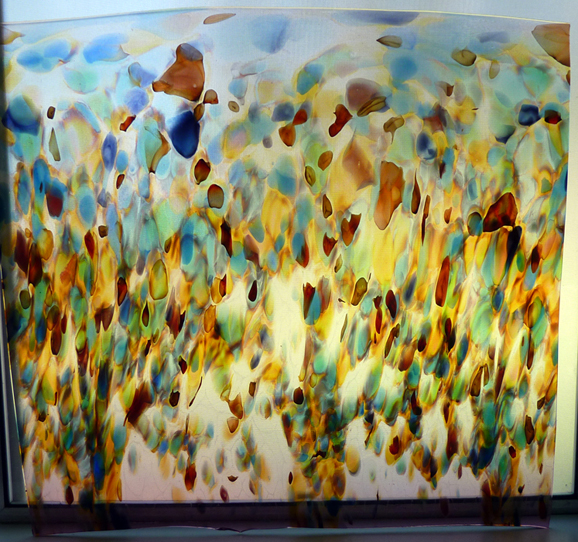 The opened and flattened cylinder is shown above with a frosted pane behind it. The rose color is faint and the tree trunks and roots are missing. Still a beautiful sheet of colored frit.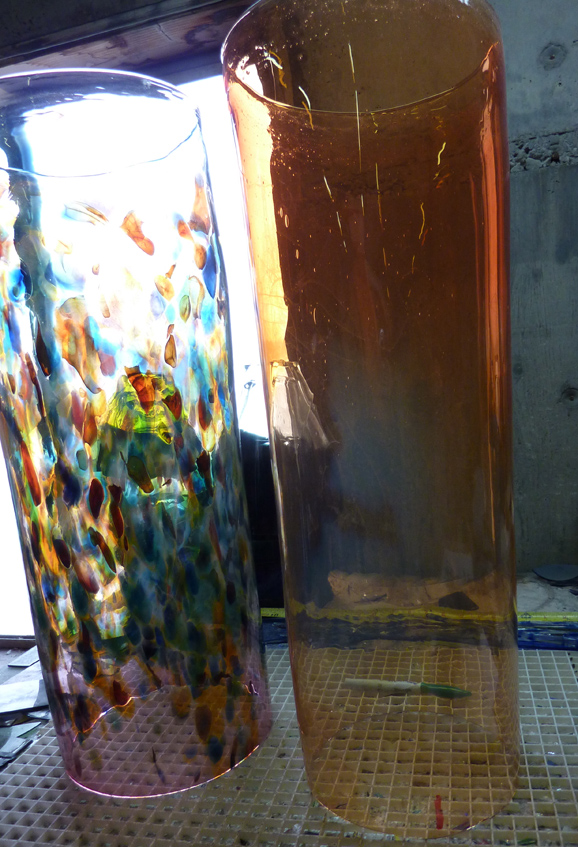 In the peach cylinder at right, the silver-yellow became very faint. You can see a haze of a maple leaf it you look closely.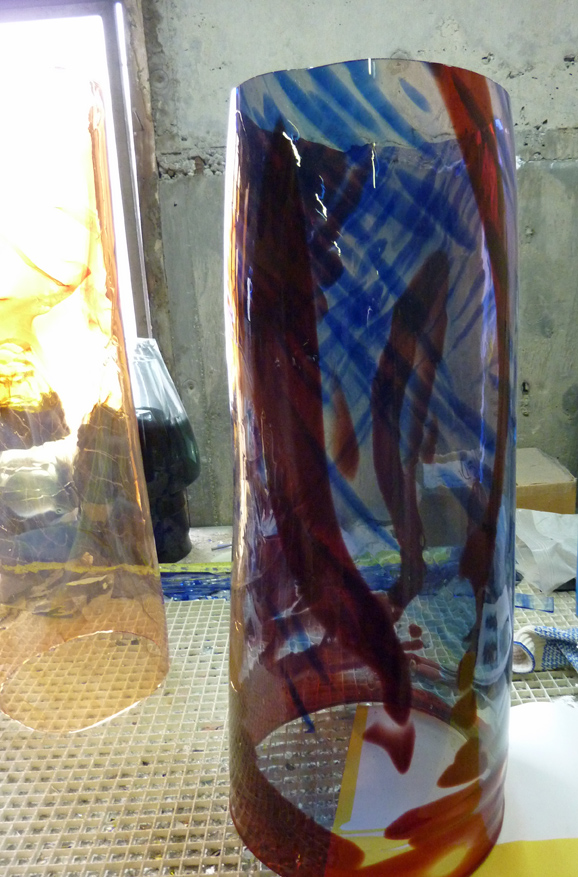 The copper-red salmon cylinder before opening/flattening...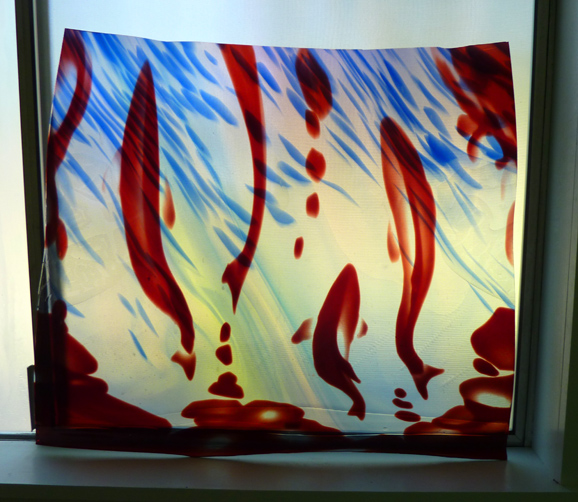 ...and after flattening (above) is a nice image, but with a huge bubble that shows in certain light. It sort of resembles Saran wrap (note portions showing left and right).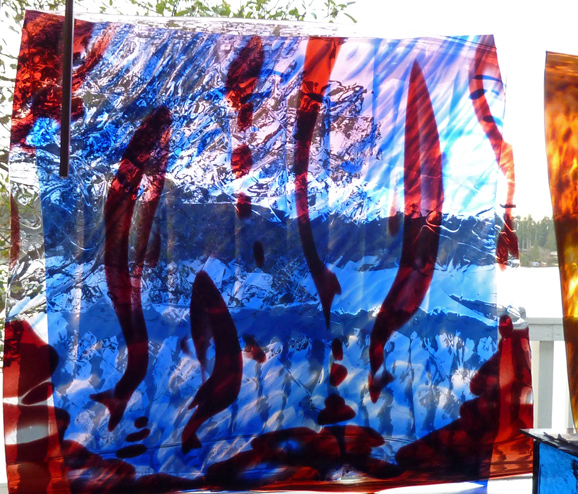 Here is the same sheet flipped horizontally and doubled up with the first cobalt experimental sheet (two thicknesses of glass). It displays nice crystalline qualities. Beautiful.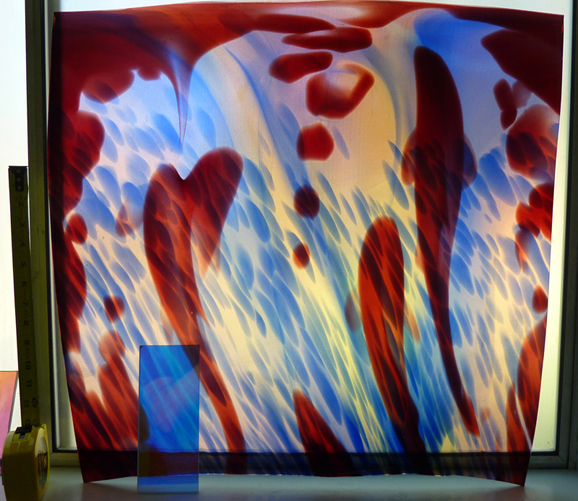 Something happened (maybe in the clear gather) and one fish was decapitated. I've nick-named him "the headless humpy" in honor of friend Paul Wilson's silly fishing songs from Alaska.
Other aspects of this sheet have merit. The fish are nice. The stones are a bit weird. Depth is better than leaded glass...
This is why we experiment.
Practice makes perfect, right?
And I still like the colors layered with the cobalt and clear stone imagery. Hmmm...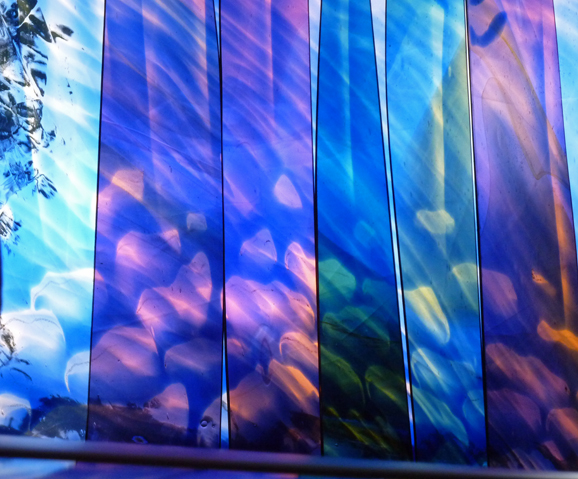 spring 2013 experimental glass
Here are spring 2013 samples. Now we're getting closer to my vision. There are recognizable stones in midst of fluid glass color representing water. These didn't come out like I expected, but in some ways they exceeded my expectations.
my first impressions
I snapped these shots at Fremont today (June 5, 2013).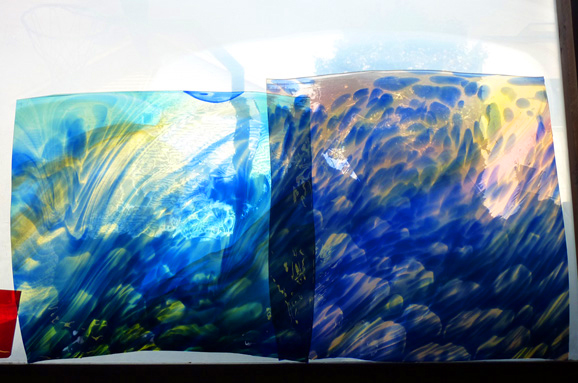 I'm wondering if maybe I need a little more definition of my stones - more contrast. Hmmm...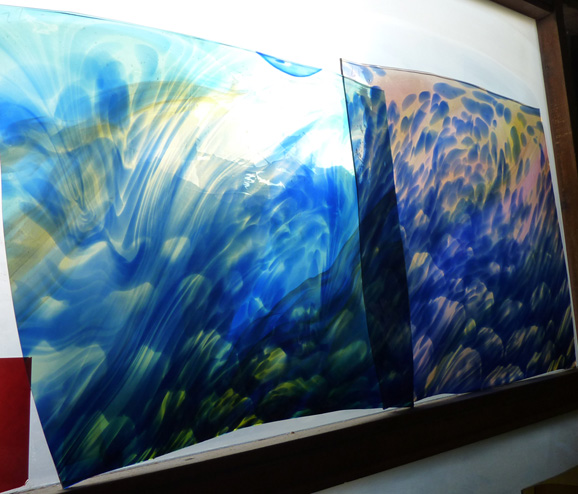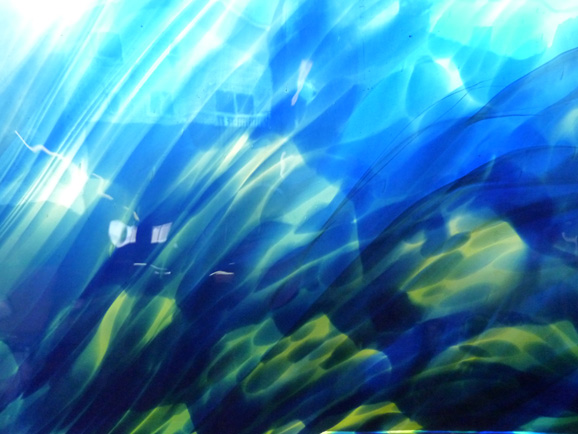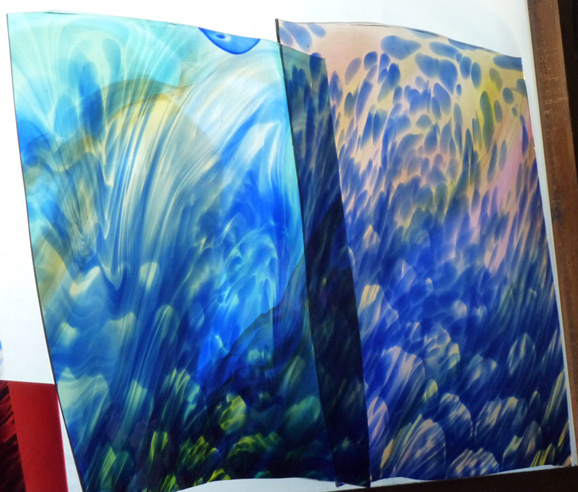 I like the movement and natural abstraction of fluid forms. The refraction and bending of light is just as in a rocky stream.