fifty days of painting
march - april 2018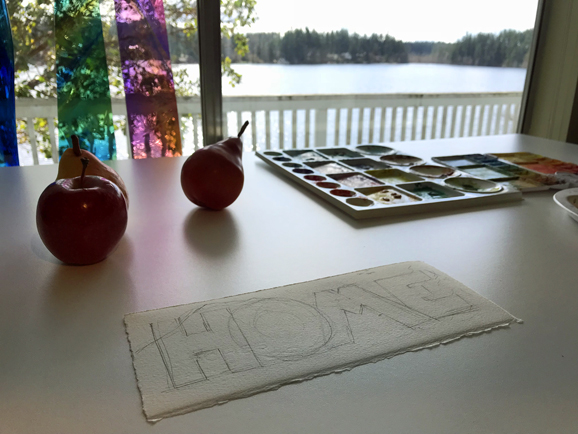 small
I'll be working small. Read more...
home
On Friday, March 9, 2018 I began officially painting (almost) daily for fifty days. My theme is "home."
sublime
I'm usually painting what's below the skin of a thing... the "extraordinary ordinary."
My aim is to paint the beauty and wonder I see in, around, or near my home on Offut Lake.
My days of painting then culminated in an art show and sale in my home-studio on the last weekend of April. I was pleased to display about twenty-five new, small, affordable, original artworks.
Click here for the art show dates and more...
day one ~ painting one
Born and raised in Washington State, my first image had to be an apple. This watercolor was painted in a classical method of glazing overlapping layers of color. The finished artwork (scroll down) resembles an oil painting.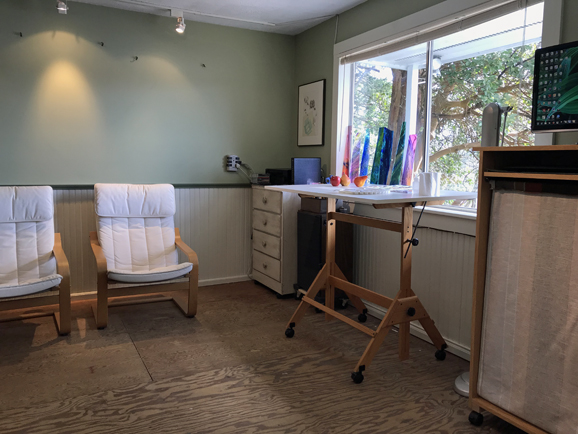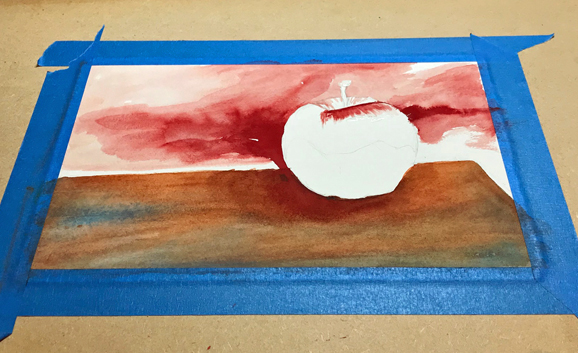 I wanted the flavor of my apple to penetrate the scene - so my reds "leak" outside of the apple. Sometimes it's necessary to color outside the lines.
pretending
When I paint, there are no guarantees of a great outcome. So I pretend it's working...until it does.
For me, painting requires courage and hopeful determination - to press through all the awkward impossible stages unto the moment when something beautiful finally begins to emerge.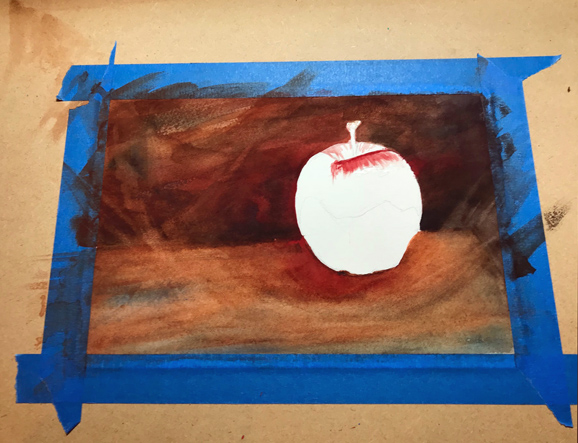 Movement - the direction of the brushstrokes in the underpainting set the stage.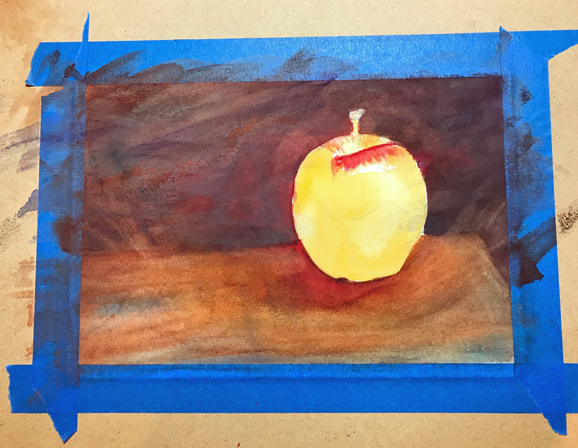 No the apple won't be yellow, but this apple seems to have yellow underneath it's skin, making it's redness somehow even more truly red. I'm not sure how I see that, but it works...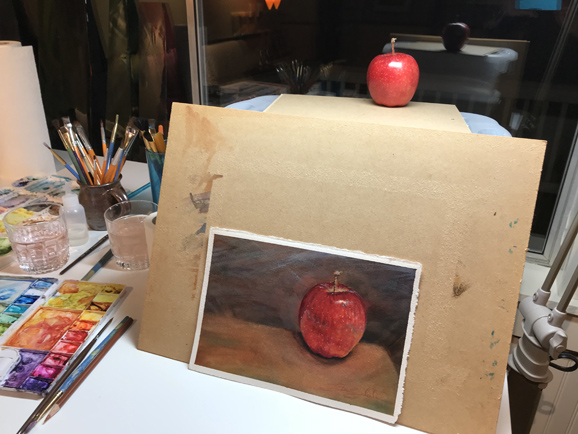 painting #1 completed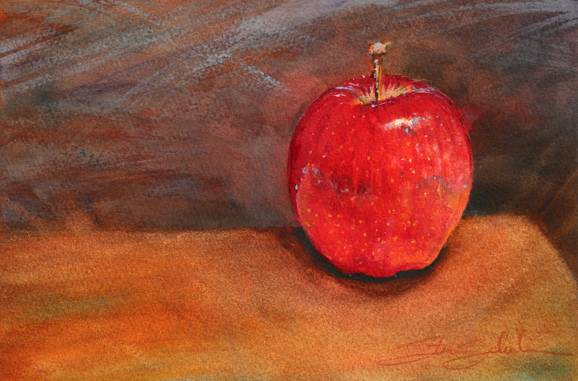 Original art almost always looks better in real life. This one is no exception...surprisingly life-like.

painting #2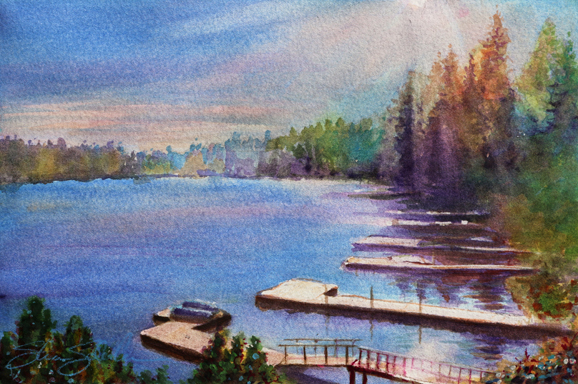 "waking sleepy docks" 6 x 9 inches watercolor on Arches cotton paper
video below of inspiration for painting...
day 12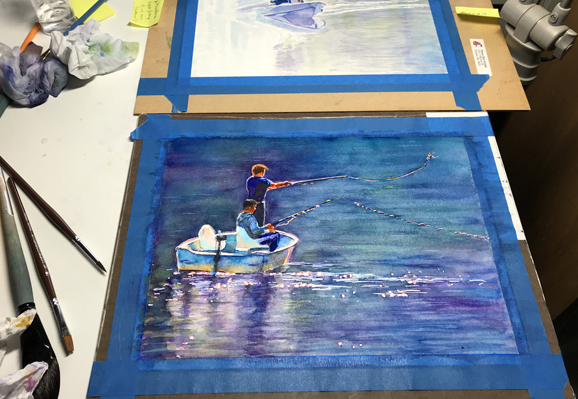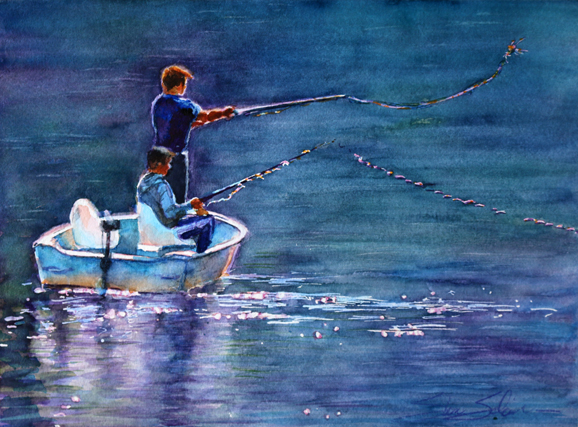 "a good afternoon" 8 1/2 x 11 1/2 inches on Canson 140 lb paper
days 22 & 23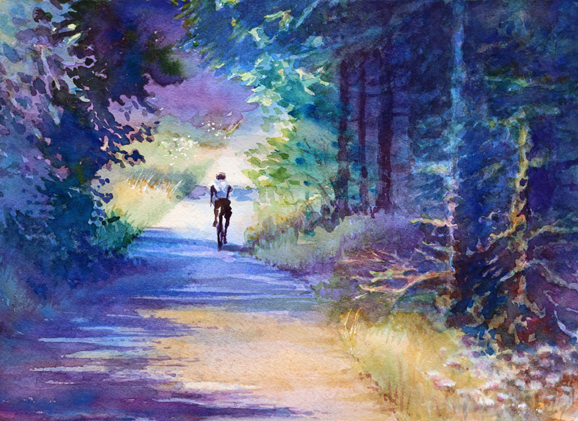 "Into Limelight" watercolor on Arches cold pressed
Chehalis Western Trail
day 28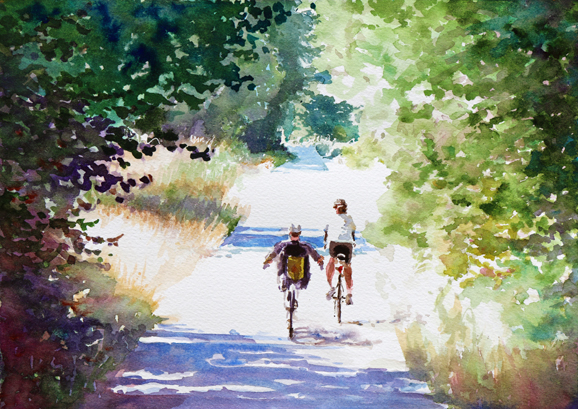 day 33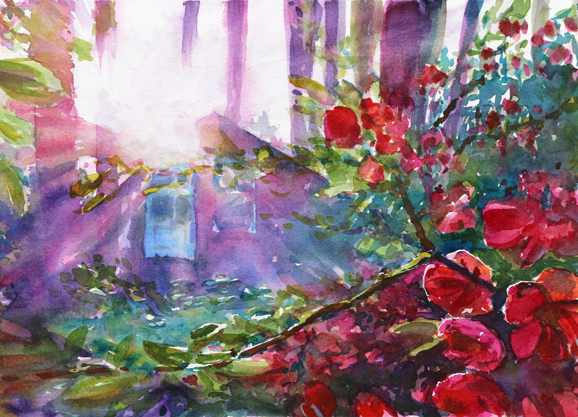 "Red Shed with Flowering Quince" watercolor on Arches cold pressed
day 44
home
This scene greeted me as I drove home from my walk at the trail today –April 21, 2018. Aren't power supply lines black, coated with some dark, rubbery insulation material? Yet the late day sun transfigures them, reveals them – and the otherwise invisible power carried along within them. And they glow. And every bush and tree, every leaf and flower and mailbox is ignited and illuminated in one ordinary-extraordinary moment. And to me this feels a bit like home.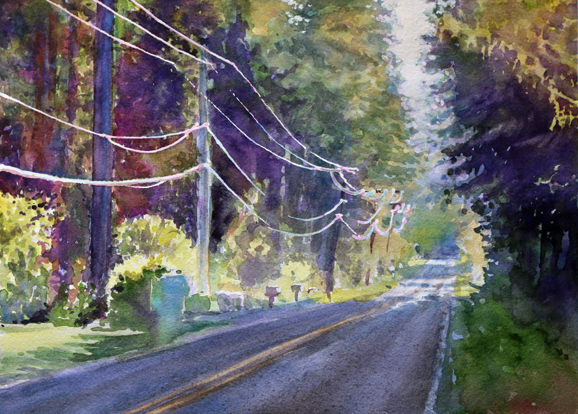 Waldrick Road Illuminated
Watercolor on Arches cotton cold press
9 x 12 sheet, image area is 8 3/8 x 11 5/8 inches
painted day 44
Original art and 5 x 7 greeting cards for sale at the art show.