fall-winter journal 2013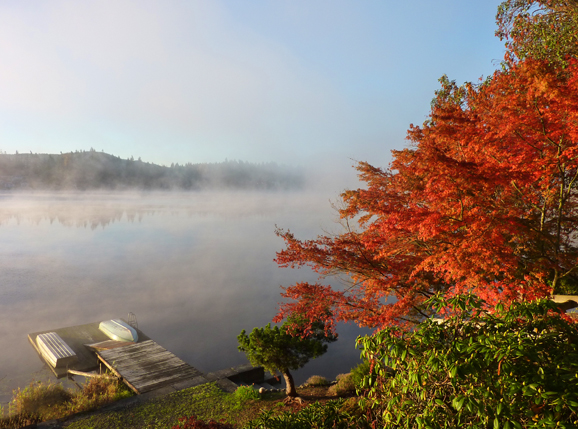 lake studio ~ fall into winter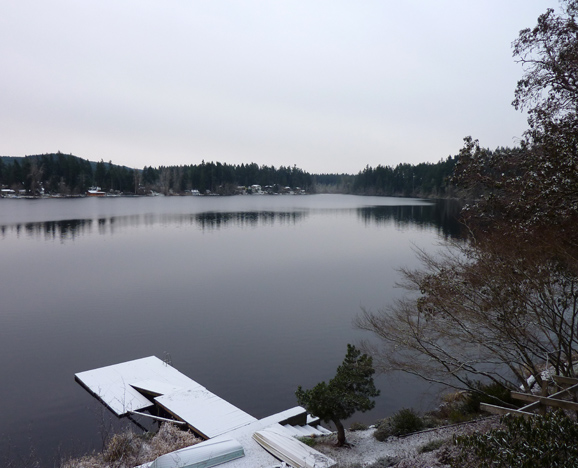 installed
silk mural for liberty middle school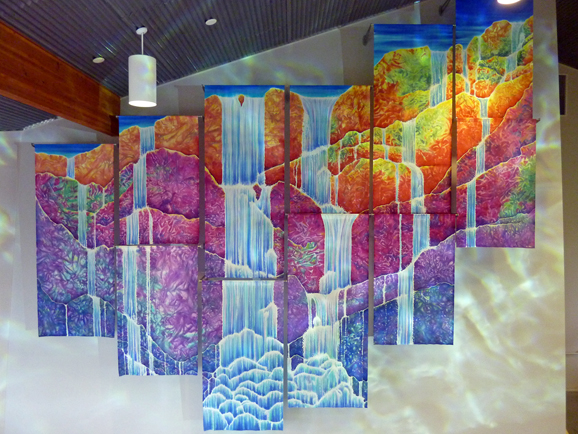 For the first time all eleven silk panels of Illuminated Passage can be viewed as a whole and complete mural. Over three hundred square feet of dye-painted silk suspended from the canted wall, the bas-relief mural is accented by a light effect like sunlight up-bounced off of a rippled water surface.
video ~ installation day
Here on video is a quick hello with my impressions and hopes for the artwork and the school.
unveiling party
You are warmly invited to a public reception on Wednesday evening, January 15, 2014 at 6:30pm. Liberty Middle School received the honor of being named, "School of Distinction in the State of Washington." So the reception will be a combined celebration of their award and of the new artwork (which maybe adds some "distinction" to their school). The students' bands will play and there will be a ribbon cutting ceremony. I look forward to sharing a bit on the poetic imagery in the artwork.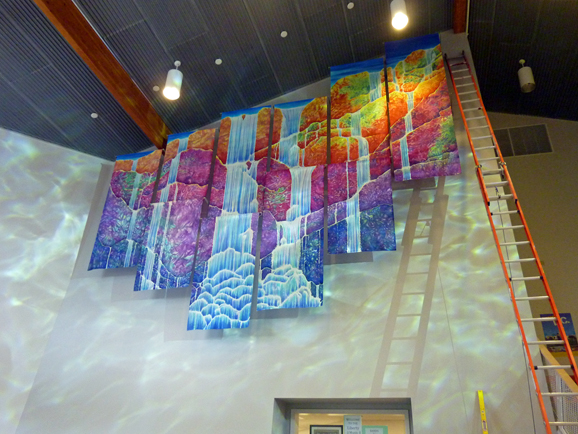 photos ~ installation day
Artistry, engineering, athleticism, and courage are all part of installing large artworks in high places.
See more photos of the installation...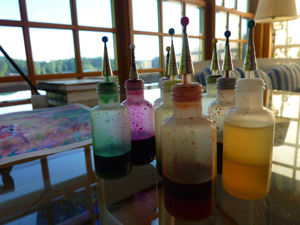 I have invested deeply in this project. I've been immersed in the river and have grown much during the process. Read and see more of creative journey.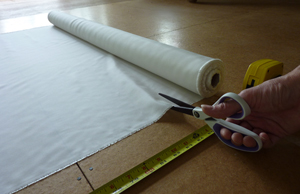 art making process
Click here for photos of the actual art-making in the studio.

This project is sponsored by The WSAC Art in Public Places Program in partnership with the Bethel School District.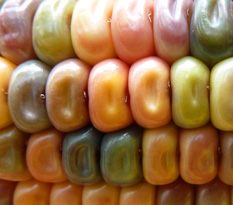 What is in this photo?
Curious? Click on the photo to find out, and to enjoy a collage of photos and jots of thoughts from the artful journey of my life.
commissioned art in progress
glass for fairbanks, alaska
An artistic vision is starting to materialize into beautiful and curious glass artworks. Three illuminated glass bas-relief sculptures will soon hang on three floors of the new Margaret Murie Building on the campus of University of Alaska Fairbanks.
I'm honored to be one of three artists selected to create site-relevant artwork for this brand new life science research and training facility.
Three up-scaled microscope slides are made of water-jet cut, laminated, dichroic float glass. In the center of each slide is a coverslip or specimen made of mouth-blown art glass.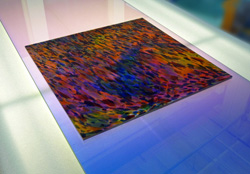 Macroscape: Arctic Tundra at left is two layers of mouth-blown glass to be laminated onto dichoric float glass.
For this project, I'm employing my experimental glass techniques to embed abstract imagery in the glass.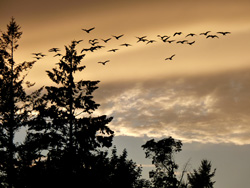 Here I share my observation of sunset and early hints of fall color through my camera lens one late August sunset while kayaking on the lake.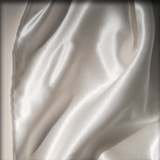 commission a silk scarf
Want a scarf in specific colors or with a particular favorite image, flower, or motif? Commission a wearable silk painting for yourself or a friend.
It's never too early to plan for holidays, birthdays, or for a "just because" one-of-a-kind gift.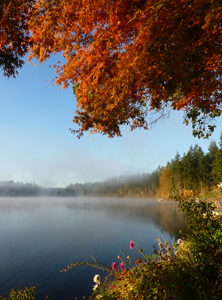 inspiring color at the lake studio
Click the photo left to see fall artful living photos.
featured links

I continue to collaborate with Seattle glassblower Jim Flanagan to create gently abstracted imagery within colored glass. Click here or on the photo at right to see our most recent sheets of blown glass (and scroll down, as the newest work is near the bottom).

Commissioned for a thriving church in the town of Dunwoody, near Atlanta, Georgia.

This mural in dye-painted silk was commissioned for Katchemak Bay Campus of Kenai Peninsula College of the University of Alaska. Discovery was installed in Homer, Alaska, in June of 2012. Read more...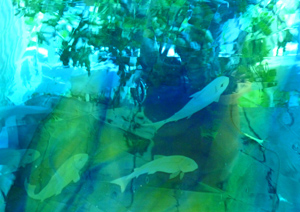 Kenai Peninsula College etched mouth-blown glass public art installation
Click here to read about Generations.
Here is a link to KPC installation photos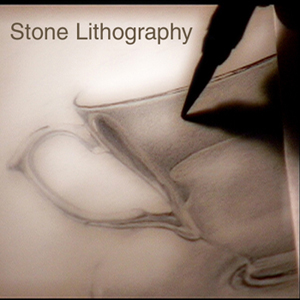 People often ask me how I create a stone lithograph. It's hard to explain in words so I have a short video that shows the process.
Click here for photos and video on stone impressions.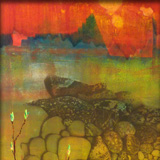 Click here to see photos of ten new images completed in January 2011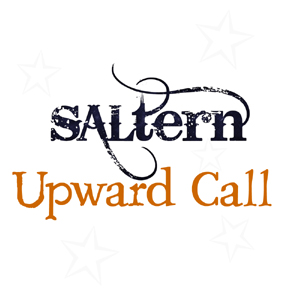 song project - upward call
Read about our spring 2011 kids' pop song project at upward call. Or click on the photo at right to listen to the song or buy it...

silk rivers
Check out my recent river silks inspired by and modeled after the beautiful Fremont antique glass we used for the Kenai Peninsula College installation.


flowering
My Grandma's name, Florence, means "to flower" as in the sense of a blossom. And 2012's flowers were an explosion of color. See photos in her memory...
past journals
fall 2011
summer 2011
summer 2010