macroscape slides
new glass artwork for university of alaska fairbanks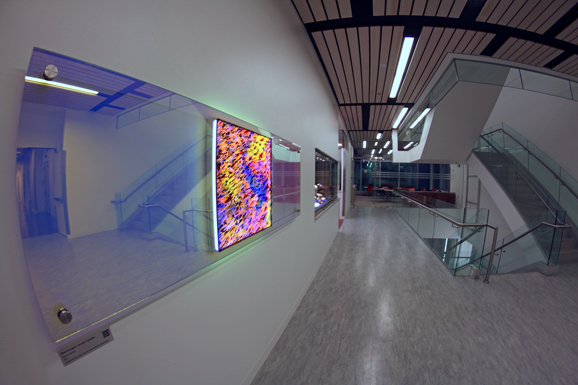 artist statement
My intent in creating the glass artwork series entitled Macroscape Slides for UAF's life sciences building, is to celebrate the similarities and tension of two different kinds of knowing—through science and through art.
Read full statement...
description
Three new glass artworks resembling over-sized microscope slides measure two feet high by six feet wide. Each artwork is uniquely created in mouth-blown art glass laminated onto dichroic float glass. LED panels back-light the central "cover slip" section of mouth-blown glass. Click here to see more photos of Macroscape Slides.
location
The glass artworks are wall-mounted at the interior entrance to each large laboratory on the three floors of the new Margaret Murie Life Science Building at University of Alaska Fairbanks.
materials & methods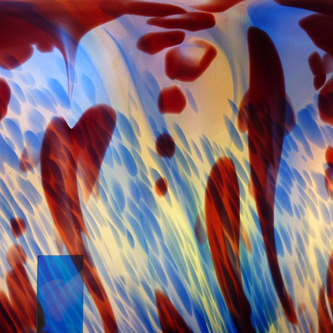 new image glass
The central 22 by 22 inch "coverslip" for each artwork is handmade glass. Using a new combination of glass forming techniques, artist Steve Scheibe and glass blower Jim Flanagan of Fremont Antique Glass (Seattle) collaborate to create window glass with imagery within.
View more experimental image glass.
Watch a YouTube video of glass blowing at Fremont Antique Glass.
dichroic float glass
Each microscope slide is made of dichroic float glass laminated to form a double thickness of safety glass.
Dichroic float glass is clear glass with multiple micro-layers of metal oxides giving it colorful iridescent and reflective properties. Surprising shifts in color can be seen at different viewing angles in this dynamic glass.
lighting
Custom daylight 5300K LED light panels illuminate the central square "coverslip" of art glass from behind. This true white light brightens the corridor with a full range of colors especially during dark winters.
mounting
Stainless steel stand-off mounting hardware suspends the glass off the wall, allowing transmitted light to cast a colored glow behind and around each artwork.
concept
Dichroic float glass in the shape of large microscope slides represents the convergence of new technology (dichroic color-changing effect) with classic, time-tested research tools of the life sciences (glass slide).
In contrast to the hard geometry of the slide, mouth-blown glass for the "cover-slip," is fluid and organic like the life being studied in the lab and out in the field. The glass imagery is a poetic presentation of three bio-scapes (life settings) in Alaska, UAF's vast outdoor laboratory.
imagery
The three selected scenes are Alaska's streams, sea ice, and tundra.
Of the six square photos below, only the top left and bottom right (unfinished) images are actual glass which has been created to poetically paint steams and stones. The other four are all concept sketches. Scroll down to see how the final art glass varies from these images.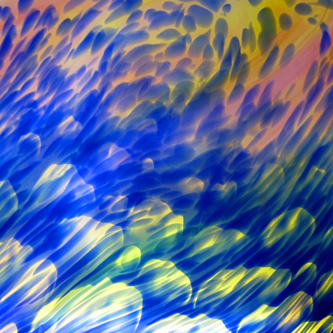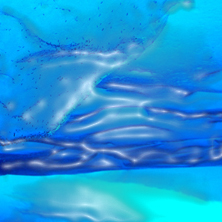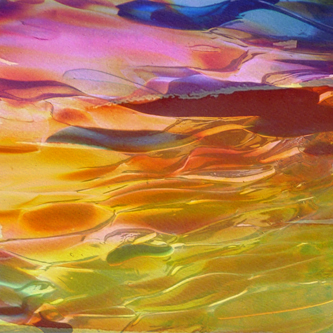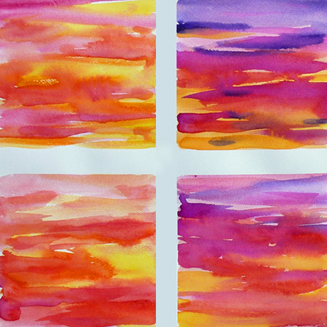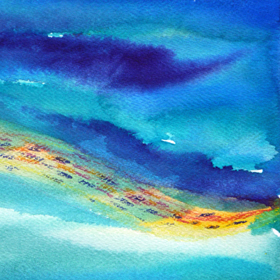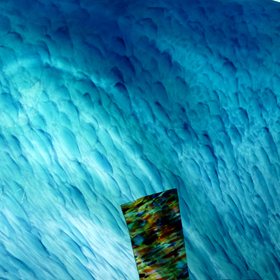 micro/marcro
In a play on scale and perspective (viewpoint), the three glass artworks celebrate the study of life in Alaska from micro to macro.
The illuminated macro-scapes placed just outside the doors of three labs are located in a positive tension and transition between interior and exterior, micro and macro, and between left brain analysis and a right brain encounter with "life."
Here is a wonderful paradox of simultaneously looking into while living within; a reminder of the great benefits in understanding the living world of which we are a part.
final stages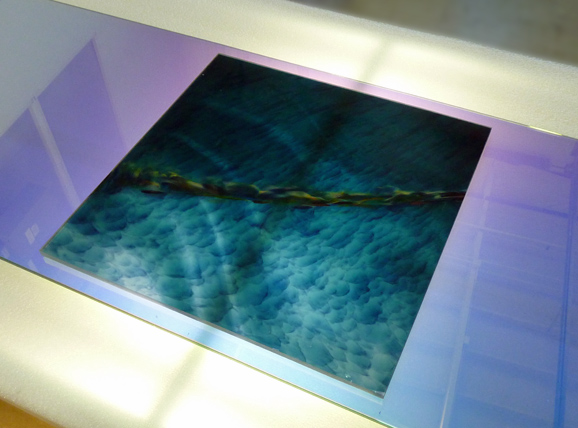 Actual "sea ice" imagery in blown glass here is viewed on the light table, in preparation for laminating it to the dichroic glass "slide" base.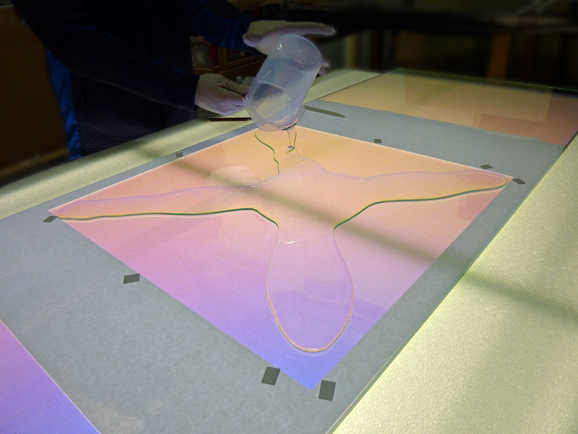 see more photos of the lamination process...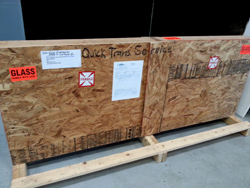 shipping to site
After months invested designing and fabricating this unique glass artwork, it is strategically packed for transport (and blessed for safe travels).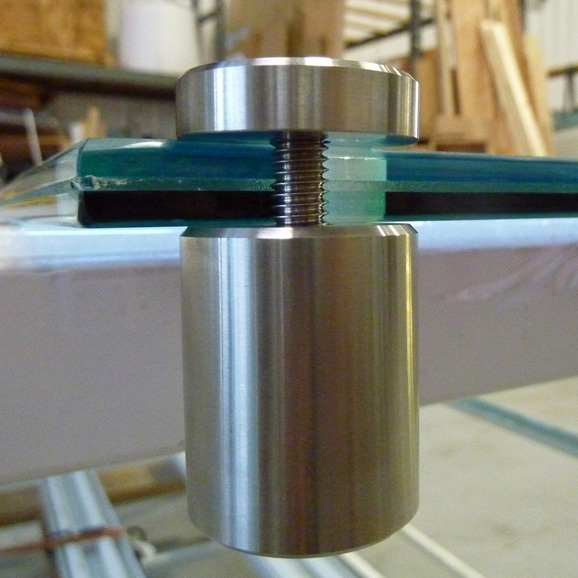 When the glass arrives safely at the new Murie Building at UAF in Fairbanks, Alaska, it will be time to install. See more...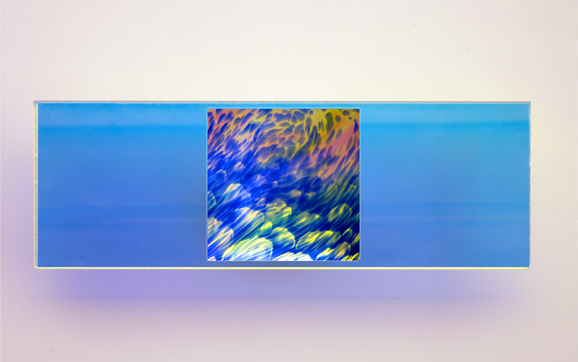 artist
Steve Scheibe of Olympia, Washington, creates in a variety of media. His public artworks are in dye-painted silk and glass. Using mostly natural materials and imagery, Steve explores the potency of metaphor in the patterns of nature.
When not in the studio, Steve enjoys kayaking, stand-up paddleboarding, hiking, cycling, gardening, and music-making with family and friends in the Pacific Northwest and Alaska.
This art project is sponsored by the University of Alaska in Fairbanks.