making of giant microscope slides
the work in progress
Each microscope slide is made of dichroic float glass laminated to form a double thickness of safety glass.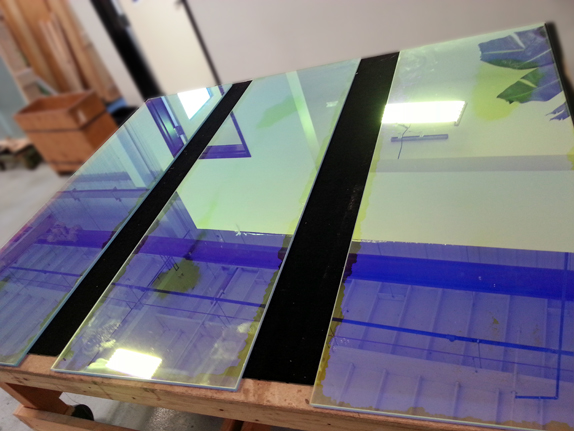 Dichroic float glass is laminated to clear float glass to form safety glass. The two-layer glass sheets are then water-jet cut to exact dimensions - 25 inches high by 75 inches wide. Here (above photo) the three large "slides" are taking shape.
Next all edges are polished with a slight bevel for a fancy finish (and safety). Holes are drilled through for mounting.

dichroic glass
Dichroic float glass is clear glass with multiple micro-layers of metal oxides giving it colorful iridescent and reflective properties. Surprising shifts in color can be seen at different viewing angles in this dynamic glass.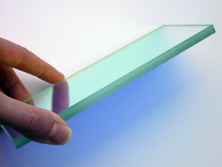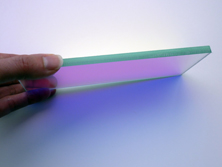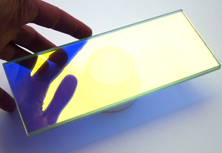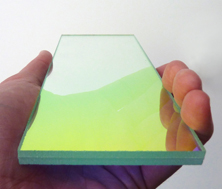 making image glass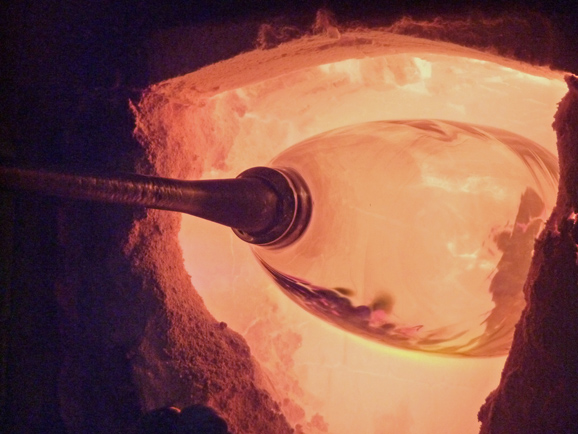 Molten glass is blown into elongated "balloons." The ends are cut off forming a cylinder. The cylinder is then opened and flattened into a sheet. There's a lot more involved when adding imagery and color, but that's the gist of it. This process takes at least a week and sometimes months depending the color schedule and additional techniques. Click here to watch a YouTube video of the first stage of the process...
water-jet cutting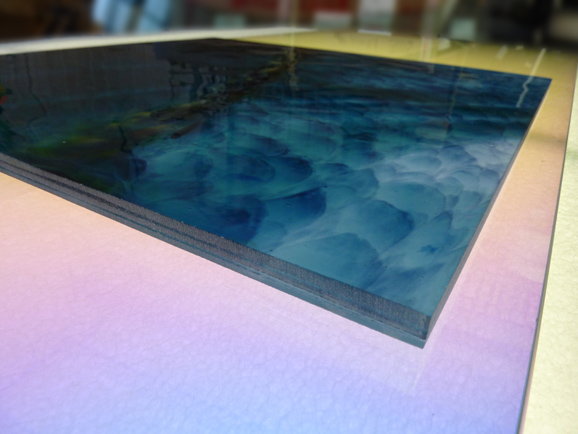 The selected mouth blown sheets are laminated together, adding visual depth in a "sandwich" of glass. The laminated glass is then water-jet cut into a precise square.
touch-ups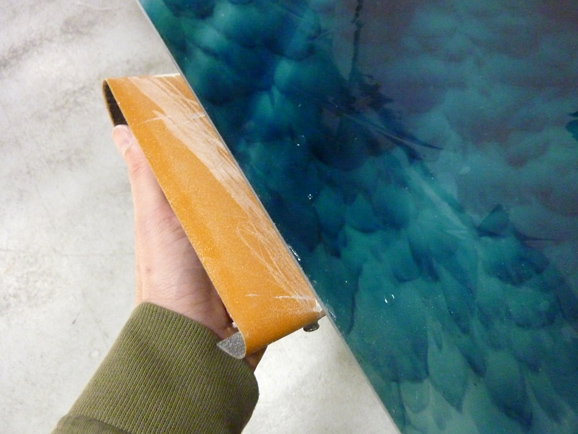 Sharp and nicked edges are sanded with diamond paper to remove all potential breaking points. Think of how a crack in a windshield will grow and spread from a tiny chip. It's the same principle.
(Yes, that's my hand. I enjoyed participating in final touches and lamination process in Portland, OR).
lamination - the final layer
Finally, the 22 by 22 inch mouth-blown art glass "cover-slips" are laminated to the front center of each "slide."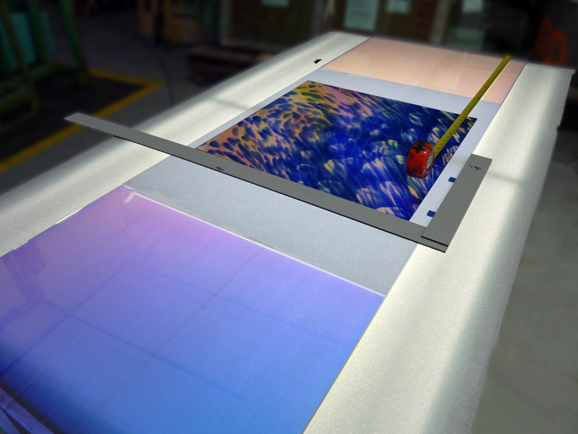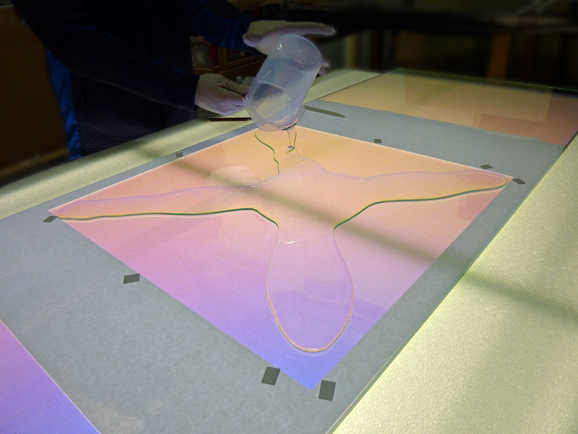 Silicone laminate is carefully poured through the template window onto the base glass (above).
Bursting every bubble... (photo below)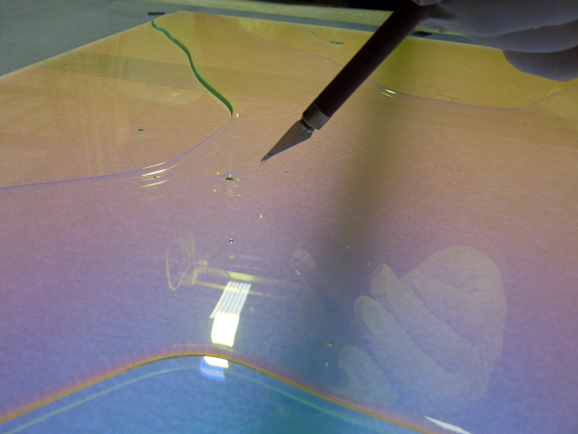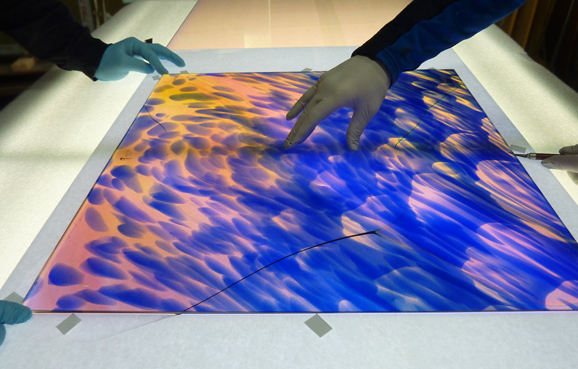 A mouth blown sheet of glass is placed carefully (above).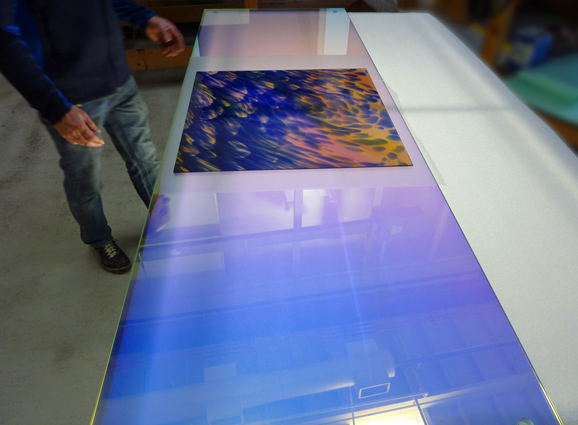 Macroscape: Streambed (above)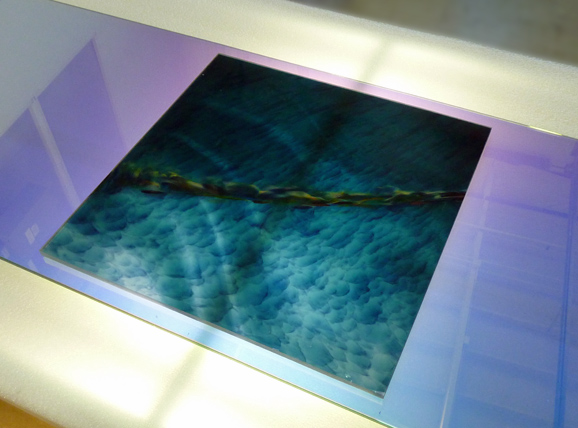 Macroscape: Sea Ice has three layers of mouth blown glass representing a depth of saltwater ice and the bioforms living there. There are five total layers of glass laminated in this oversized microscope slide.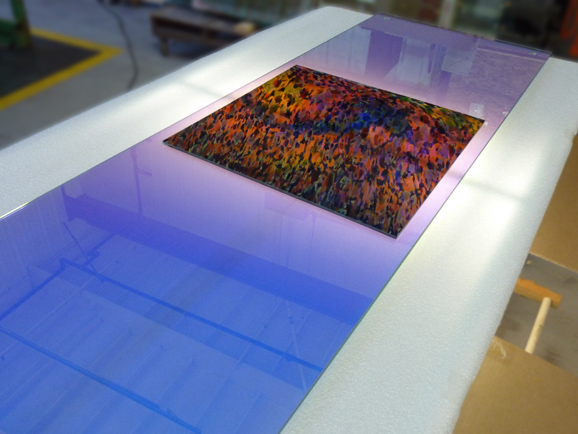 Macroscape: Arctic Tundra has two layers of image glass abstractly expressing the colors and forms of Tundra. Because of the dichroic glass behind it, the tundra colors shift from spring greens to fall reds as the viewing angle changes.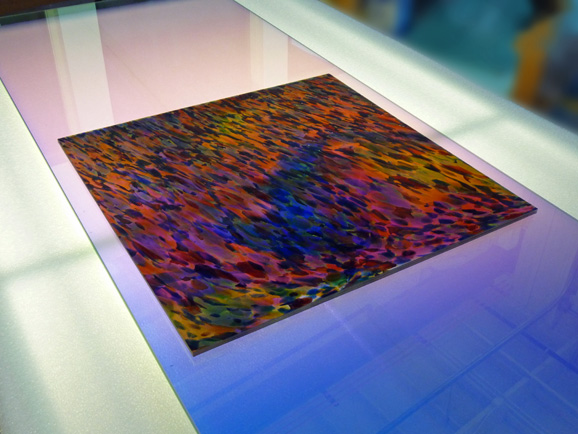 Notice how the dichroic glass color shifts from blue (near/perpendicular) to violet (far/angled) as the viewing angle changes.
shipping
Glass Strategies constructs sturdy, palletized crates and packs the finished glass securely inside for safe transport.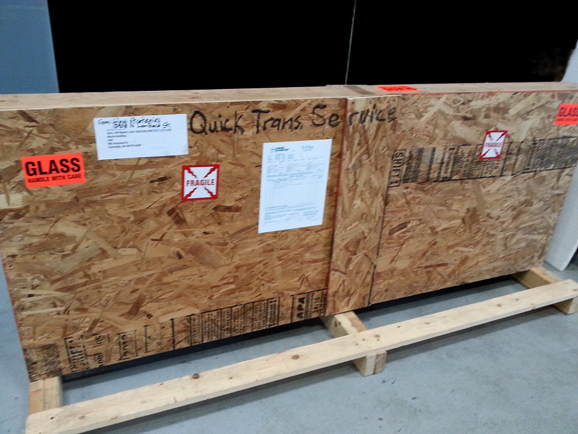 The glass travels amazingly quickly from Portland, Oregon, to Fairbanks, Alaska, by Air-ride truck.

Having safely arrived at the Murie Building on the UAF campus, the installation will begin.
Click here to see the installed artwork...