journal spring 2020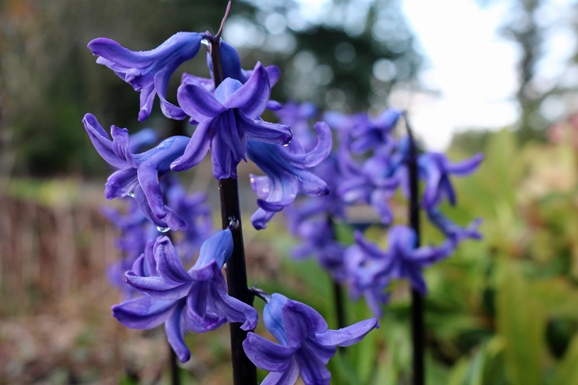 sleepers awaken
I heard the peepers singing into the moonlight on my birthday.
And stepping onto the wooden dock ramp
I notice it's level now - even sloping a bit uphill.
Record rains have fully restored fall's record low water table.
Breezy cool air, but a little warmer now
and more light...
stirring sleeping, hidden gardens.
They yawn and stretch and push
their fragile heads up through earth
Born from soggy earth
Beauty emerges again - right on schedule.
Spring.

PS We call the chorus of frogs "peepers"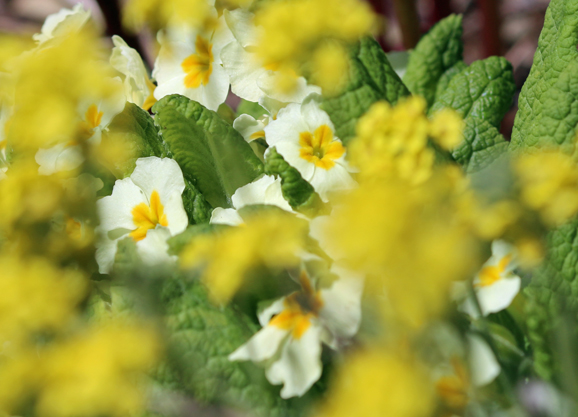 Creamy primulas emerge every year, reminding me of Grandma who planted them years ago.
spring studio art show
You, your family, and friends are invited...to my studio art show and sale

See five decorated rooms brimming with art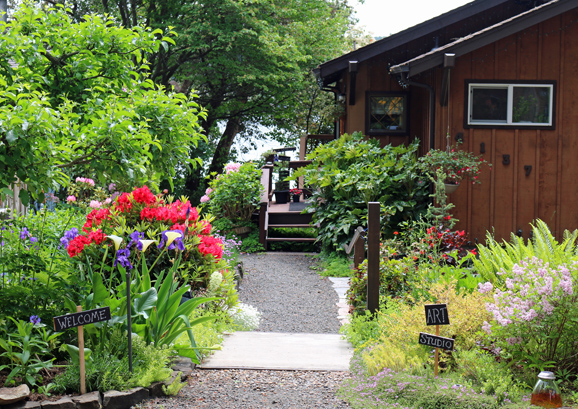 with prices from a few dollars to thousands.
Delight your eyes with unique, hand-made gifts, living art, succulents, cards, glass, silks, giclees, original watercolors, pastels, small original oil paintings, and more.
This was scheduled for April 25 & 26, but...
a virtual gallery tour
Due to the virus, my April 25-26 studio art show and sale has changed.
It's rescheduled for May 2020 (exact dates and times t.b.a).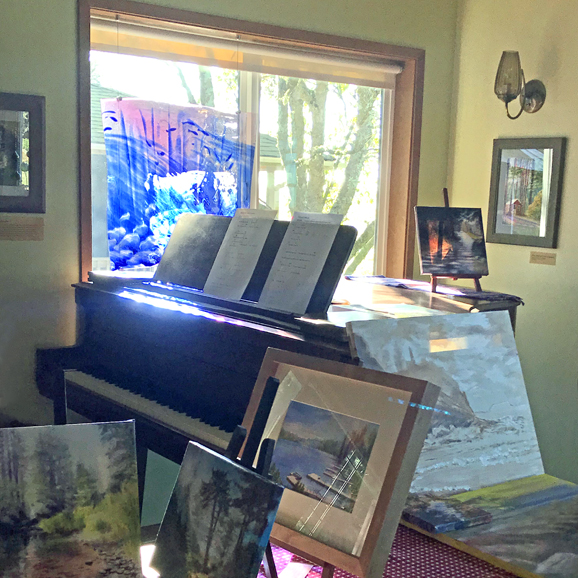 So you are now invited to visit my online studio art show and sale.
My plan is to post 360 degree interactive panoramas of the gardens and gallery. So you can maneuver through each room at your own pace...scrolling around the spaces in your computer or phone (I recommend a larger screen).
In an attempt to share relationally, I'll try to create a video or two where I can share about my newest art - maybe play something for you on the baby grand piano.
Maybe an online auction.
Still working out shipping and delivery details. But it's coming together.
And I'm quite pleased that my friends around the country and world can visit my studio show this year.
commissions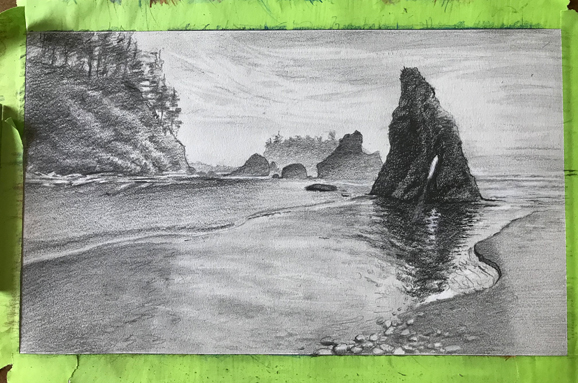 This rough compositional sketch will become a 3 x 5 foot oil painting in full color. Click here to see the work in progress.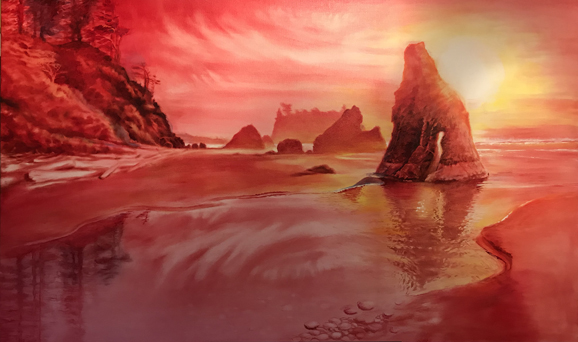 And here the under-painting mostly in alizarine crimson is complete. See more...
kalaloch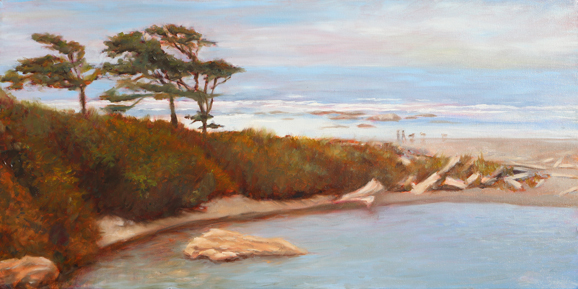 Click here to see more on Kalaloch, and the process of creating it.
classes
dye-painting silk workshops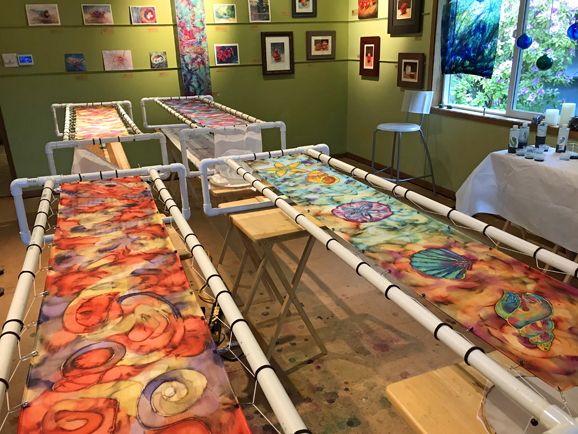 April 2019 abstract "scribble" silks emerged in dynamic color. Silk in front right is the group project. Amazing!
Consider a silk painting workshop for yourself and/or as a gift.
ease
At the age of eight or nine, my twin nephews painted a beautiful dragonfly silk. To this day it is one of my favorite silks, likely because children create freely and without inhibition.
the dyes do the work
Dye-painting silk in the serti method is something most anyone can do. The richly colored dyes migrate through the silk weave creating lovely patterns. A very "forgiving" medium, these dyes won't make muddy color. Even if you mix up a brown, the silk's sheen will create a metallic bronze version of your brown.
In a friend's words, "dyes in silk is like watercolors on steroids."

Click here or on the "classes" tab at top to see upcoming classes schedule...
glimpses of spring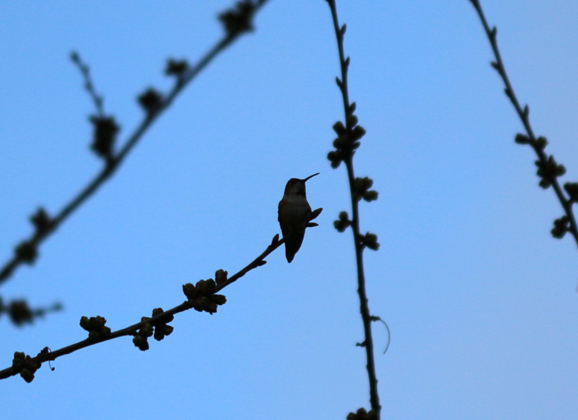 The Ana's hummingbirds stayed all winter.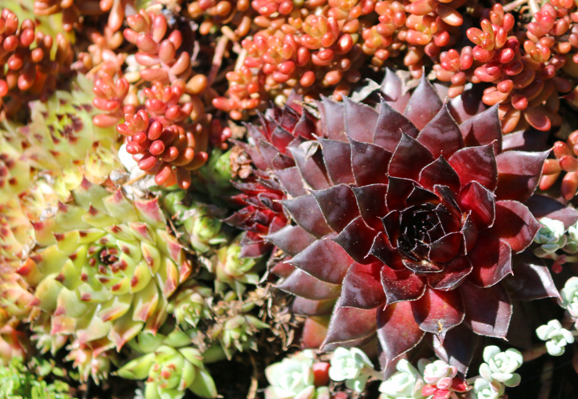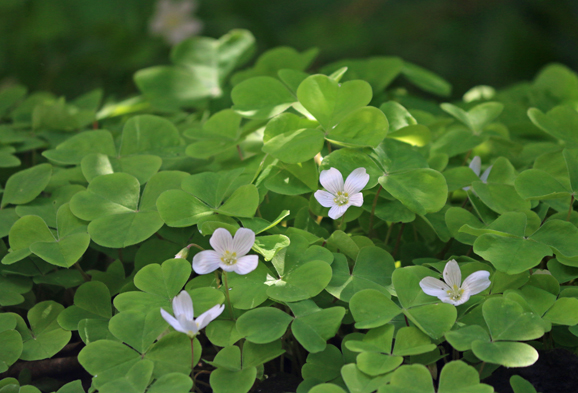 native oxalis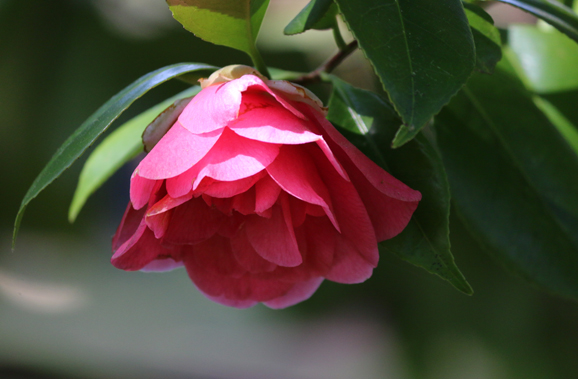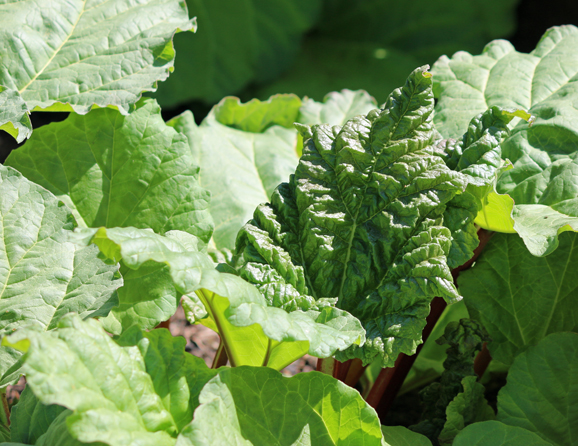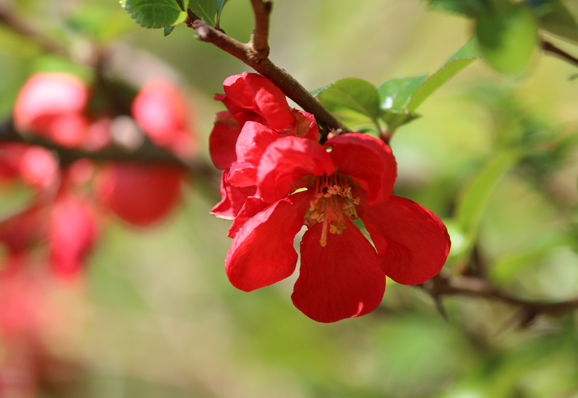 flowering quince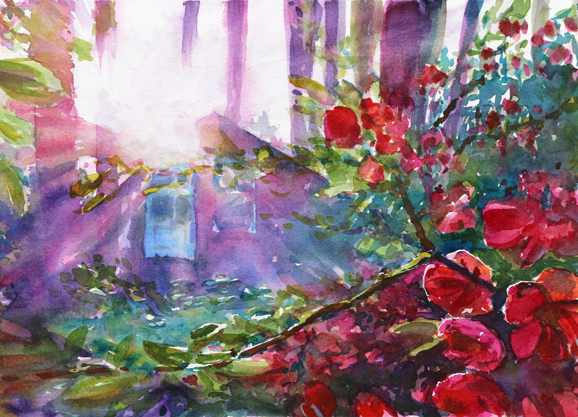 a spring watercolor of Grandma's quince and red shed
select past commissions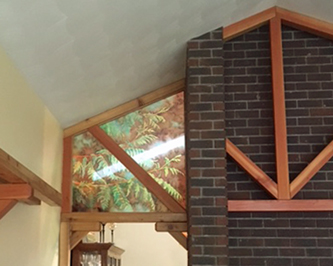 I'm pleased to announce my first completed installation of silk laminated within glass. The artwork fills the spaces between open trusses of a residential interior. The photo at right two of four panels. Click to see more.
As students, faculty, and visitors enter Gilson Middle School in Valdez, Alaska, they are greeted by a vibrant suspended mural--over 26 feet wide. Read more...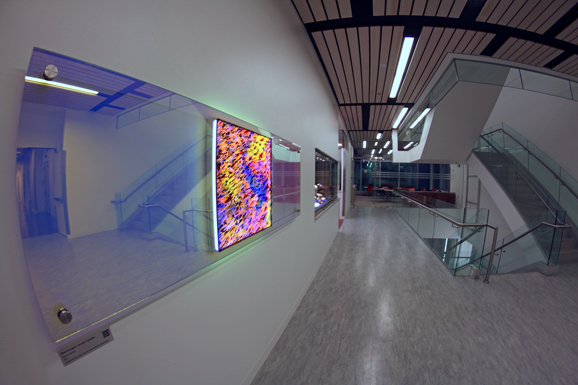 Three new glass artworks resembling over-sized microscope slides measure two feet high by six feet wide. Each artwork is uniquely created in mouth-blown art glass laminated onto dichroic float glass. They are installed in the Margaret Murie Life Sciences Building at the University of Alaska, Fairbanks.

This suspended mural of dye-painted silk measures over 300 square feet. For Liberty Middle School in Spanaway, Washington, it depicts junior high years in a metaphor of a river passing through a canyon.
I love it. It turned out to be all I hoped for and more. Read more...

I continue to collaborate with Seattle glassblower Jim Flanagan to create gently abstracted imagery within colored glass. Click here or on the photo at right to see our most recent sheets of blown glass (and scroll down, as the newest work is near the bottom).

Commissioned for a thriving church in the town of Dunwoody, near Atlanta, Georgia.

This mural in dye-painted silk was commissioned for Katchemak Bay Campus of Kenai Peninsula College of the University of Alaska. Discovery was installed in Homer, Alaska, in June of 2012. Read more...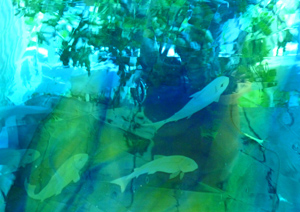 Kenai Peninsula College etched mouth-blown glass public art installation
Click here to read about Generations.
Here is a link to KPC installation photos
studio and story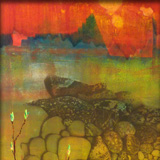 Click here to see photos of ten images completed in January 2011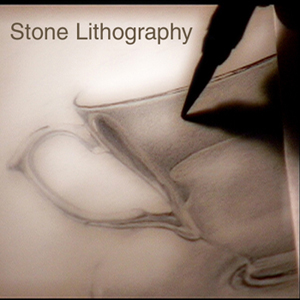 People often ask me how I create a stone lithograph. It's hard to explain in words so I have a short video that shows the process.
Click here for photos and video on stone impressions.

silk rivers
These river silks were inspired by and modeled after the beautiful Fremont antique glass we used for the Kenai Peninsula College installation.


flowering
My Grandma's name, Florence, means "to flower" as in the sense of a blossom. And 2012's flowers were an explosion of color. See photos in her memory...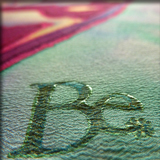 Be silk scarves

Links...
gallery of Be silk scarves
significance in Be-ing
silk care
displaying silk

past journals
fall 2011
summer 2011
summer 2010