spring journal 2014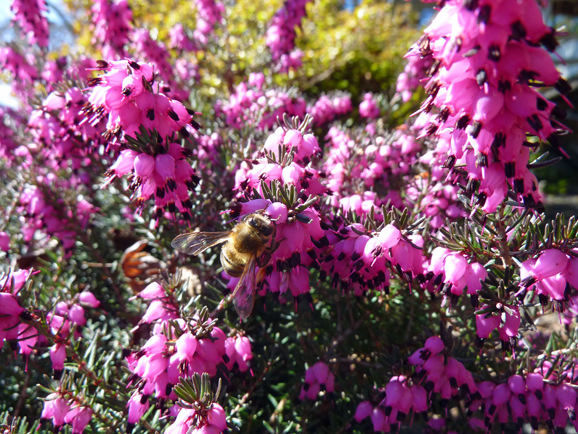 One of the first honeybees sighted in spring gathers nectar from garden heather.
spring!
I'm told that March 19 is the first day of spring. Indeed it feels like spring here in Western Washington. Spring weather here brings sun, rain, showers, (maybe hail), and sun again all within one hour.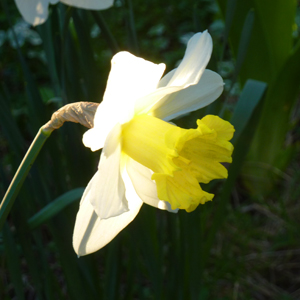 Regardless of the weather, out come the bouquets, buzzying bees, and baseball--it's spring.
Through the window beyond my desk, I see swallows darting over the sparkling waters of Offut Lake. They're back from their winter vacation down south. With joyful flight, they seem to be the happiest birds in the world. Here at the lake, we herald their arrival. In fact, it's unofficially a family contest to see who spots the first swallow of spring. Our neighbor won this year because our family was out of town the week the swallows arrived.
Closer inland, the rufus hummingbirds are also zipping about looking for flowers and nectar to drink. They timed their arrival with the swallows this year.
Speaking of hummingbirds, did you know that a hummingbird's heart beats 1260 beats per minute? And this is poetic language; a group of hummingbirds can be called a "bouquet," a "glittering," a "hover," a "shimmer," or a "tune." (reference: the app iBird West)
A happy and beauty-filled spring to you!
click much
As you peruse the spring journal, click on any photo or words that are of interest to you. Photos most often lead to more photos and stories.
Enjoy!
spring exhibitions and commissions

The photo to the right shows my stone print entitled "Because We Can't Eat Rocks II" being framed for an exhibition tour.
CIVA's newest Traveling Exhibit, Come to the Table, features thirty-five carefully selected works including everything from historical pieces by Albrecht Durer, to modernist work by Jasper Johns and Sadao Watanabe, to fresh contemporary pieces created by CIVA-member artists.
"Because We Can't Eat Rocks II" will travel the United States with this juried exhibition for about five years.The tour premiered on March 15, 2014 at PULSE, a sold-out arts and worship conference in Madison, Wisconsin.
It's an honor to have my work hanging alongside the brilliantly talented artists, and among musicians (like David Crowder) whose contributions I admire and enjoy.
Here is a link to the enlarged photo of the artwork.
new public art commission
I am VERY pleased to have been selected to create art for a school in Alaska. I'll publicly post more photos and information about that project once I've secured a contract for the project. What I can share is that it is an excellent location with a stong sense of place and abundant visual material to work from. I'm grateful for this opportunity to create for a middle school in this beauty-filled setting.
(Sorry, no click links here. This photo story with my project ideas is hidden for now. I'll share more soon.)
butterflies in spring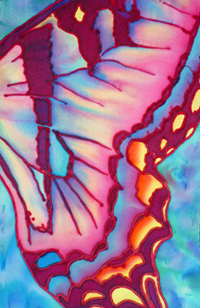 Maybe it's spring fever but the beauty of butterfly imagery recently resulted in two art purchases. One is a private commission of a silk scarf with custom imagery of pastel butterflies, for a unique and personal gift. The other butterfly image was purchased for a public venue by the City of Lacey.
My silks were beautifully displayed in Bellingham, Washington at a spiritual conference called Dunamis. Combined with the work by other artists, my silk paintings were used to create places of contemplative prayer. I took a few photos, but they didn't turn out well. All to say it was a stunning example of how things visible can inform and influence our thoughts and even prayers (things invisible).
Stirred by the silks' beauty, someone attending the conference commissioned me to make a custom silk scarf as a gift for her friend. Click on the detail photo at right to see more...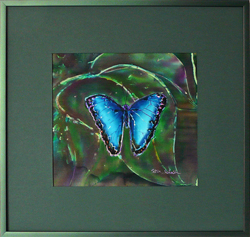 The City of Lacey, Washington has purchased Morpho Peleides, a glowing blue butterfly dye-painted on silk and framed under glass.
The artwork is displayed at the Lacey Senior Center in Lacey, Washington. I'm always pleased when my artwork brings beauty and comfort to people in various settings. I'm honored to have my work in this newly remodeled facility.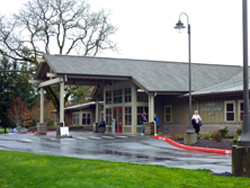 An artist reception is Friday, June 6 at 5:00pm and all are warmly welcomed.
6757 Pacific Ave SE, Lacey, WA 98503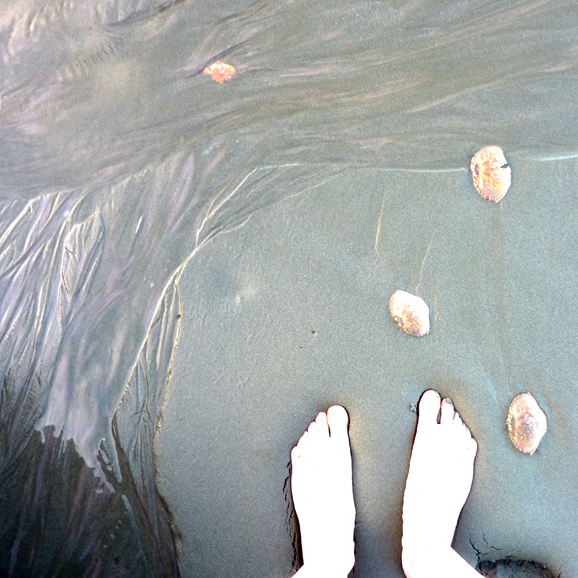 I thrive near the ocean. It's where I feel most sane. So I was deeply refreshed by my cozy cabin solitude on the Olympic Peninsula. See photos...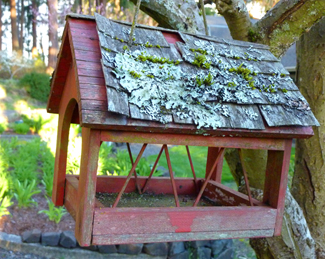 Spring awakens the sleeping plants and our creative senses. I'm enjoying some fresh, artful activities this spring. Click here and on the photo at right for more...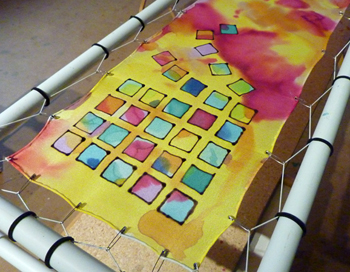 I enjoyed teaching three spring workshops on dye-painting silk in the serti method - in my home-studio.
The room becomes a buzz of creative energy and much discovery as students try their hand at silk painting. I love seeing what each artist brings to the medium. Sometimes the "happy accidents" bring about new discoveries that I want to try too. The work at left by a student is a lovely example of cool geometric forms in pattern contrasting a background in warm, fluidly abstract hues.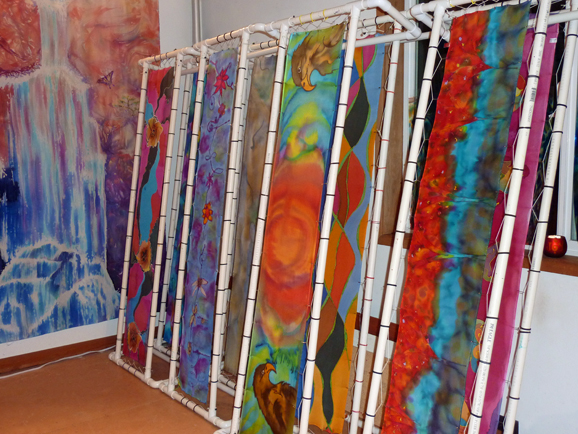 Always, the results of dye in silk are beautiful. A very "forgiving" medium, it's almost impossible to make silk ugly. The spring students all produced beautiful works. Congratulations on your beautiful work! Click here or on the photos to see colorful workshop photos.
more on Be silk scarves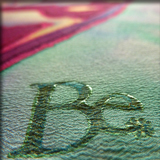 For those curious about my Be silk scarves, I've posted information on silk care, display options, and the significance behind the series title "Be."
Click on the links below to see the pages:
silk care
displaying silk
significance in Be-ing
gallery of Be silk scarves
featured links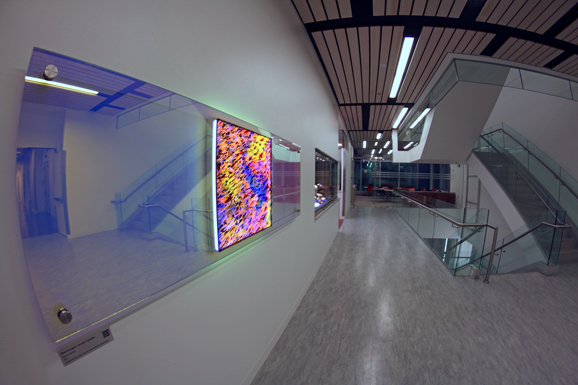 Three new glass artworks resembling over-sized microscope slides measure two feet high by six feet wide. Each artwork is uniquely created in mouth-blown art glass laminated onto dichroic float glass. They are installed in the Margaret Murie Life Sciences Building at the University of Alaska, Fairbanks.

This suspended mural of dye-painted silk measures over 300 square feet. For Liberty Middle School in Spanaway, Washington, it depicts junior high years in a metaphor of a river passing through a canyon.
I love it. It turned out to be all I hoped for and more. Read more...

I continue to collaborate with Seattle glassblower Jim Flanagan to create gently abstracted imagery within colored glass. Click here or on the photo at right to see our most recent sheets of blown glass (and scroll down, as the newest work is near the bottom).

Commissioned for a thriving church in the town of Dunwoody, near Atlanta, Georgia.

This mural in dye-painted silk was commissioned for Katchemak Bay Campus of Kenai Peninsula College of the University of Alaska. Discovery was installed in Homer, Alaska, in June of 2012. Read more...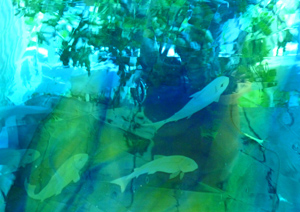 Kenai Peninsula College etched mouth-blown glass public art installation
Click here to read about Generations.
Here is a link to KPC installation photos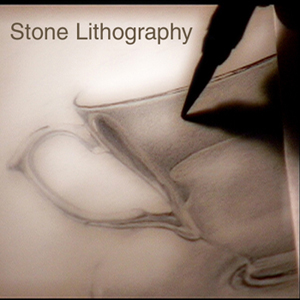 People often ask me how I create a stone lithograph. It's hard to explain in words so I have a short video that shows the process.
Click here for photos and video on stone impressions.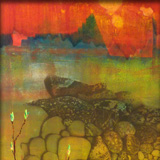 Click here to see photos of ten new images completed in January 2011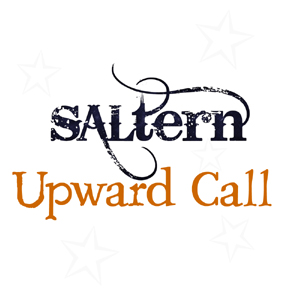 song project - upward call
Read about our spring 2011 kids' pop song project at upward call. Or click on the photo at right to listen to the song or buy it...

silk rivers
Check out my recent river silks inspired by and modeled after the beautiful Fremont antique glass we used for the Kenai Peninsula College installation.


flowering
My Grandma's name, Florence, means "to flower" as in the sense of a blossom. And 2012's flowers were an explosion of color. See photos in her memory...
past journals
fall 2011
summer 2011
summer 2010