winter journal ~ new year 2014
flowers and snow ~ mid-winter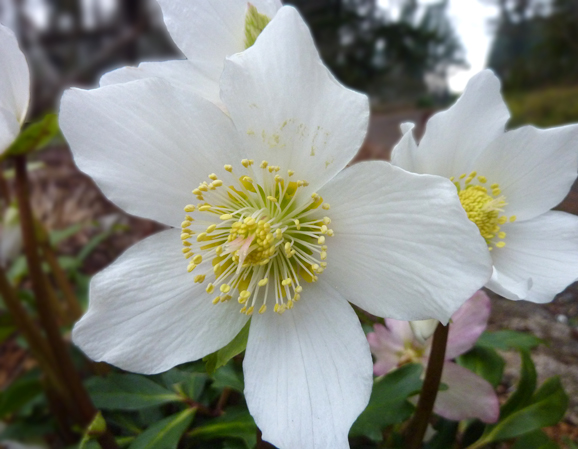 Christmas Rose blooming mid-January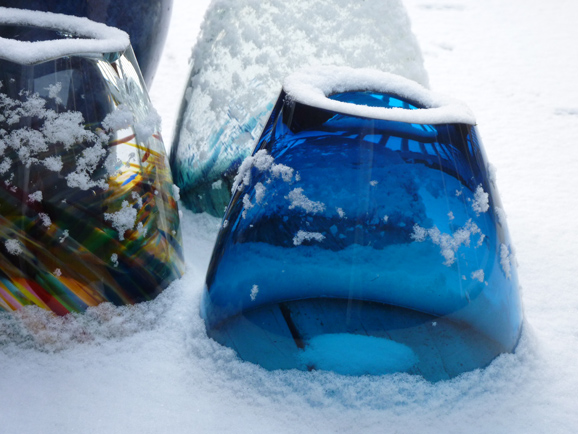 Glass cylinder ends sparkle with color in a pure, white dusting of snow in December.
happy new year!
a miraculous 2013
Looking back, I'm thankful and amazed.
In February 2013, I was ill with a bad virus (like mono but not) that wiped me out for months. Doctor said that I was "run down" by stress of caring for Grandma, and her passing. "Rest, rest, rest," was the prescription, and I complied since physically I didn't have an option. As I recovered, I somehow continued creative work on ILLUMINATED PASSAGE and my MACROSCAPE SLIDES. First I worked sitting, gradually building up to standing at work.
And so I'm relieved and amazed that my new works in silk and light, and in glass and light are both installed.
installed
silk mural for liberty middle school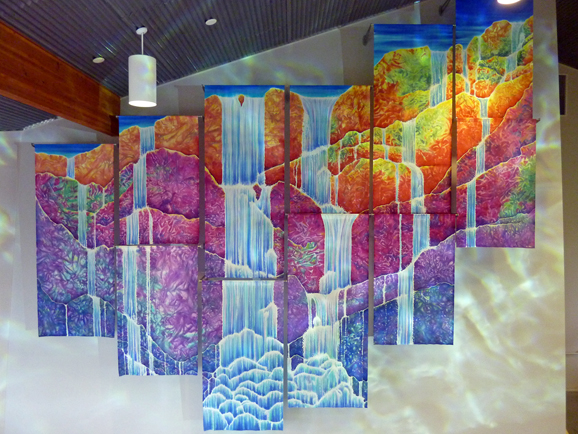 For the first time all eleven silk panels of Illuminated Passage can be viewed as a whole and complete mural. Over three hundred square feet of dye-painted silk suspended from the canted wall, the bas-relief mural is accented by a light effect like sunlight up-bounced off of a rippled water surface.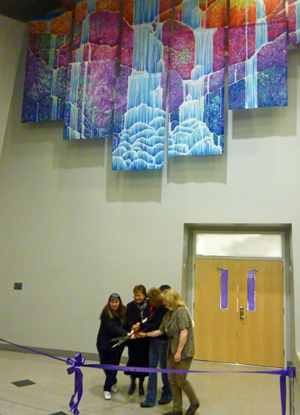 unveiling event
Illuminated Passage was "unveiled" in a public reception Wednesday, January 15, 2014. Liberty Middle School received the honor of being named, "School of Distinction in the State of Washington." So the reception was a combined celebration the school's award and of the new artwork.
The evening event included performances by Liberty's excellent (really!) jazz band and orchestra, speeches by students, district leaders, Liberty's principal, WSAC project manager Mike Sweney, and me. I enjoyed sharing what the artwork is about.
More jazz followed in the atrium area to accompany the ribbon cutting ceremony (pic left). Thanks to all who helped make it a very special evening. Read more at Bethel School District's news archive.
To see the artwork at Liberty Middle School, 7319 Eustis Hunt Road East, Spanaway, WA 98387, visit during school hours (before 2:00pm M-F) and enter through the main office and follow security protocol as instructed.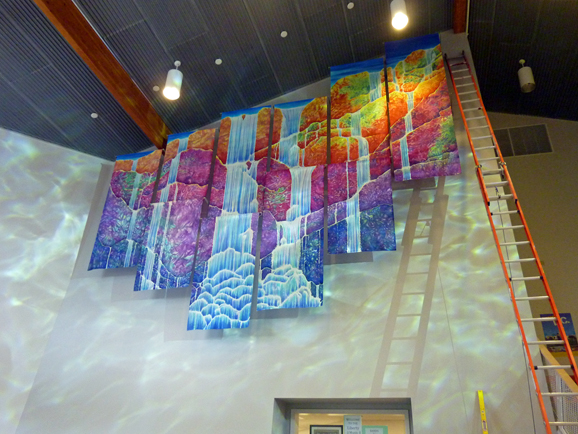 photos ~ installation day
Artistry, engineering, athleticism, and courage are all part of installing large artworks in high places.
See more photos of the installation...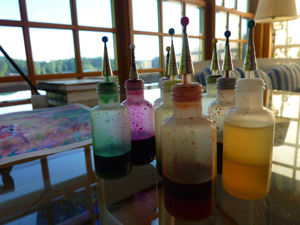 I have invested deeply in this project. I've been immersed in the river and have grown much during the process. Read and see more of creative journey.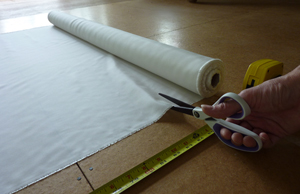 art making process
Click here for photos of the actual art-making in the studio.

This project is sponsored by The WSAC Art in Public Places Program in partnership with the Bethel School District.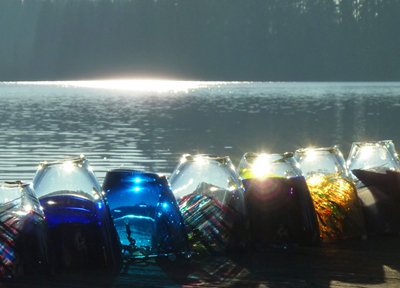 I'm enjoying light and color even in our darker days of winter. Click here to see a few snapshots of my day to day art journey.
macroscape slides installed at university of alaska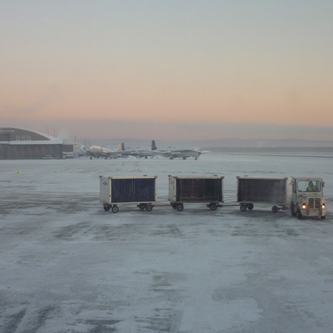 color and light for fairbanks' dark winter
On December 16, 2013, I flew to Fairbanks, Alaska to install new glass artworks. The change in temperature from Seattle to Fairbanks was 80 degrees difference--from 51 above to 31 below zero.
An artistic vision of three beautiful and curious glass artworks is realized. Three illuminated glass bas-relief sculptures now hang on three floors of the new Margaret Murie Building on the campus of University of Alaska Fairbanks. I'm honored for my work to be at home in this beautiful new life science research and training facility.
Three up-scaled microscope slides are made of water-jet cut, laminated, dichroic float glass. In the center of each slide is a coverslip or specimen made of mouth-blown art glass.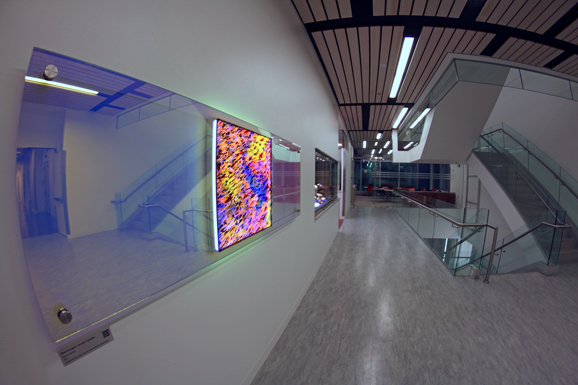 Macroscape: Arctic Tundra at left is two layers of mouth-blown glass laminated onto dichroic safety glass.
For this project, I'm employing my experimental glass techniques to embed abstract imagery in the glass.

Tacoma General is purchasing five of my recent silk studies depicting imagery of Tacoma's Wright Park. They will be framed and displayed in TGH's new facilities.
Silk paintings have a comforting quality. Perhaps it's the softness of lines or the smoothness of the silk itself, but I see silk media as well-suited to places of healing.
Tacoma General's purchase is a step in the fulfillment of my vision to place silk artwork in care facilities. I also have original silk paintings in Providence Regional Hospital in Everett, Washington for their new Cymbaluk Medical Tower. I hope to create some large-scale suspended silk installations for hospitals in the future.
over the fountain

The silk painting at right shows a young couple on Wright Park's pond bridge, peering into the waters with sunlight reflecting up around them. Click here to see the studies...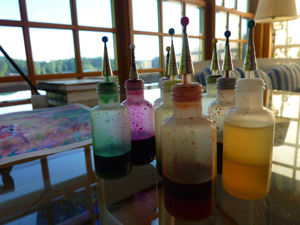 dye-painting silk workshops
Dyes migrating through silk are like watercolors on steroids creating stunning beauty.
You can learn to dye-paint silk too. I'm offering three class time options this February. Click here or on the "classes" tab of the top bar for more class times.


Bethel School District-wide Art & Technology Fair
On Saturday, January 25, I demonstrated dye-painting silk at Bethel's Art and Tech Fair in Spanaway, WA. I was impressed with the scale of the event. Art displays by students from every school in the district filled Spanaway High School's large gymnasium. Smiles and comments from children were priceless.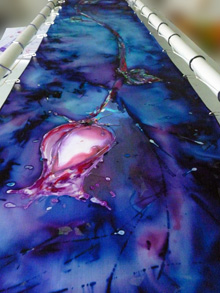 valentine gifts from the heart
Click on the photo left to see some valentine silk scarves for purchase.
Or commission a custom silk for your loved one (see just below).
Or maybe your valentine would enjoy taking the dye-painting workshop. Click here, or on the "classes" tab on the top bar for more information.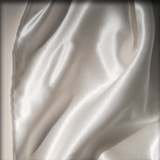 commission a silk scarf
Want a scarf in specific colors or with a particular favorite image, flower, or motif? Commission a wearable silk painting for yourself or a friend.
It's never too early to plan for holidays, birthdays, or for a "just because" one-of-a-kind gift.


a virtual business card
Shawn Franklin of E.N.Y. Web Strategies, introduced me to the world of Quick Response Codes (QR codes) and created a virtual business card for me.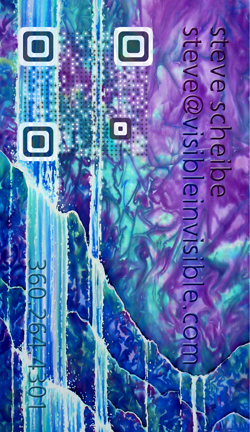 The integrated code on my glossy, printed cards can be scanned with a QR Code reader (phone or pad) and it will go to this virtual biz card (click to visit).
The virtual card is to be easily viewed on a small phone screen, but then directs the viewer quickly to four categories of information. They can follow links from there to contact, purchase, or visit my website journal.
I have a great website, but for a small business without a website, or for a simplified landing pad for phone users, this is a keen idea. Contact Shawn for more info - enywebstrategies@gmail.com.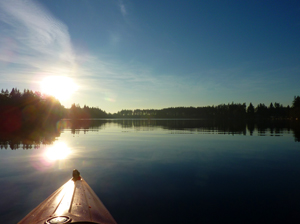 new year's day paddle
My new tradition is to kayak on New Year's Day.
Click here for photos of that quiet and drizzly day.
And click here for photos of a much sunnier day.
Enjoy!
featured links

I continue to collaborate with Seattle glassblower Jim Flanagan to create gently abstracted imagery within colored glass. Click here or on the photo at right to see our most recent sheets of blown glass (and scroll down, as the newest work is near the bottom).

Commissioned for a thriving church in the town of Dunwoody, near Atlanta, Georgia.

This mural in dye-painted silk was commissioned for Katchemak Bay Campus of Kenai Peninsula College of the University of Alaska. Discovery was installed in Homer, Alaska, in June of 2012. Read more...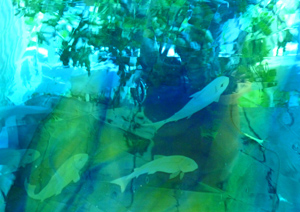 Kenai Peninsula College etched mouth-blown glass public art installation
Click here to read about Generations.
Here is a link to KPC installation photos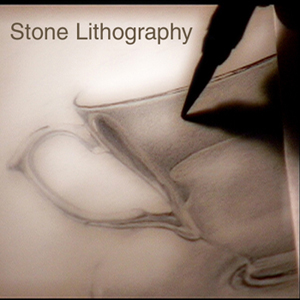 People often ask me how I create a stone lithograph. It's hard to explain in words so I have a short video that shows the process.
Click here for photos and video on stone impressions.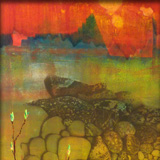 Click here to see photos of ten new images completed in January 2011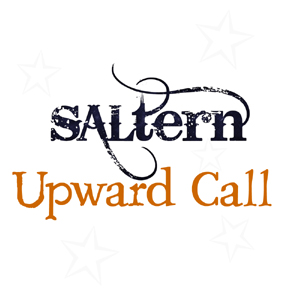 song project - upward call
Read about our spring 2011 kids' pop song project at upward call. Or click on the photo at right to listen to the song or buy it...

silk rivers
Check out my recent river silks inspired by and modeled after the beautiful Fremont antique glass we used for the Kenai Peninsula College installation.


flowering
My Grandma's name, Florence, means "to flower" as in the sense of a blossom. And 2012's flowers were an explosion of color. See photos in her memory...
past journals
fall 2011
summer 2011
summer 2010