the making of land and sea passage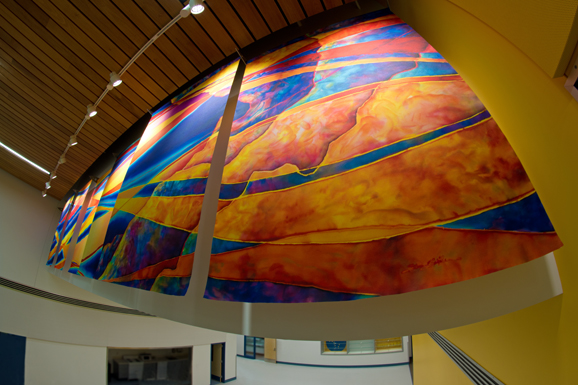 art ingredients
Every good artwork begins with a compelling idea, is expressed in a fitting composition, and is completed with excellent craftsmanship.
These components, mixed up with inspiration, innovation, hard work, and beautiful materials make for a strong artistic expression that is quickly accessible to the public both viscerally and intellectually.

design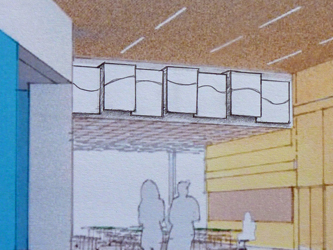 inspiration envisioned in a space
A strong idea begins taking form in the design stage. Design begins with research - looking into the context, audience, setting, site use, architectural elements, demography, history, and geography of the region.
Once an art concept is selected, the artwork must be scaled and proportioned to fit the site. Here are some sketches of the artwork in the design stage.
in the studio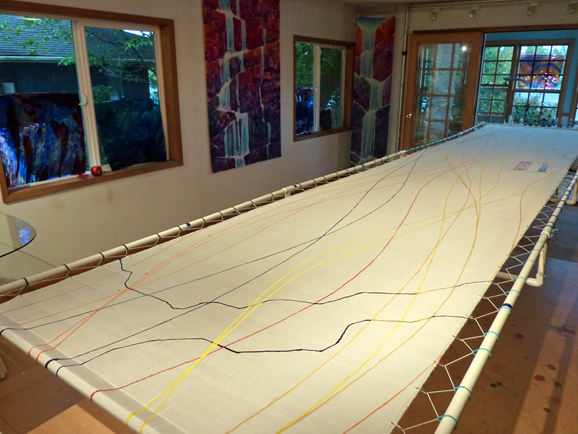 Above shows drawing the outlines in colored resist.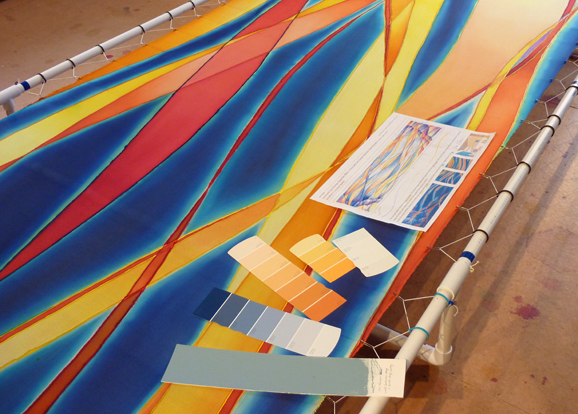 Final check of artwork hues compared to the architect's selected wall colors for the installation site.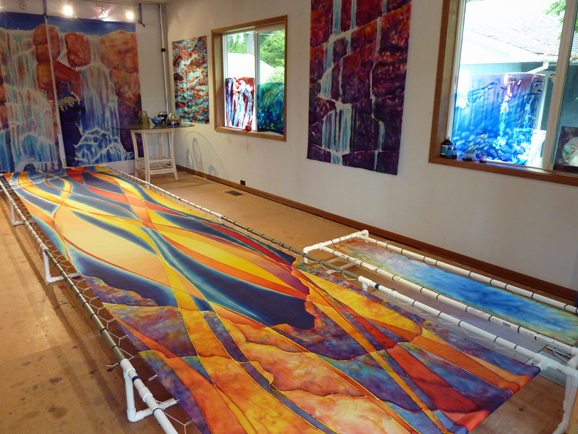 The finished painting is ready to set with steam. Notice I filled the studio with water imagery for this project.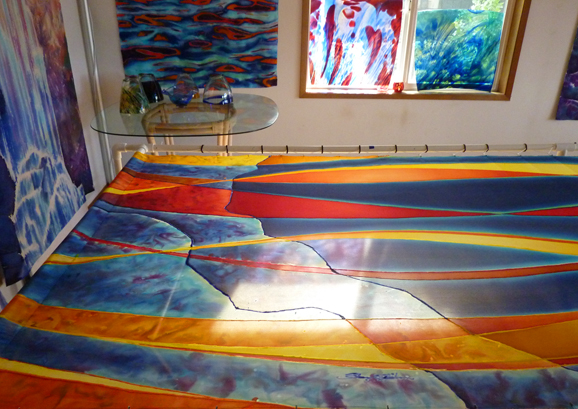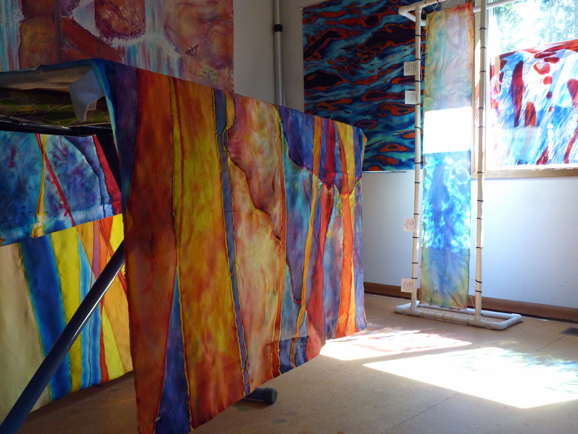 The steamed and washed silk is then ironed for photographing. Lovely sunlight backlights art glass in the studio.
dye-sub printing
In a rugged middle school setting in remote Alaska, 100% silk might endure beautifully over time. But like any artwork, it could also be damaged in a public setting. I've discovered a way to immortalize my silk paintings--by dye-sublimation.
dye-sub process
First, I paint the original silk with liquid dyes. Then I photograph the finished silks. I refine and edit the high-resolution digital images, and the experts in Seattle "print" them onto 100% polyester. The process uses heat to vaporize dyes which penetrate and bond permanently within the polyester fibers.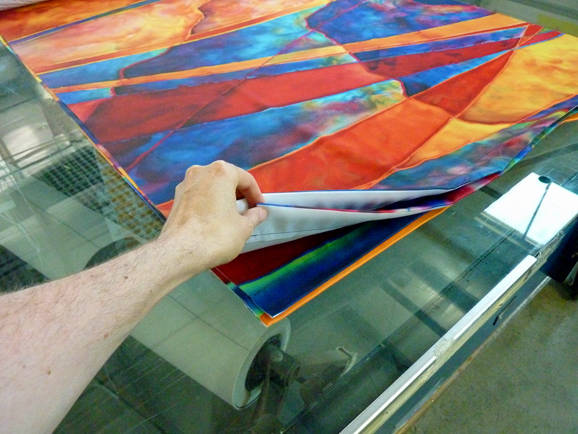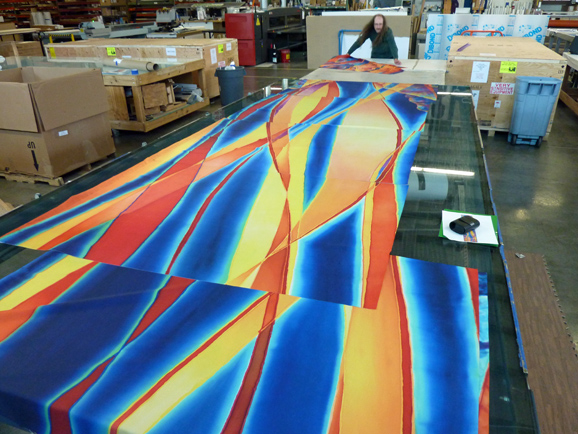 Here we're proofing all panels aligned edge to edge...before shipping to the installation site.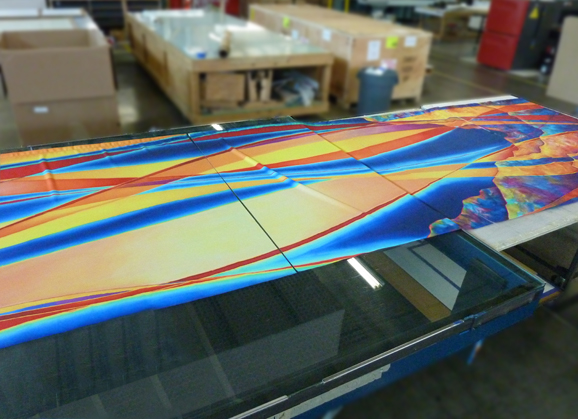 cloning option
So now if a panel is damaged, we send the files to print and a "clone" of the artwork is created with relatively little expense. By cloning, the artwork lives indefinitely.
brackets
To suspend the mural panels, I designed custom brackets resembling kayaks. Sculptor Peter Reiquam (Seattle) fabricated them in water-jet cut stainless steel with a bead-blasted finish.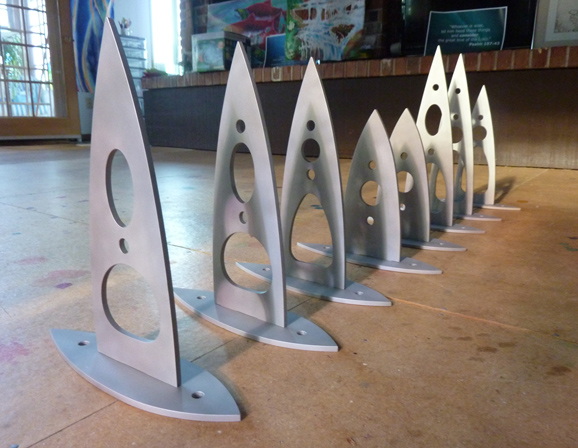 Note how each bracket design relates visually to the set as a whole. Shapes and patterns repeat, but with dimensional changes.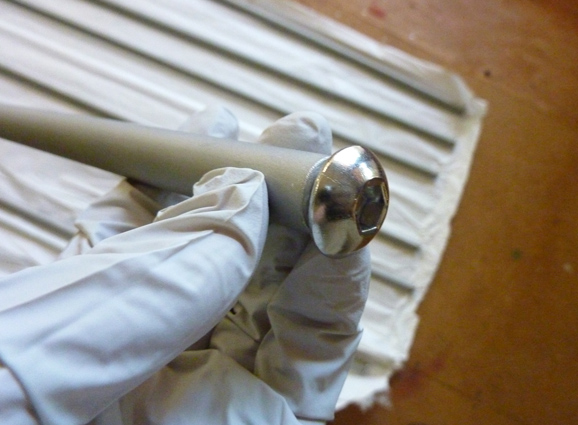 packing support rods for shipping to Valdez

The northern sun of Alaska provided us extended daylight hours...a long and productive work day.
Read and see more... (click also photo right)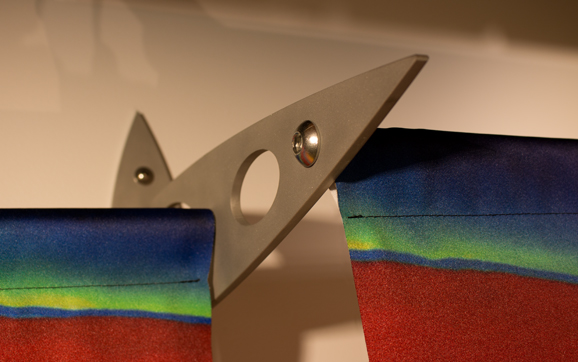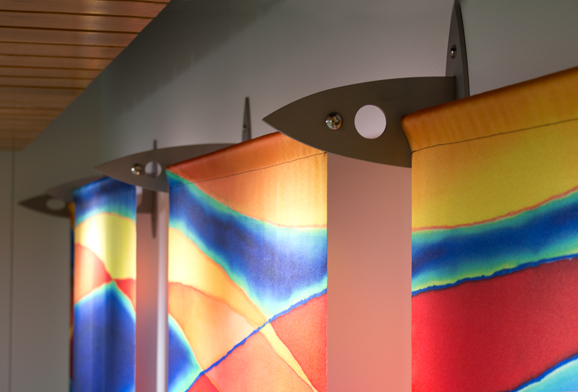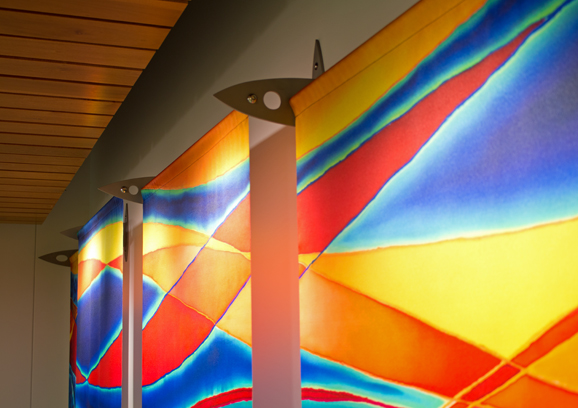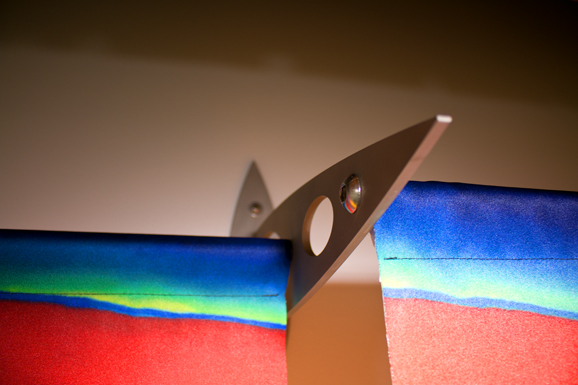 art identification plaque
Public art requires signage and this back-etched glass plaque was created to coordinate with other signage in the site. Kudos to Curtis Hoffer of Creative Artistry in Lacey, WA for manufacturing this lovely plaque.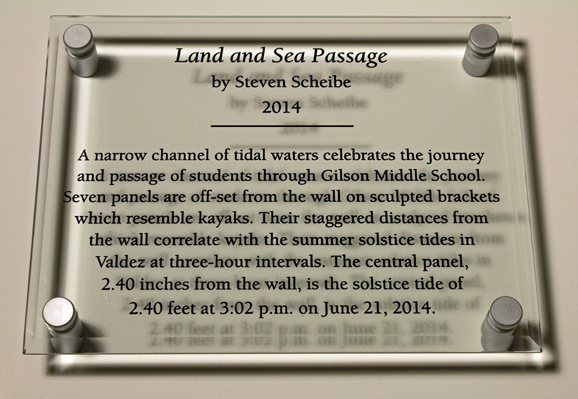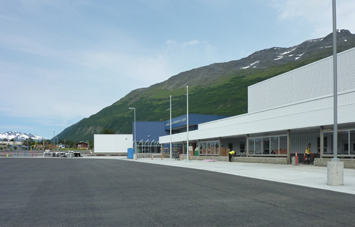 "where the mountains meet the sea"
~ City of Valdez motto

Gilson Middle School, in the small seaport town of Valdez, is surrounded by mountains.
Click the photo, or this text to see more...