statement of practice
Over two decades as a professional artist, Steve Scheibe has created works in a variety of media including, graphite drawing, oil painting, serti-painting of silk, print media, stone lithography, etched glass, music, sound, and light. His most recent public artworks are in silk and glass.
silk
Steve envisions new applications of the ancient medium of painted silk – employing it in huge, feather-light murals, and three-dimensional sculptures (see Illuminated Passage).
He is always investigating the advantages of silk; a "green," nearly weightless medium, washable, dry-cleanable, strong as steel and naturally flame resistant. Silk becomes more transparent (and more solid) when laminated within glass. Silk in safety glass can be displayed near to viewers, as can silk framed under glass.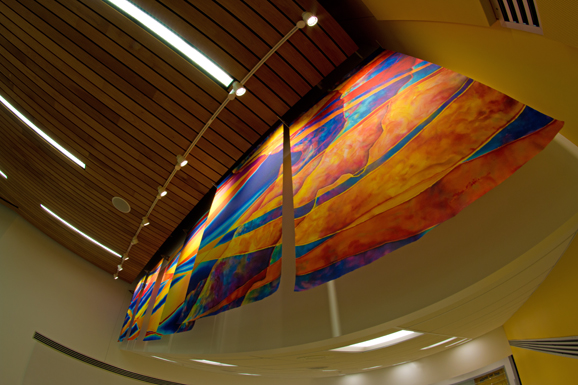 For settings where conservation of silk is of particular concern, Steve can transfer his original dye-painted imagery into 100% polyester by sublimation-dye printing. Steve used this method to create Land and Sea Passage for Gilson Middle School in Valdez, Alaska. By printing from high-resolution digital photos kept on file, damaged artwork can be replaced with minimal expense. And so, by sublimation dye-printing artwork clones, the artwork is immortalized.
Cool-burning, long-lasting, UV-free LED lighting makes for zero-maintenance illumination of silk.
glass
Collaborating with Jim Flanagan of Fremont Antique Glass in Seattle, Washington, Steve has created unique stained glass with color imagery mouth-blown within. He first used this glass in an installation for University of Alaska Fairbanks. Click here to see the Macroscape Slide artworks created for UAF.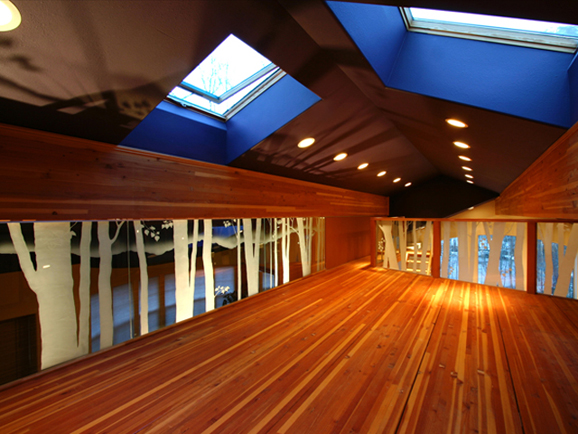 Steve demonstrates his commitment to cooperating with contractors and architects to create relevant and excellent art pieces, even in adverse conditions. In the Bear Mountain Birch Glass project, he completed etched walls of glass (120 square feet) working indoors and out, on location in arctic Alaska. He drew inspiration directly from the icy setting as he worked, resulting in true expressions of the immediate environment.
Click here to see more commissions