media
silk painting - the serti method
Painting on silk is like watercolor painting - on steroids.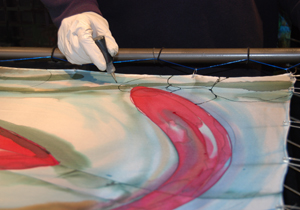 The colors migrate through the weave of the silk like translucent, glowing clouds morphing in the wind. Aggressive colors push other colors aside while others blend. These "living" pigments definitely have personalities. With experience, an artist can steer the dyes into a desired (and discovered) image. It's a sort of dance - of artist and color - resulting in something beautiful.
"green", transparent, & fluid
Completed silk paintings are steam-set without chemicals for permanence. The colors bond to the protein inside the silk. Dye colors inside the silk maintain the transparency, softness, and lustrous surface of the silk.
light-fast, permanent colors

Dyes are steam-set without chemicals for true, bright, permanent hues. Various dyes are rated for their light-fastness and finished silk can be UV treated to further protect the colors from fading in light over time. And silk can be framed under museum UV-shielded glass. Also, new technology in cool-burning, long-lasting, UV-free LED lighting makes for zero-maintenance, color-balanced illumination of silk without any color-damaging effects.
the illusion of fragility
Silk is the strongest natural fiber. Silk is a "green," nearly weightless medium, washable, dry-cleanable, strong as steel and naturally inflammable – silk maintains its structural integrity even when fused between glass in a kiln.
Imagine washing or dry cleaning an oil painting or a drawing on paper - not a pretty sight. Or compare weightless silk to a heavy, suspended sculpture falling in an earthquake or fire. Silk provides a natural, light-weight materials-solution for indoor spaces.
application
Artist Steve Scheibe envisions new applications of the ancient medium of dye-painted silk – employing it in huge, feather-light murals, and three-dimensional sculptures as well as more intimate scale framed artwork and wearable art.
silk care
Unlike most artwork, silk paintings can be dry-cleaned or hand washed. Read more...