commissions in art glass
CLICK on photos to see more.

macroscape slides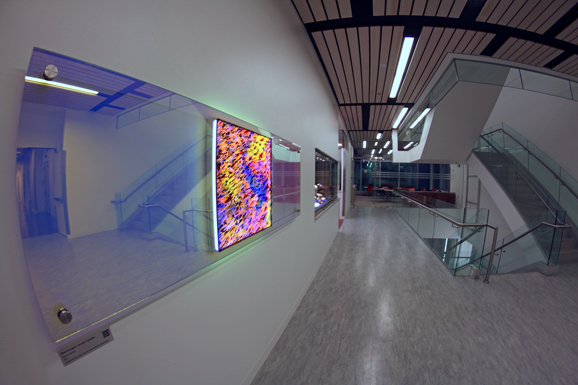 Three illuminated glass bas-relief sculptures now hang on three floors of the new Margaret Murie Building on the campus of University of Alaska Fairbanks. I'm honored for my work to be at home in this beautiful new life science research and training facility.
Three up-scaled microscope slides are made of water-jet cut, laminated, dichroic float glass. The LED back-lit center of each slide is a coverslip or specimen made of mouth-blown art glass.
Click here or on the photo to see more...
Macroscape: Arctic Tundra on the second floor of the Murie Building

generations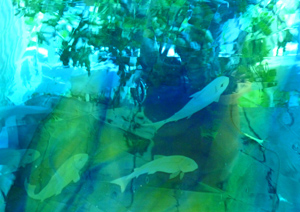 Imagine three corridor walls of glass, a total of 120 square feet of it in stained glass, color and pattern above, with clear window below. Steve Scheibe collaborated with artists Vivienne McConnell of North Carolina and Valerie Collins of New York to create Generations. They used the Kenai River currents and salmon as metaphor for the exchange of knowledge in the learning and shaping environment of Kenai Peninsula College, a branch campus of the University of Alaska Anchorage.
Click here to view the project documentation.

Here is a link to a few KPC installation photos

bear mountain birch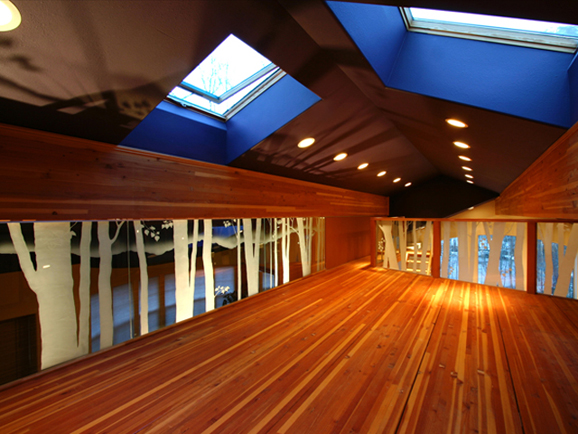 bear mountain birch - deeply etched glass wall between loft and vaulted room. Created fall 2007 - These photos show two sides of just one section of forty linear feet of etched glass in this residential site in Chugiak, Alaska. The glass is blasted with grit in five layers of varied depth.
This site required a child-safe and elegant barrier between the loft and room below. "Birch" is the dominant theme throughout the architecture and décor of this Alaska home at the foot of Bear Mountain. (Note the birch trees just outside the windows.) The artist created the entire work onsite using the trees, leaves, and mountains as models.
Click here or photo at right to see more photos of Bear Mountain Birch.

Click here or on the photo at right to see more silk in glass artwork photos.