giclee prints

museum quality art reproductions
Color-matched images are printed with archival inks onto 100% cotton watercolor paper for beautiful and enduring artworks. Each giclee is signed and numbered by the artist in a limited edition of 90.
into limelight II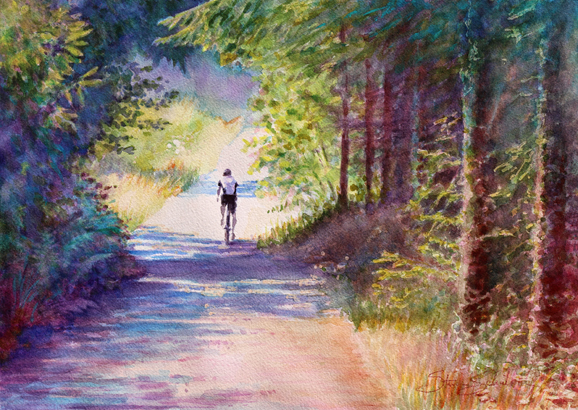 Click this image to view or buy it in my gallery. Website for purchasing will become secure at checkout.
As I walk the nearby Chehalis Western Trail, the canopy of trees so greatly influences my trail experience—shaping the air temperature and fragrance, and filtering the sun's light and color.
In a downpour, the forest leaves resound in applause.
I'm particularly affected by patterns of shadow and sun.
In winter I cherish the sections of trail warmed by the sun.
In summer I hurry to reach the cool spots of shade.
This watercolor depicts an ordinary-extraordinary moment, for the rider is just about to emerge from shadow into light.


dispelling winter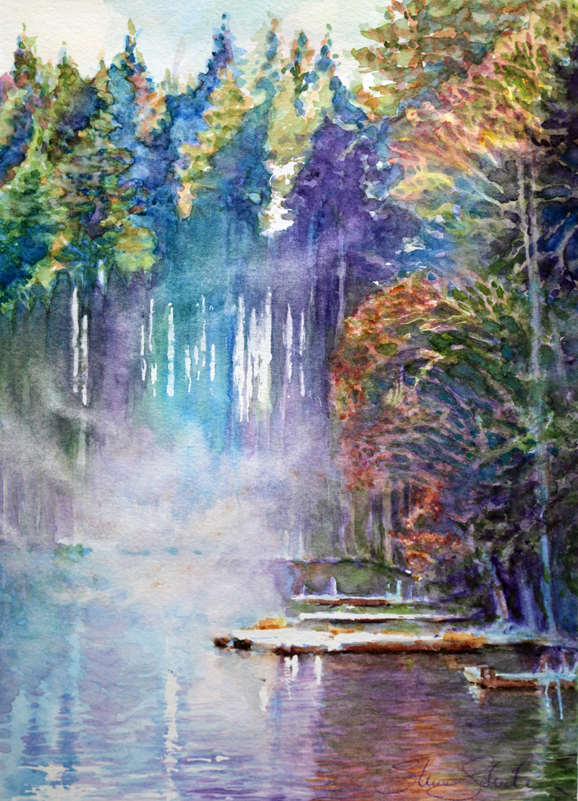 dispelling winter
Painted in March when winter buds into spring, there is at once both something soft and also crisp about this scene. The misty atmosphere and contrasts in color, light, and temperature embody hope in the midst of change.
Light and shadow play in a jewel-like spectrum of color. Windows of light peek out between the cathedral spires of fir trees. Docks glow in sunlight with portions floating in cool shade. Sunlit buds and branch tips shimmer with warm hues, as if announcing that the chill of winter will soon melt into spring.

In my painting journal I had written this regarding atmosphere, "I like that there are things visible and invisible, hidden and revealed in the fog. Even the brightness of the sun in the fog is as a brilliant veil, prohibiting sight – blocking access to see certain things – a blinding light. And then the wind blows and it clears."
to purchase dispelling winter
The original watercolor is sold, but museum quality giclee prints on 100% cotton in archival inks are available in two sizes.
Click on the edition to see or purchase in my gallery page. Purchasing will become secure at checkout.
Enjoy my time-lapse video of fog clearing over Offut Lake.
The scene is almost colorless in video, but the human eye can see so much more than an iPhone lens could detect.
winter studio art show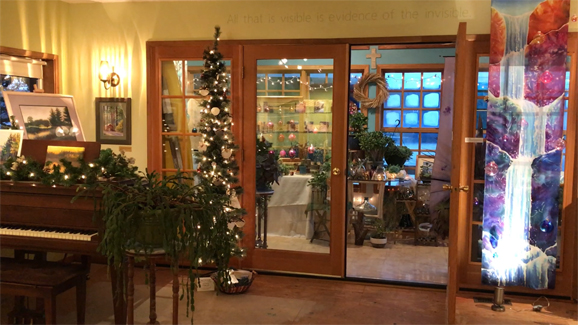 Click the photo to go to the online show - click and browse SO much art. Enjoy!