steve scheibe
biography continued...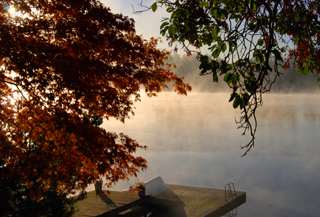 Steve Scheibe lived (and again resides) on beautiful Offut Lake where he learned to swim, fish, and sail. He has fond memories of warm summers, luring the neighbors' horses with garden fresh carrots and apples - then riding bare-back through nearby forests, fields of mima mounds, and along the Deschutes River. He learned the names of nearly all the plants, flowers, mushrooms, and creatures in the lake and forest. He even discovered comfort in the rain.
It was, in part, this immersion in the great outdoors that led the artist to discoveries of nature, including nature's connection to the unseen real. He celebrates the order of nature and sees within it potent visual metaphor. This has become the inspiration and crux of his observation and his artwork.
Steve's delight in nature led him to study in environmental science at Washington State University for over three years. Alongside his science and honors coursework he took art classes. Near the end of his science degree Steve directed his study full-time to fine art.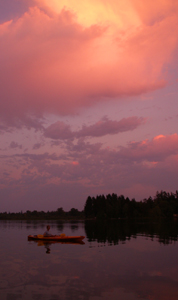 After graduating in art, Steve moved to Africa for a year, designing and illustrating books and magazines in a French publication center. He worked mostly in French and English with people from nine ethnic groups and many countries. After his experience there he said, "culturally, I no longer feel like an American, nor fully an African. I feel I'm left hovering somewhere over the Atlantic Ocean." And so he viewed his home in Washington as through the eyes of an insider/foreigner. From this new perspective, he began creating his first exhibition art - in graphite on cotton.
These first drawings led to creating in stone lithography with master-printer Craig Cornwall of Trilobite Press in Olympia. Steve continued his collaboration with Cornwall when he moved to Alaska for nearly four years. A friend in Alaska later introduced him to the ancient-new art media of dye-painted silk. Other Alaska friends introduced him to the wonders of mouth-blown window glass.
Steve's artworks are in many private, public, and museum collections in the United States and Europe. Among them are the State of Washington, cities of Seattle, Tacoma, Spanaway, Olympia and Lacey, three public artworks in the University of Alaska, and the Billy Graham Center Museum in Illinois.