tatoosh mountain silk
private commission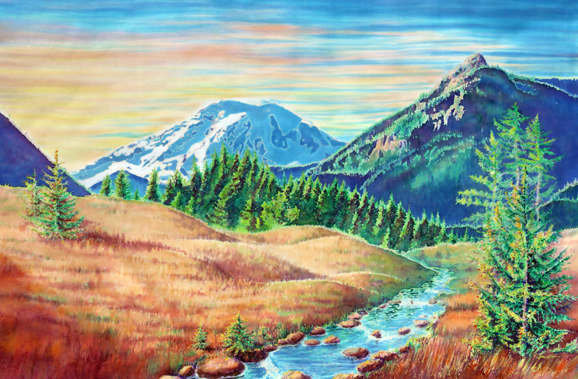 This new artwork in dye-painted silk features Mount Rainier peering through the Tatoosh Range, with Tatoosh Mountain in the right foreground. The imagery was carefully selected by the commissioning family, inspired by years of memories at their cabin in Packwood, WA.
In this multi-component commission, I pursued visual harmony, a clear sense of place, a continuity of yard design with interior, as well as a connectedness between Tatoosh Mountain and the cedar silk-in-glass commission. Each piece was to stand uniquely, yet connect and complement each other.
As a long-time friend of the commissioning family, I enjoyed visiting thier cabin in Packwood, not only to gain visual research for the artwork, but also to experience staying there as a guest. In this way I experienced first-hand the sense of place, to then apply to the commissioned artwork. Click here to see more photos.