series description
paper objects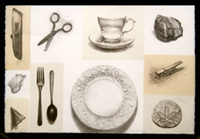 Ten hand-drawn, hand-printed stone lithographs on silk tissue
…and one found etching…
…all hinged on cotton rag
Together, these are playful puns on visual reality
…where objects become paper…
…and paper becomes are object.
Three-dimensional becomes two-dimensional…
…with implications that are multi-dimensional.
Together, these images playfully illustrate the unreal
…revealing the reality that we live is a world of illusions.
Things are not always as they seem.
gallery
Click here to view the paper objects art series in the gallery.