fifth annual
offut lake lighted boat parade
Saturday, December 9, 5pm to 8pm
The festivity starts at The Lady of the Lake (resort and restaurant) at 4005 120th Ave SE, Tenino, WA 98589, on the south side of Offut Lake.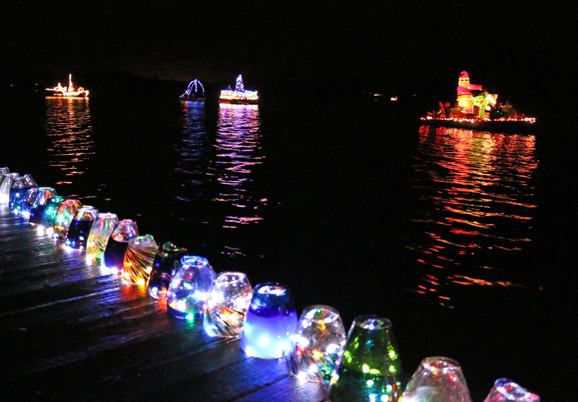 view from our dock, illuminated by blown glass cloches

(see also the parade facebook event post)
Hosted by The Lady of the Lake! Come enjoy a warm beverage and watch the boat parade. Santa and Mrs. Claus will be there.
It's rumored that the Sweet Adelines will be serenading.

This is a free event and a great opportunity for our community to get together. Friends and visitors are all welcome to discover what an special place Offut Lake is. Opportunity also to donate to the Lady of the Lake food drive, to benefit T90 Food bank!
For dinner, make a reservation (360-264-3474) to be sure to get a table (before, during, or after the parade).

Interested in Participating in the boat parade? Call Becky at the Offut Lake Resort General Store 360-264-2438